Smoky Vegan Cassoulet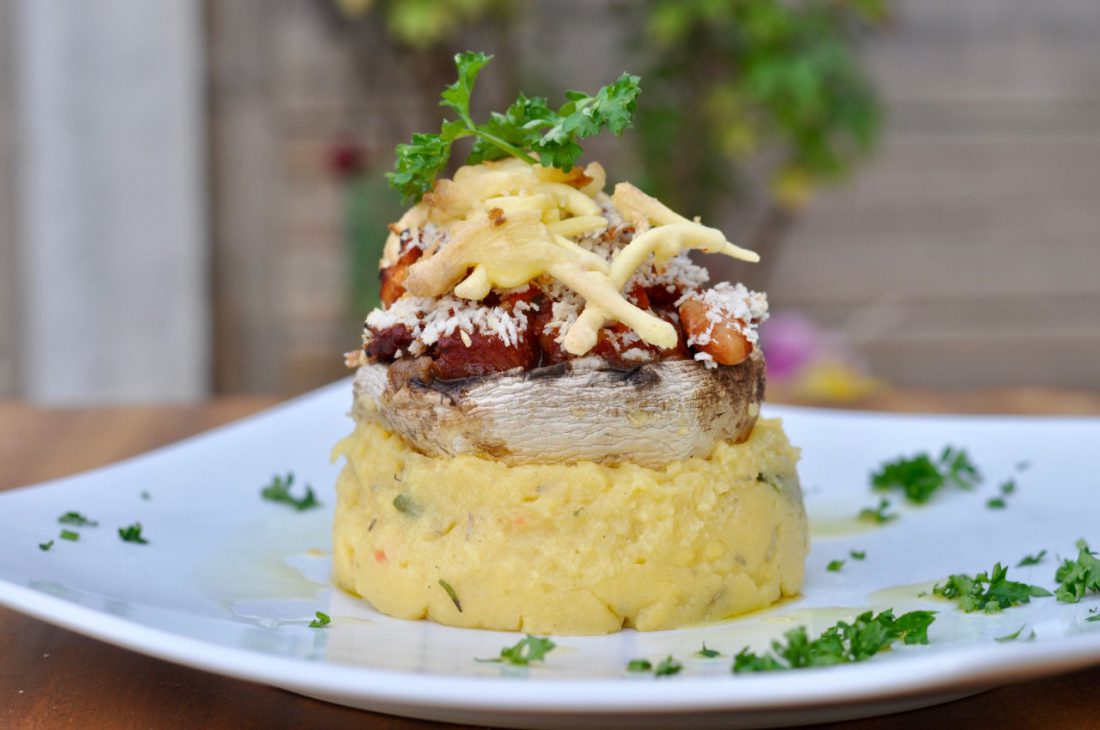 Cassoulet is a traditional white bean dish originating in the south of France. To add substance to this vegan version we have used sun dried tomatoes and dried porcini mushrooms. Cassoulet is often served with nothing more than some warm, crusty bread but we prefer rosemary infused polenta to add more textures to the plate. Come and join Viki and Mark this winter at Cold Fusion Chalets in the French Alps this winter!
Here's the bean layer:

Not too tricky



Courtesy of Cold Fusion



See other recipes by Cold Fusion
Ingredients
2 tins cannelini beans.
2 tins chopped tomatoes
10 dry sundried tomatoes
3 tbsp tomato puree
Tamari or vegan Worcestershire sauce, to taste
Good glug of red wine or port (optional)
1 large onion, finely diced
3 cloves garlic, finely chopped
1 leek, finely sliced
2 sticks celery, finely sliced
2 carrots, peeled and finely sliced
30g dried Porcini mushrooms
15g fresh thyme
15g fresh parsley
1 tbsp smoked paprika
Salt and pepper, to taste
Groundnut or odourless coconut oil for frying
4 portobello mushrooms
4 tsp breadcrumbs (use gluten-free if appropriate)
4 tbsp vegan cheese or nutritional yeast
250g polenta
1 litre vegetable stock
2 tbsp nutritional yeast
10g fresh rosemary
Instructions
In a large pan heat a tablespoon of oil and add onion, leek, and garlic. When the onion is translucent, add the carrot, celery and dried mushrooms and stir in the smoked paprika.
Once the carrots have softened slightly, add the chopped tomatoes, sundried tomatoes and herbs (reserving some parsley to garnish).
Optional stage – stir in red wine or port to taste, for added richness.
Simmer for 10-20 minutes to reduce the dish and intensify the flavours.
As the dish simmers, taste and season accordingly with smoked salt, pepper, smoked paprika and tamari or vegan Worcestershire sauce (the original contains anchovy).
Drain the beans, rinse thoroughly and stir into the dish.
Gently remove the stalks from the Portobello mushrooms and place them on a baking tray. Spoon in as much of the cassoulet as you can, top with breadcrumbs and nutritional yeast or vegan cheese and put them in the oven at 180 degrees.
Whilst the mushrooms are baking, heat the stock in a pan. You can also use plant milk or even soya cream as your liquid but we prefer a less rich, earthier flavour.
When the stock is boiling, remove from the heat and slowly whisk in the polenta in a smooth, continuous stream. Go slowly because the polenta absorbs the liquid and thickens quickly.
The classic ratio for liquid to polenta is 4:1 but polenta is served in many guises and consistencies from a runny porridge to a baked "cake" or fried as polenta chips. Feel free to go a little off piste from our suggested measurements.
Lastly, stir in some chopped, fresh rosemary and – if you like – nutritional yeast. Then plate up as desired.
Did you know that Vegan Recipe Club is run by a charity?
We create vital resources to help educate everyone – vegan veterans, novices and the v-curious alike – about vegan food, health and nutrition; as well as the plight of farmed animals and the devastating environmental impact of farming.
Through this work we have helped thousands of people discover veganism; but we want to reach millions more! We rely entirely on donations as we don't get any government funding. If you already support us, thank you from the bottom of our hearts, you are really making a difference! Please share our details with your friends and loved ones too, as every donation enables us to keep fighting for change.