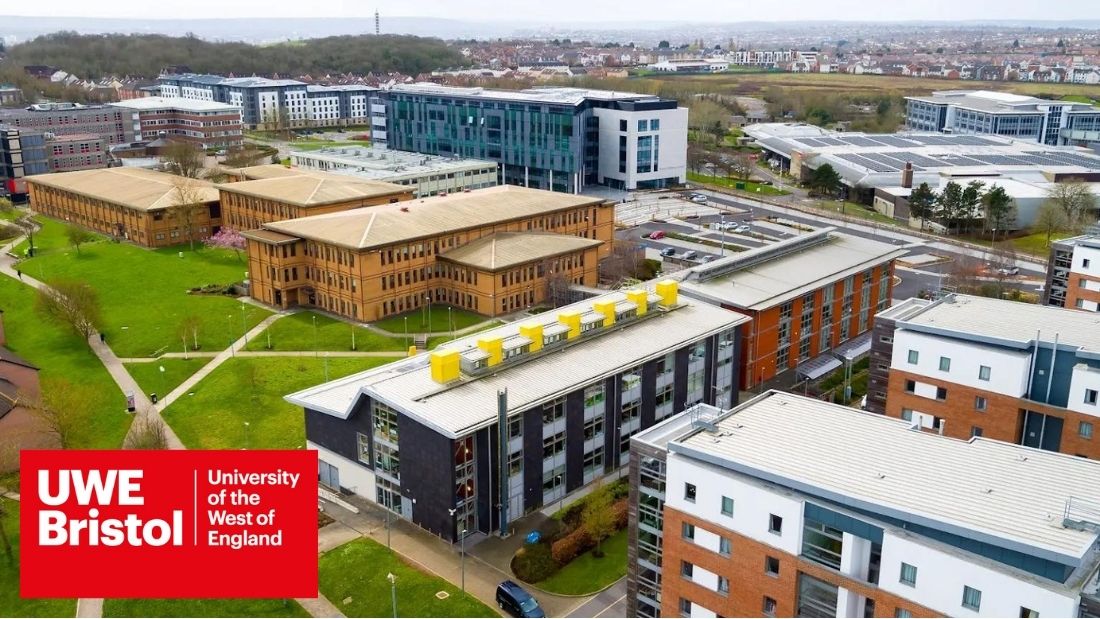 Demand for vegan options has come from the student body. Matthew Carr recognises the importance of this and believes that the idea that vegans need to bring in their own food needs to change. He feels it is a nice surprise for people to realise that there are lots of vegan options at UWE. Matthew says: "Whenever there is a meat option, we also provide a vegan option."
Matthew is going to continue to increase and improve the vegan range at UWE alongside the evolution/creation of new products from manufacturers and suppliers. He sees it as an evolving process to do it in the right way.
Franchises all have good vegan options: Subway provide the Vegan Sub and Costa have vegan cakes, plant milks, Urban Eat sandwiches and poke bowls. Starbucks provide plant milks, vegan sandwiches and salad bowls. UWE also provide 24-hour vegan food and drink options via several vegan vending machines (veganvend.co.uk). The library is open 24 hours a day, so the university has recognised the importance of providing vegan drinks, sandwiches, pastries, snacks, cakes and treats around the clock.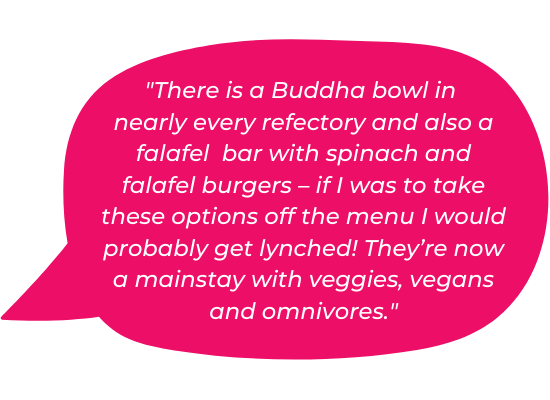 Example vegan options offered at UWE eateries:
Jackfruit dirty fries
Beetroot burger in vegan brioche bun
Jackfruit balti with rice or jacket potato
Moving Mountains burgers in a vegan brioche bun, salad, fries, sliced vegan cheese (eg Violife Original Flavour Slices)
Vegan poke bowls eg crispy tofu, rice, crunchy veg, mashed avocado and a spicy dressing
Falafel wrap
Range of sandwiches
All eateries provide vegan milks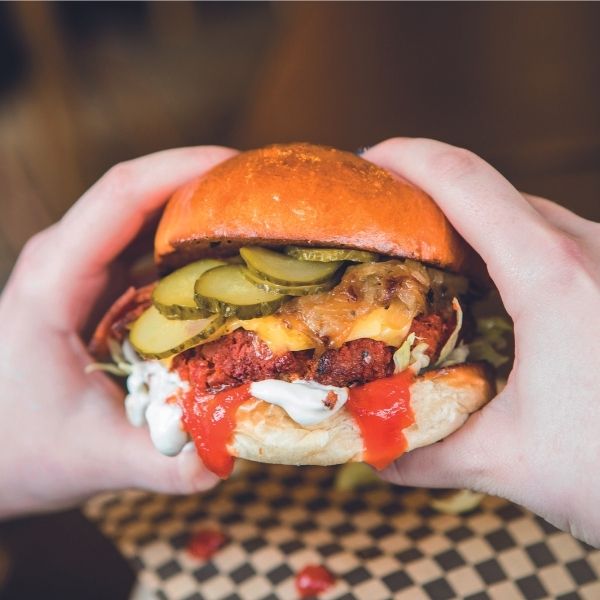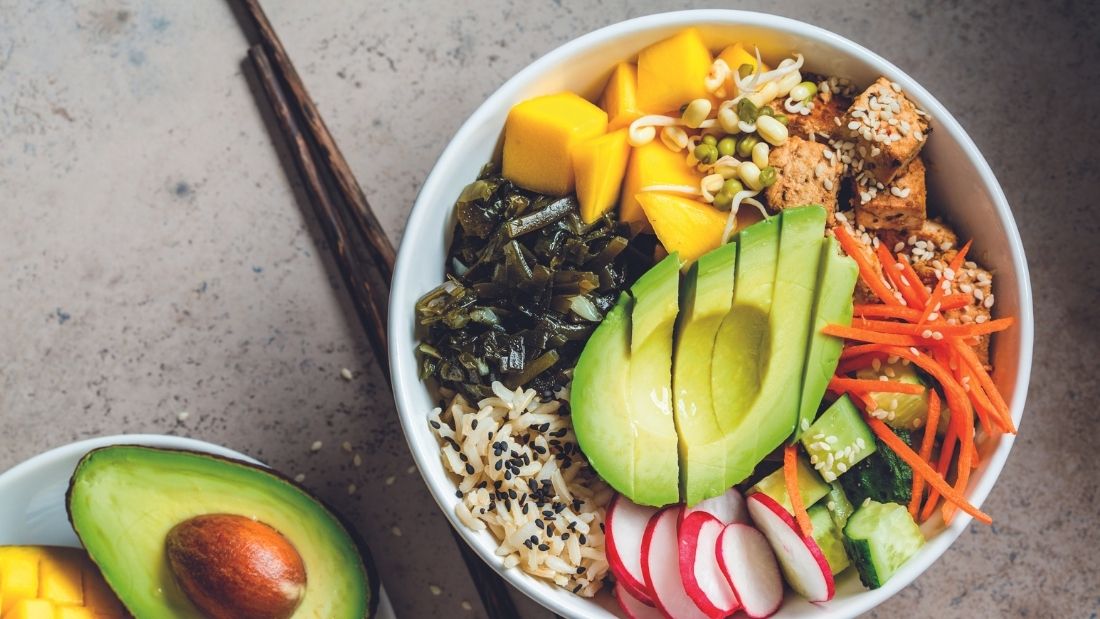 UWE uses the following suppliers for their vegan options:
Bidfood
Brakes
Kent Frozen Foods
Pullin's Bakery
The Phat Pasty Co. (very imaginative vegan pasties eg Keralan curry and butternut squash, spinach and vegan feta)
Tiffin Sandwiches, Urban Eat, The Real Wrap Co. (sandwiches)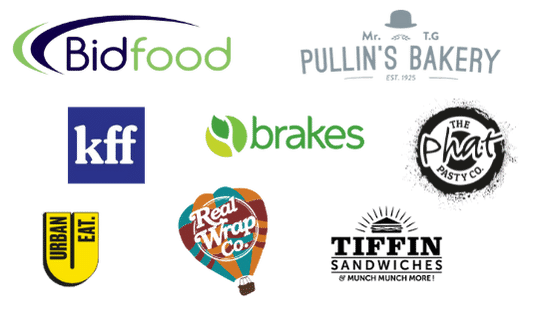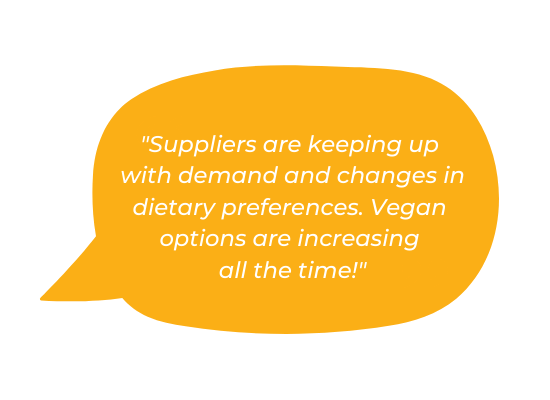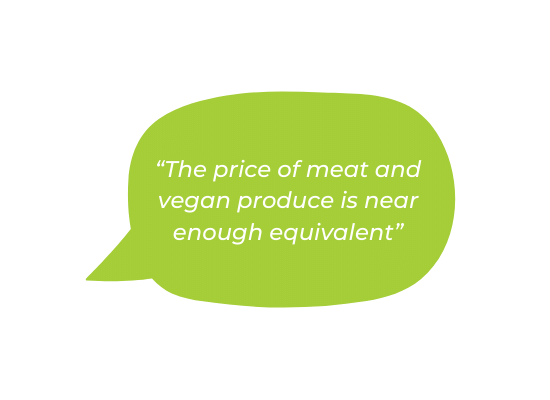 Vegan food tips
Vegan cheese: Violife Original Flavour Slices and Violife Mozzarella Flavour Grated (for melting)
UWE only use vegan mayonnaise throughout all the refectories.
Matthew says that it tastes the same and it means you don't need to provide a separate vegan option.
UWE only use vegan (and gluten-free) gravy throughout all the refectories to avoid needing to provide different options
UWE use Oumph! The Chunk in their mock meat dishes, which is very popular
Whenever UWE make a meat-based bolognese, they use the same recipe for the vegan option but just replace the meat with lentils or vegan mince
For UWE, Moving Mountains are the best mock-meat burgers
Everywhere that pizza is served, UWE offer a vegan pizza with vegan cheese
UWE buy in: burgers, sausages, some curries, brioche buns, mayonnaise, pesto, sausage rolls, sandwiches, pastries, cakes, pies, some vegan paninis (the paninis come from vegan specialist suppliers)
For barbeques, UWE use Moving Mountains burgers and hot dogs in vegan brioche buns with salads and sauce
Look at what new products are out there eg swap beef mince for vegan mince. You don't necessarily need to create new recipes
Look at ready-made products from suppliers for events eg Brakes provide a Cauliflower and Chickpea Roulade which UWE use for higher-end dinners
UWE use Brakes Jackfruit Balti in several eateries, which has proven very popular
General vegan tips
Use the term "plant-based" instead of "vegan" for wider appeal
Always go back to your suppliers and their representatives – they are very much behind the vegan food revolution and they will be able to provide recommendations and information on the latest products
Start building up your menus and profiles – it doesn't have to be difficult. Your suppliers have the resources and know-how to help
Don't reinvent the wheel. Keep it simple, build it slowly rather than trying to do everything at once. It can evolve over time and often other staff members will become interested in the process and changes too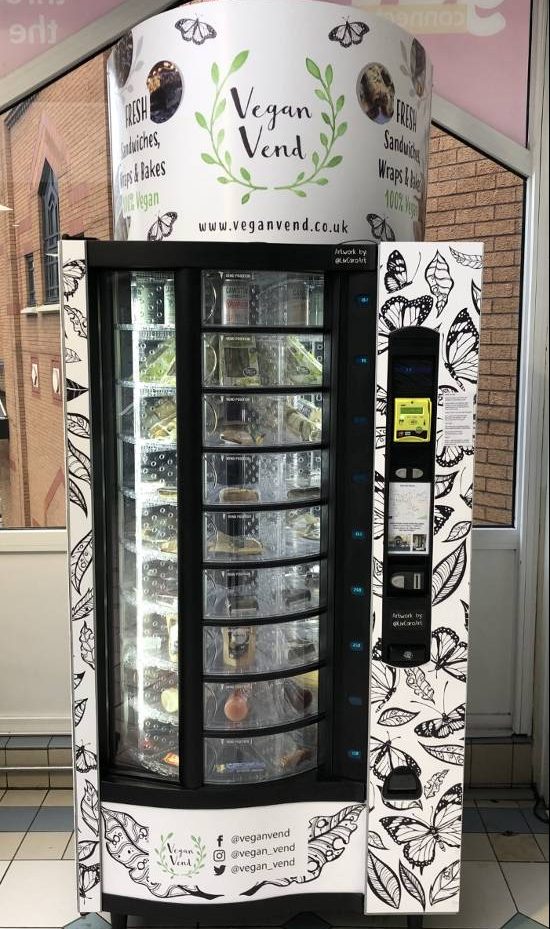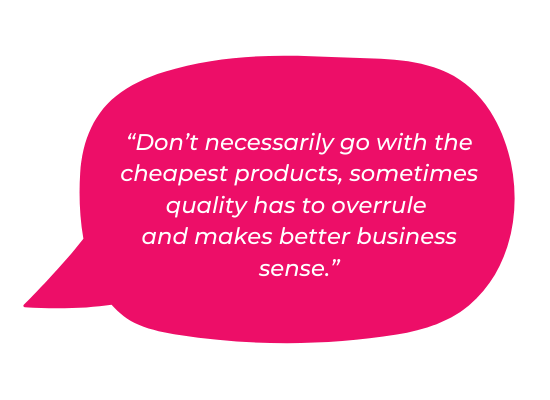 About Viva!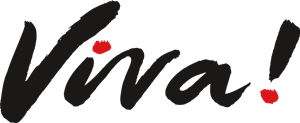 Viva! has been at the forefront of the vegan revolution for almost three decades. We are the UK's leading vegan campaigning charity. Our dedicated team campaigns on the impact of diet on our health, the planet and animals.
We present talks, cookery demos and provide helpful recipe guides, leaflets and merchandise to support people on their journey towards sustainable and healthy diets.
About Vegan Recipe Club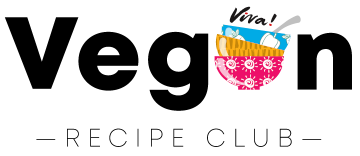 The Vegan Recipe Club is part of Viva!'s toolkit to make going – and staying – vegan easy, by providing amazing recipes to make your mouth water! Our website and app bring together almost three decades' worth of wonderful plant-based recipes, tried and tested by the Viva! team.
Viva! and Vegan Recipe Club have hundreds of thousands of followers on social media and work with international chefs, brands and influencers to promote the endless benefits of eating vegan food.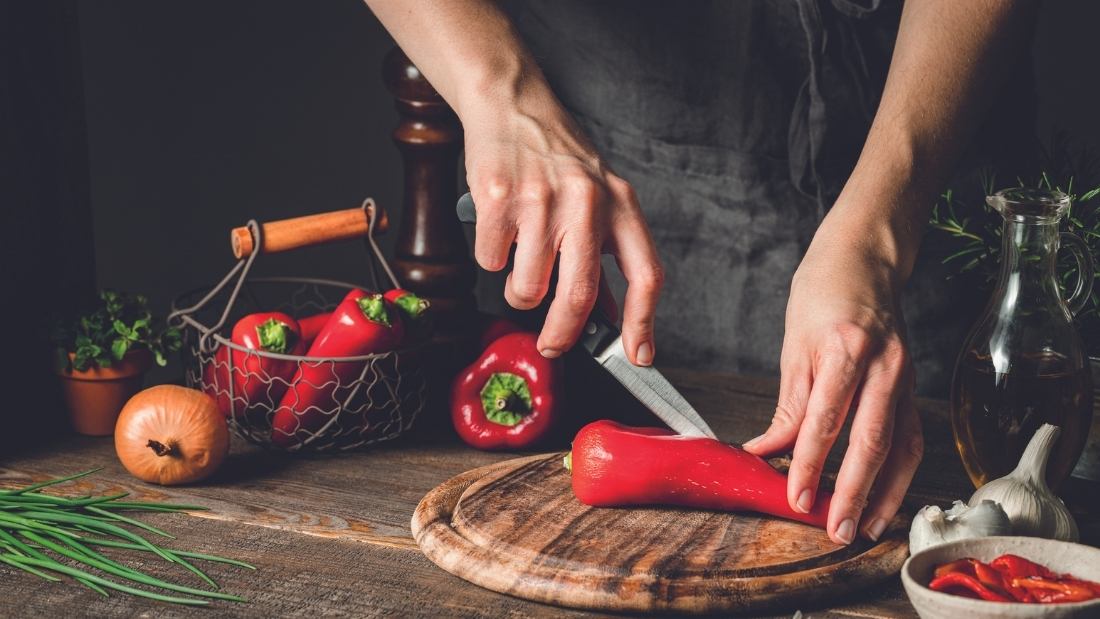 Viva! can help you improve or get started on your vegan catering options
We're on hand to help you develop your vegan menu! Viva! runs the popular Vegan Recipe Club website and free app. We have almost three decades' experience creating and developing delicious recipes.
We are well-established in the vegan community and are in tune with the needs of the growing vegan population.
We can partner with you to:
Provide a free tailored consultation, looking at your existing menus and suggesting easy vegan alternatives
Develop a bespoke recipe for your menu (with Viva! branding)
Provide resources and guides on vegan catering
Bring your menu to the masses through our social media channels, magazine, email marketing, website and app
Offer general advice and guidance
Collaboration
We promote our partners in a number of ways – including print, digital and press – completely free of charge! In return, we simply ask that you feature Viva! in your promotional activity, including social media and press.
Together, we can shout far and wide about our new partnership!
Testimonials
"[We] decided to embrace the vegan style for our pizza after chatting with one of the Viva! staff. We are always looking to expand our business by meeting customer needs and we don't want to exclude anyone.
We are proud of our great reputation among the vegan community. And thanks to their word-of-mouth our customers are growing rapidly, so it's been a good choice from a business point of view too." Pepenero, Bristol
Get in touch to start your vegan catering journey!
Please fill out the form below or contact our Food & Cookery Manager on: 0117 944 1000.