Moussaka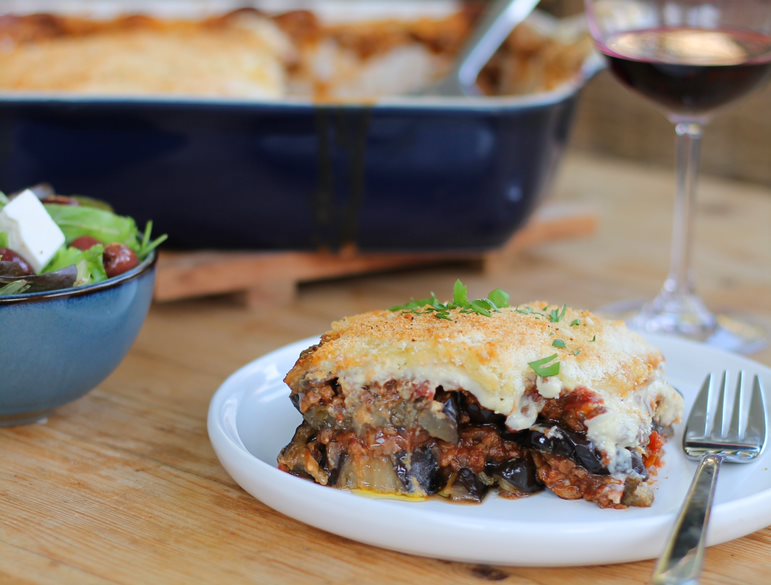 The ultimate vegan version of this traditional Greek dish! Tender aubergines, rich vegetable mince, thick creamy béchamel sauce…oh and lots of cheese. Mmmmm! Enjoy with a light salad in the summer or as the ultimate comfort food in winter months.
This recipe is taken straight from our lovely Winter Wonderland Recipe Guide. Available here for just £3 (over 25 recipes)!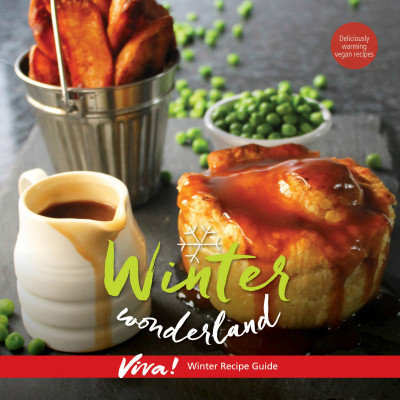 Not too tricky

Ingredients
Aubergines
6 aubergines
Olive oil
Salt
Filling
Olive oil
2 onions, finely diced
3 garlic cloves, finely diced
250g mushrooms, sliced
500g vegan soya mince
1-2 tbsp tomato purée
2 x (400g) tins chopped tomatoes
150ml vegan red wine
150ml stock
½ tsp dried or fresh oregano, finely chopped
½ tsp cinnamon
1 tbsp vegan syrup (eg maple, agave)
Béchamel
4 tbsp vegan margarine
4 tbsp plain flour
400ml usweetened soya milk
2 tsp Dijon mustard
Pinch of grated nutmeg
1-2 tsp salt (to taste)
2 tsp egg replacer (eg Orgran – optional)
150g silken tofu (optional)
1 tbsp nutritional yeast (optional)
Topping
Melting vegan cheese
Vegan parmesan eg Violife Prosociano or use pre-grated eg Angel Food, Flavour Fusion or Follow Your Heart
Instructions
Aubergines
Pre-heat the oven to 200˚C/400˚F/Gas Mark 6.
Remove stalks and cut the aubergines into slices, 1cm thick.
Season with salt and drizzle with olive oil.
Place on baking tray and cook, turning once, for 20-30 minutes or until soft and golden.
Filling
Fry the onion in a little oil until lightly golden.
Add the mushrooms and cook until slightly softened.
Add the garlic, oregano, cinnamon and fry for a further 1-2 minutes.
Stir in the tomato purée, veggie mince, red wine, stock, tinned tomatoes and syrup. Bring to the boil, turn down the heat and simmer with the lid on for roughly 30 minutes, until most of the liquid has evaporated.
Taste and add salt and a little more syrup if necessary.
Béchamel
Using a large saucepan, melt the margarine on a low heat.
Take the saucepan off the heat and stir in the flour until you have a paste.
Return the pan to the heat, turn up to medium and very gradually add the soya milk, stirring continuously to avoid lumps.
Once the sauce has thickened, add the Dijon, nutmeg, salt and optional extras (if using). Use a balloon whisk to get rid of lumps if necessary.
Stir thoroughly then set aside.
Assembly
Reduce the oven heat to 180˚C/350˚F/Gas mark 4-5
Place a layer of aubergine into a rectangular oven dish followed by a layer of the filling.
Repeat this process until you have several layers.
Leaving a couple of inches at the top, pour on the béchamel sauce so that the top of the moussaka is completely covered.
Add a thick layer of melting vegan cheese.
Cover with foil and bake in the oven for 25 minutes.
Remove from the oven, take off the foil, sprinkle over the parmesan and place back in the oven, uncovered, for a further 15 minutes until the top is slightly browned.
Did you know that Vegan Recipe Club is run by a charity?
We create vital resources to help educate everyone – vegan veterans, novices and the v-curious alike – about vegan food, health and nutrition; as well as the plight of farmed animals and the devastating environmental impact of farming.
Through this work we have helped thousands of people discover veganism; but we want to reach millions more! We rely entirely on donations as we don't get any government funding. If you already support us, thank you from the bottom of our hearts, you are really making a difference! Please share our details with your friends and loved ones too, as every donation enables us to keep fighting for change.