Onion Tarte Tatin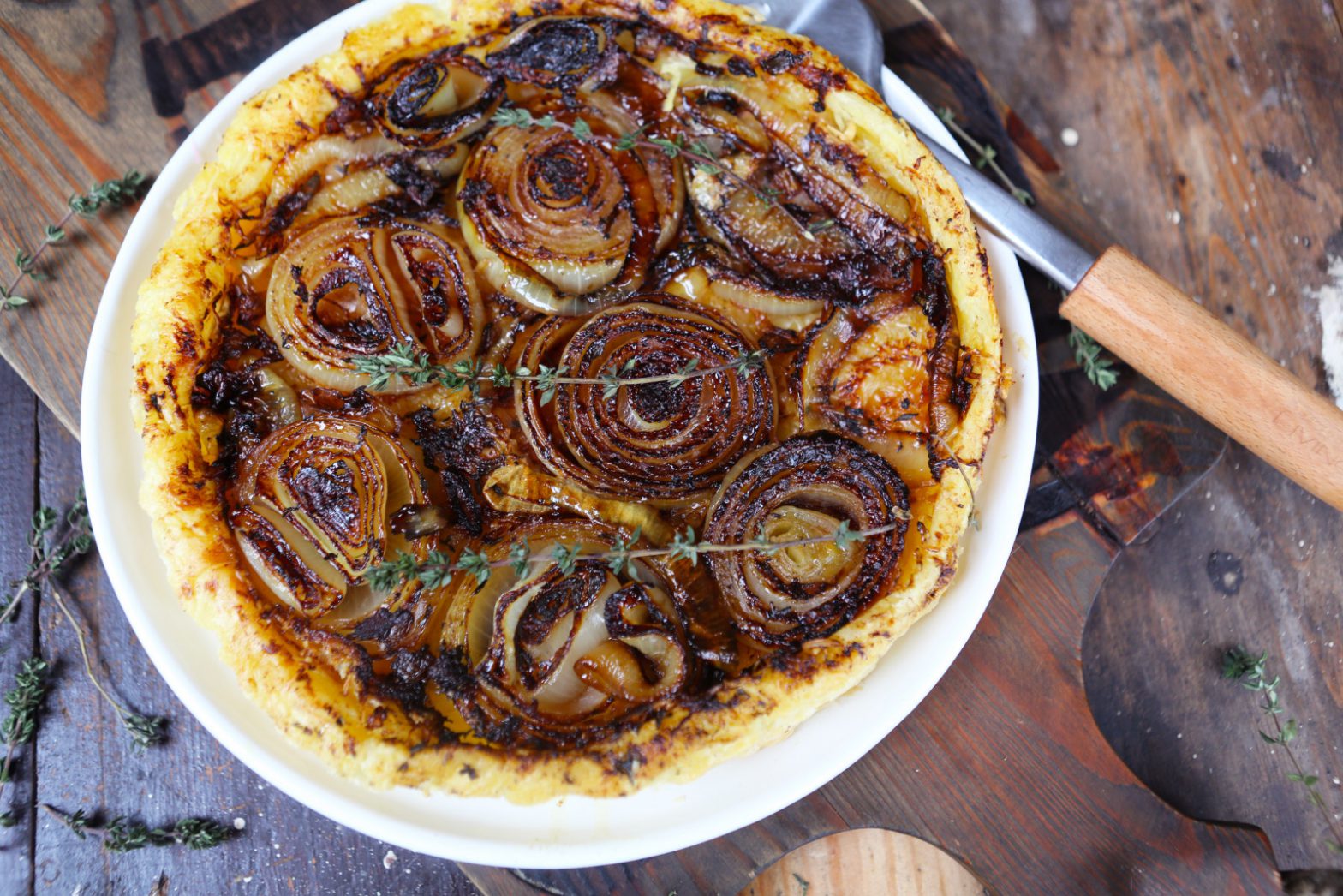 This savoury version of the classic French dish is amazing! Caramelised, balsamic onions, white wine, thyme and cheese make for an amazing combination of flavours. Be prepared to devour this in one sitting!

Easy




Ingredients
300g puff pastry block (eg Jus-Rol. Use GF if necessary)
50g/2 oz vegan butter or spread (our favourite is Naturli)
1-2 tbsp thyme leaves, finely chopped
Pinch salt and pepper
3-4 large onions, peeled and sliced into 1 inch chunky rings (keep all of the rings whole)
60ml/¼ cup vegan white wine
60ml/¼ cup vegan stock
1 tbsp balsamic vinegar
1 tbsp syrup (eg maple or agave etc. Optional)
100-150g/4oz vegan cheese of your choice, grated (we used Violife Prosociano and it was delicious!)
Soya milk for brushing (or other plant milk of your choice)
Instructions
Preheat the oven to 190ºC (fan)/375ºF/Gas Mark 5.
Roll the pastry out to around 0.5cm thick and cut a circle around an oven-proof frying pan (ours is 12″ diameter), leaving around 1cm excess around the edge. Put in the fridge while you make everything else.
Using your oven-proof frying pan, melt the vegan butter/spread then add the salt, pepper and thyme. Arrange the onion chunks in the pan. Cook them over medium heat, on one side, for around 20 minutes until they start to get nice and brown.
Turn them over and add some chopped up onion to fill in any gaps. Cook until the other side has browned.
Pour the veg stock, balsamic vinegar, syrup and white wine over the onions. Cook until the liquid has reduced by half (approx 5 mins).
Remove the pan from the heat and then sprinkle the grated cheese over the onions. Lay the puff pastry over the onions in the pan and tuck the edges of the pastry just underneath the onions by around 0.5cm (following the outline of the pan to keep a circle).
Brush the pastry with a little soya milk then place the pan in the oven and bake until golden brown (around 20-25 minutes).
Remember the pan handle will be really hot (we've forgotten this a fair few times!) so use an oven glove or tea towel when flipping! Place a large plate over the top of the pan and flip it over allowing the tart to slide onto the plate, onion side up.
Serve with salad or steamed veg and enjoy 🙂
Did you know that Vegan Recipe Club is run by a charity?
We create vital resources to help educate everyone – vegan veterans, novices and the v-curious alike – about vegan food, health and nutrition; as well as the plight of farmed animals and the devastating environmental impact of farming.
Through this work we have helped thousands of people discover veganism; but we want to reach millions more! We rely entirely on donations as we don't get any government funding. If you already support us, thank you from the bottom of our hearts, you are really making a difference! Please share our details with your friends and loved ones too, as every donation enables us to keep fighting for change.