Easy Berry Crumble Slices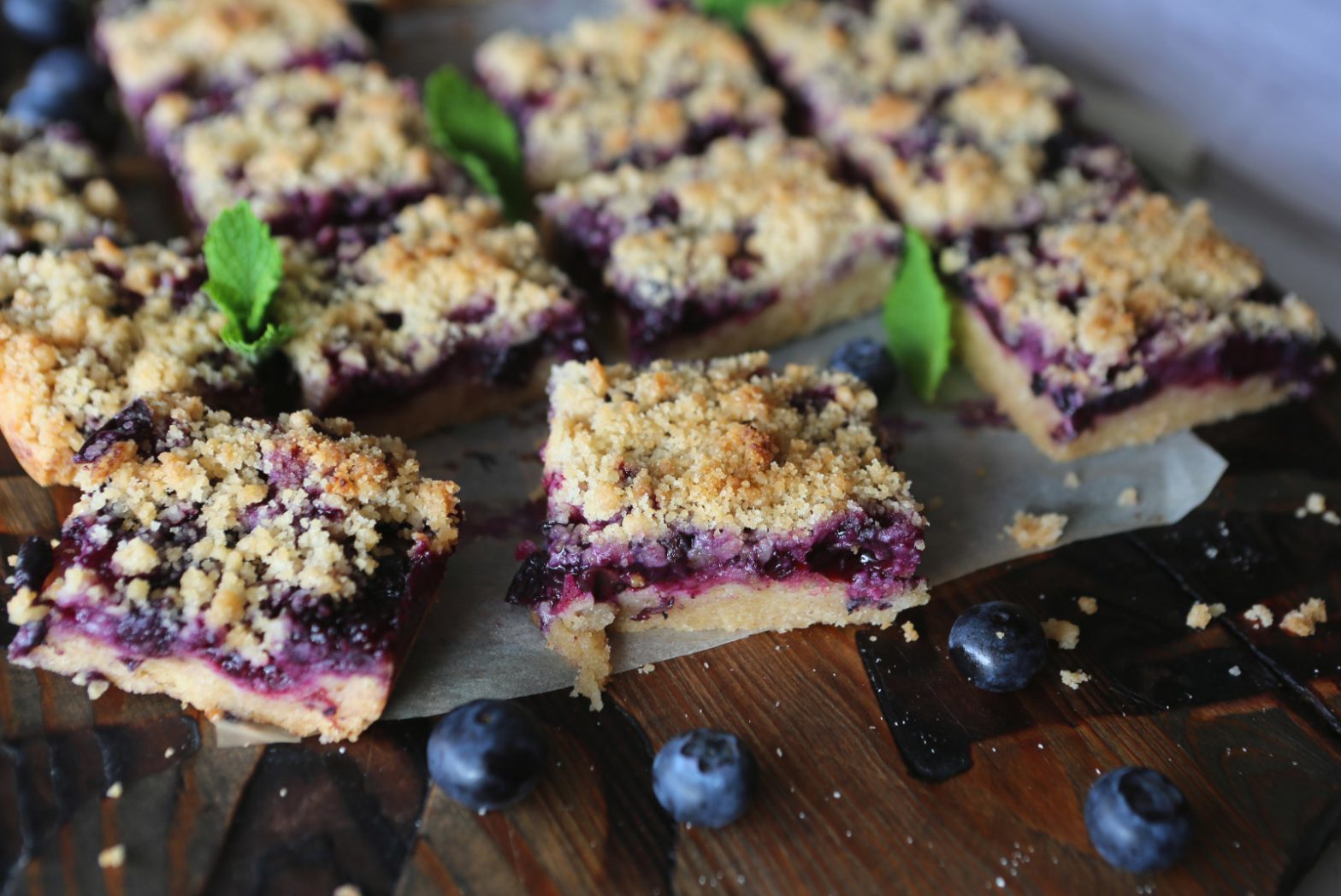 These berry slices are a real summer delight! Simple and fun to make… go on treat yourself 🙂

Easy




Ingredients
Base/crumble
300g/2 & 3/8 cups plain flour (use GF if necessary)
150g/¾ cup sugar (brown sugar tastes best)
¾ tsp baking powder
¾ tsp cinnamon
200g/7/8 cup vegan spread or butter (our favourite is Naturli Vegan Block)
Blueberry filling
350g/2½ cups blueberries (fresh or frozen, defrosted)
Zest of 1 lemon, finely chopped
1½ tbsp lemon juice
2 tsp cornflour
2½ tbsp sugar
Pinch salt (optional)
1½ tsp vanilla extract or paste
Instructions
Preheat the oven to 180ºC (fan)/350ºF/Gas Mark 4.
Line a 20cm/8″ square tin with baking parchment.
Base/crumble
In a large bowl, mix all of the ingredients together apart from the butter/spread.
Add the butter and work it in thoroughly with your hands until you have a fine crumble.
Set aside 160g/1 cup of the crumble for the topping and press the rest of the crumble mix into the baking tin.
Put it in the oven for 10 minutes then leave it to sit for 5-10 minutes before adding the blueberry filling.
Blueberry filling
Mix everything together in a large bowl.
Pour the blueberry filling onto the base, making sure it's evenly spread.
Sprinkle the crumble topping evenly over the blueberries.
Put in the oven for 25-30 minutes (or until golden on the top) but check after 20 minutes that it's not browning too quickly.
Remove from the oven and enjoy as they are or with a nice helping of vegan ice cream or custard, fresh blueberries and mint.
Did you know that Vegan Recipe Club is run by a charity?
We create vital resources to help educate everyone – vegan veterans, novices and the v-curious alike – about vegan food, health and nutrition; as well as the plight of farmed animals and the devastating environmental impact of farming.
Through this work we have helped thousands of people discover veganism; but we want to reach millions more! We rely entirely on donations as we don't get any government funding. If you already support us, thank you from the bottom of our hearts, you are really making a difference! Please share our details with your friends and loved ones too, as every donation enables us to keep fighting for change.