Mediterranean Wild Mushroom Pie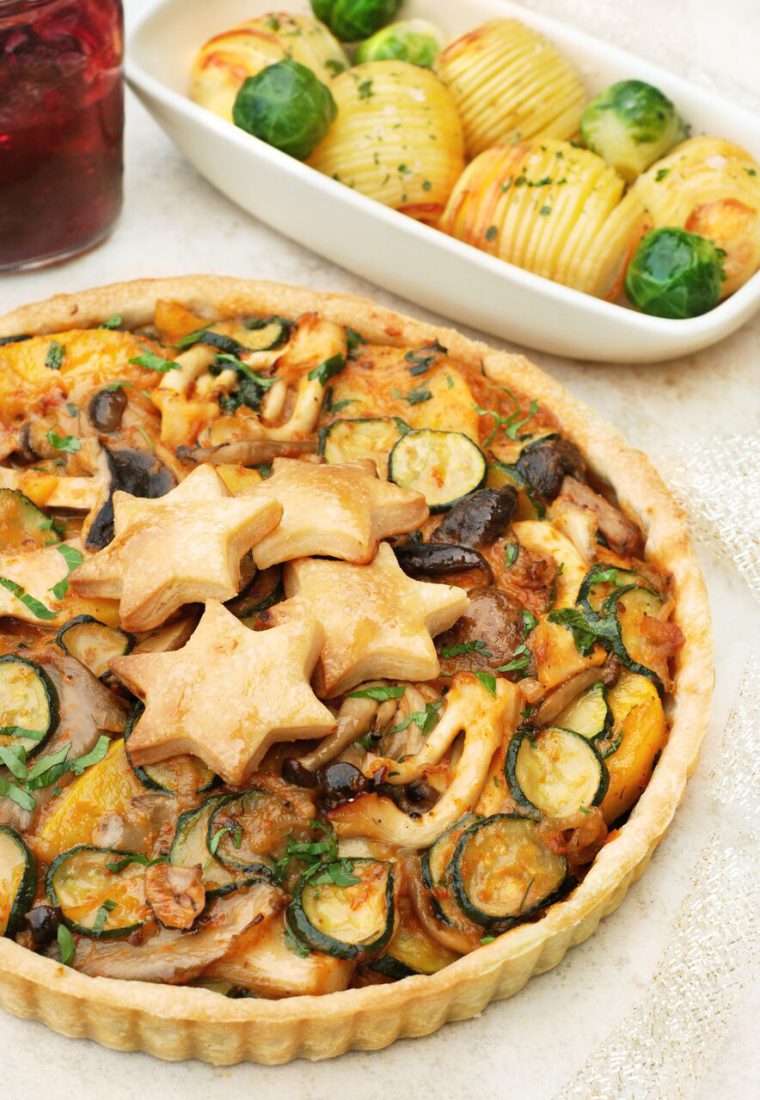 Chava Eichner says: This year I've spotted selection trays of the most amazing wild mushrooms in my local greengrocers. Discovering the names is almost as much fun as cooking these mushrooms: Shiro Shimeji , Golden Enoki , Eryngii and Pink Oyster Mushrooms…'
Aim for an exotic and unusual mix as the different flavours and textures make this tart a very special festive centrepiece. Failing that, oyster, shiitake and chestnut mushrooms would make a very nice combo!
For a more healthy, tasty pastry, try our wholemeal & mashed potato press-in recipe, no need to roll!

Not too tricky

Meal
mains
lunches
sides-light-meals-and-salads
Ingredients
1 (500g) block of vegan shortcrust pastry (e.g. JusRol) For a quick, reduced fat, wholemeal and easy recipe, click here
1 large onion
2 tbsp vegetable oil
1 fat clove garlic, crushed
200g squash or pumpkin, in small pieces
2 small courgettes, cut in thin slices
250g wild mushrooms, halved or sliced
15g fresh parsley, chopped
Salt and pepper
100ml dairy-free cream (e.g. Oatly)
2 tbsp sundried tomato paste
Instructions
Bought pastry version. Roll out the pastry and line a 10″ loose-bottomed baking tray. Trim the excess pastry and blind bake (* see below) for 15 minutes at 200˚C. Carefully remove the baking paper before you fill the tart.
Quick home made pastry version: click here
Cut the onion in half and slice it finely. Sauté it in the vegetable oil for 3-4 minutes. Add the crushed garlic, and squash. Cook for a few minutes until the squash begins to soften. Add a tiny splash of water if necessary. Now add the thinly sliced courgettes, mushrooms and chopped parsley. Stir carefully and season with sea salt and plenty of freshly ground pepper.
Mix the cream with the sundried tomato paste and stir it into the pan.
Adjust the seasoning to taste and transfer the filling into your prepared pastry shell. Bake for a further 20 minutes until the pastry is golden brown.
* To blind bake, place pastry in baking tray and cover with a piece of baking paper. Weigh it down with ceramic baking beans or regular dried beans. Any excess pastry can be made into decorations or kept in the fridge for a couple of days.
Did you know that Vegan Recipe Club is run by a charity?
We create vital resources to help educate everyone – vegan veterans, novices and the v-curious alike – about vegan food, health and nutrition; as well as the plight of farmed animals and the devastating environmental impact of farming.
Through this work we have helped thousands of people discover veganism; but we want to reach millions more! We rely entirely on donations as we don't get any government funding. If you already support us, thank you from the bottom of our hearts, you are really making a difference! Please share our details with your friends and loved ones too, as every donation enables us to keep fighting for change.