Baked Squash With Mushroom Nut Roast Stuffing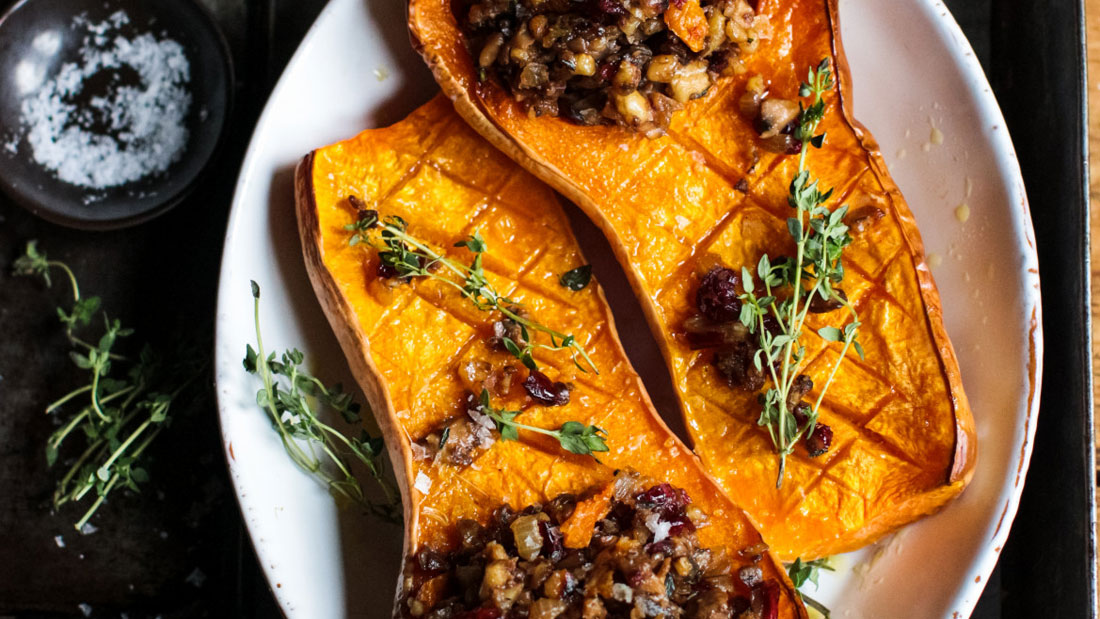 What to cook for that special festive dinner? It's a question I get asked all the time at this time of the year so I've created lots of delicious seasonal celebratory recipes. But what to cook for a striking centre piece? I think that roast squash is hard to beat. Here its stuffed with a chestnut nut roast filling and its super tasty. They also look pretty special laid out on a serving dish, I would recommend serving hem with a feast of other veggies. I really hope you enjoy, more delicious festive recipes coming your way. Love, Niki xxx

Not too tricky


Courtesy of Rebel Recipes



See other recipes by Rebel Recipes
Ingredients
Squash
2 medium squash, sliced in half and de-seeded
2 tbsp olive oil
Sea salt
Black pepper
Mushroom nut roast filling
1 large onion, finely chopped
2 tbsp olive oil
4 cloves garlic, minced
125g mushrooms, finely chopped
80g cooked chestnuts, chopped up
50g walnuts, toasted and crushed
1 tbsp tamari
4 tbsp nutritional yeast
1 tbsp vegan Worcester sauce
1 tsp sea salt
Black pepper
1 tbsp maple syrup (optional)
25g dried cranberries, chopped up
2 tbsp fresh thyme
Instructions
Squash
Preheat your oven to 180ºC (fan)/350ºF/Gas Mark 4.
Remove the seeds of the squash and score the flesh diagonally.
Place the butternut squash on baking trays and rub with the olive oil and sprinkle with salt and pepper. Place in the oven and bake for 60 – 120 minutes, until tender inside and caramelised on the outside.
Filling
Add the onion and oil to a medium pan and fry gently on a low heat for around 10 minutes until soft and browning.
Add the garlic and fry for a further minute. Next add the mushrooms and cook off 5-6 minutes until soft.
Add the walnuts and chestnuts along with the remaining ingredients. Stir to combine and cook for a further minute or so. Set aside.
To serve
When the squash is cooked spoon the filling into the cavities, top with fresh thyme and sea salt.
Did you know that Vegan Recipe Club is run by a charity?
We create vital resources to help educate everyone – vegan veterans, novices and the v-curious alike – about vegan food, health and nutrition; as well as the plight of farmed animals and the devastating environmental impact of farming.
Through this work we have helped thousands of people discover veganism; but we want to reach millions more! We rely entirely on donations as we don't get any government funding. If you already support us, thank you from the bottom of our hearts, you are really making a difference! Please share our details with your friends and loved ones too, as every donation enables us to keep fighting for change.