Roast Parsnip & Cashew Curry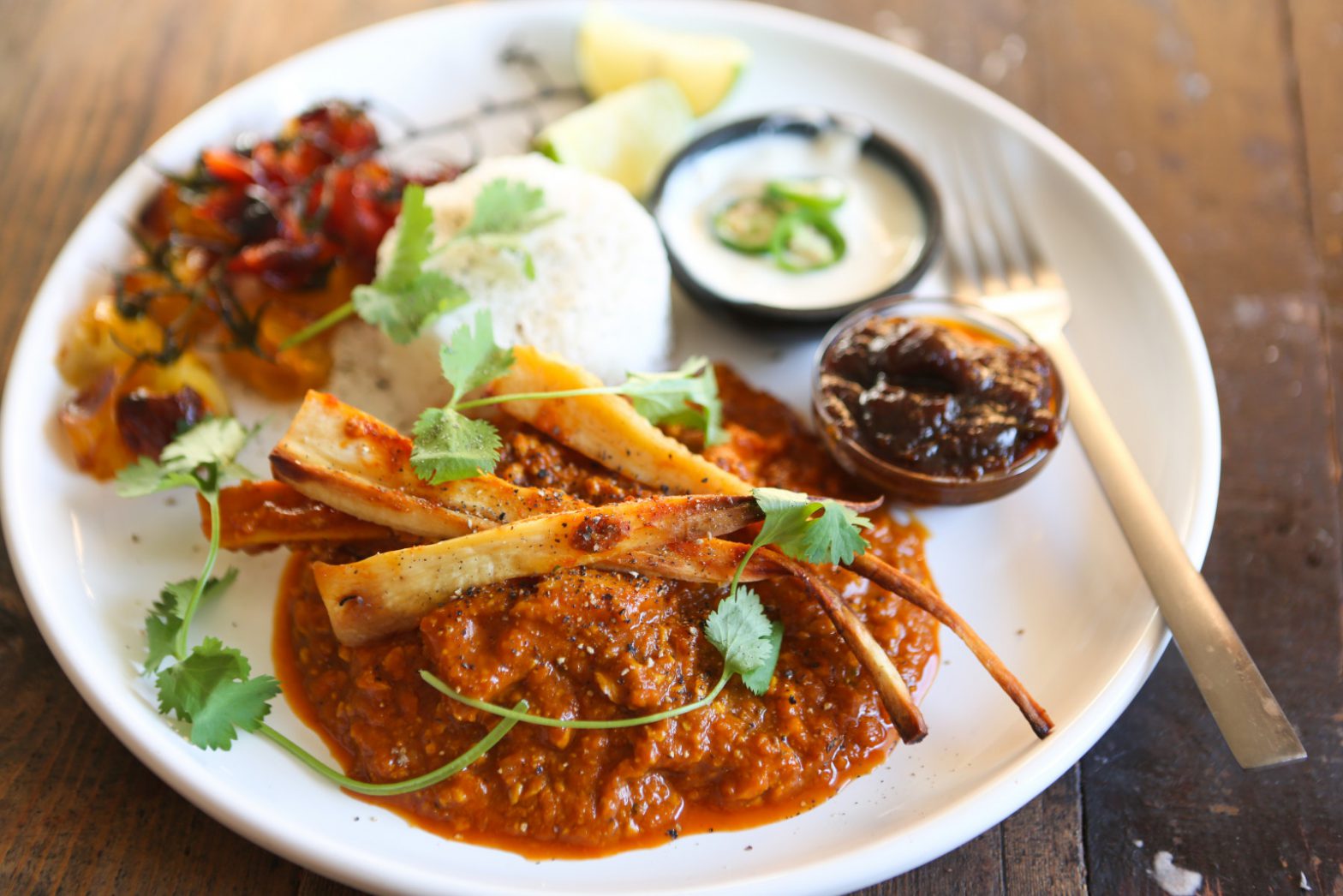 A seasonal, unusual and deliciously hearty curry. The combination of flavours works incredibly well together and it's definitely a crowd-pleaser. This recipe was inspired by one of the old favourites on the menu at the awesome Green Rocket vegan restaurant in Bath!

Easy




Ingredients
Paste
1 onion, roughly chopped
2 cloves garlic, skins removed
1 cm ginger, skin removed
1 green chilli, de-seeded
A little water
Curry
100g/¾ cup cashews, toasted and ground (not into a powder but small chunky pieces)
5 large parsnips, peeled and cut lengthways into 8 pieces
2 tsp cumin seeds
2 tsp ground coriander
1 tsp turmeric
1 tsp chilli powder (or less if you don't like heat)
1 tbsp tomato puree
500g/2 cups passata
Juice of ½ – 1 lime
1 tbsp syrup (eg maple, agave – optional)
250ml/1 cup stock
Salt and pepper, to taste
Instructions
Paste
Blend all ingredients until smooth. Set aside.
Curry
Preheat the oven to 180ºC (fan)/350ºF/Gas Mark 4.
Place the cashews on a baking tray and then pop in the oven for 8-10 minutes or until golden. Cut into small pieces (by hand or food processor) but not powder. Set aside.
Place the parsnips onto a baking tray and then roast them with a little oil and salt, turning once, for 35 to 40 minutes or until nicely golden.
While the parsnips are roasting, in a little oil fry the cumin seeds for a few minutes until they release their aroma (don't overcook!).
Add the curry paste cook for 5-10 minutes, stirring frequently. Stir through the ground coriander, turmeric and chilli powder, cooking for a further minute.
Add the tomato puree, passata, syrup, toasted cashews and stock. Bring to the boil and then simmer for 15-20 minutes.
Add the lime juice and roast parsnips (save a few for decoration if you like), stir through and heat for another few minutes. Add more water if necessary.
Taste the curry and add more syrup, lime juice and salt and pepper if necessary, according to your taste.
Optional serving suggestions: coconut yoghurt, brown basmati rice, lime wedges, poppadoms, fresh coriander, lime or auberine pickle, mango chutney, vegan naan bread, onion bhajis, vegetable samosas
Did you know that Vegan Recipe Club is run by a charity?
We create vital resources to help educate everyone – vegan veterans, novices and the v-curious alike – about vegan food, health and nutrition; as well as the plight of farmed animals and the devastating environmental impact of farming.
Through this work we have helped thousands of people discover veganism; but we want to reach millions more! We rely entirely on donations as we don't get any government funding. If you already support us, thank you from the bottom of our hearts, you are really making a difference! Please share our details with your friends and loved ones too, as every donation enables us to keep fighting for change.