Leek & Chestnut Filo Swirl With Creamy Mushroom Sauce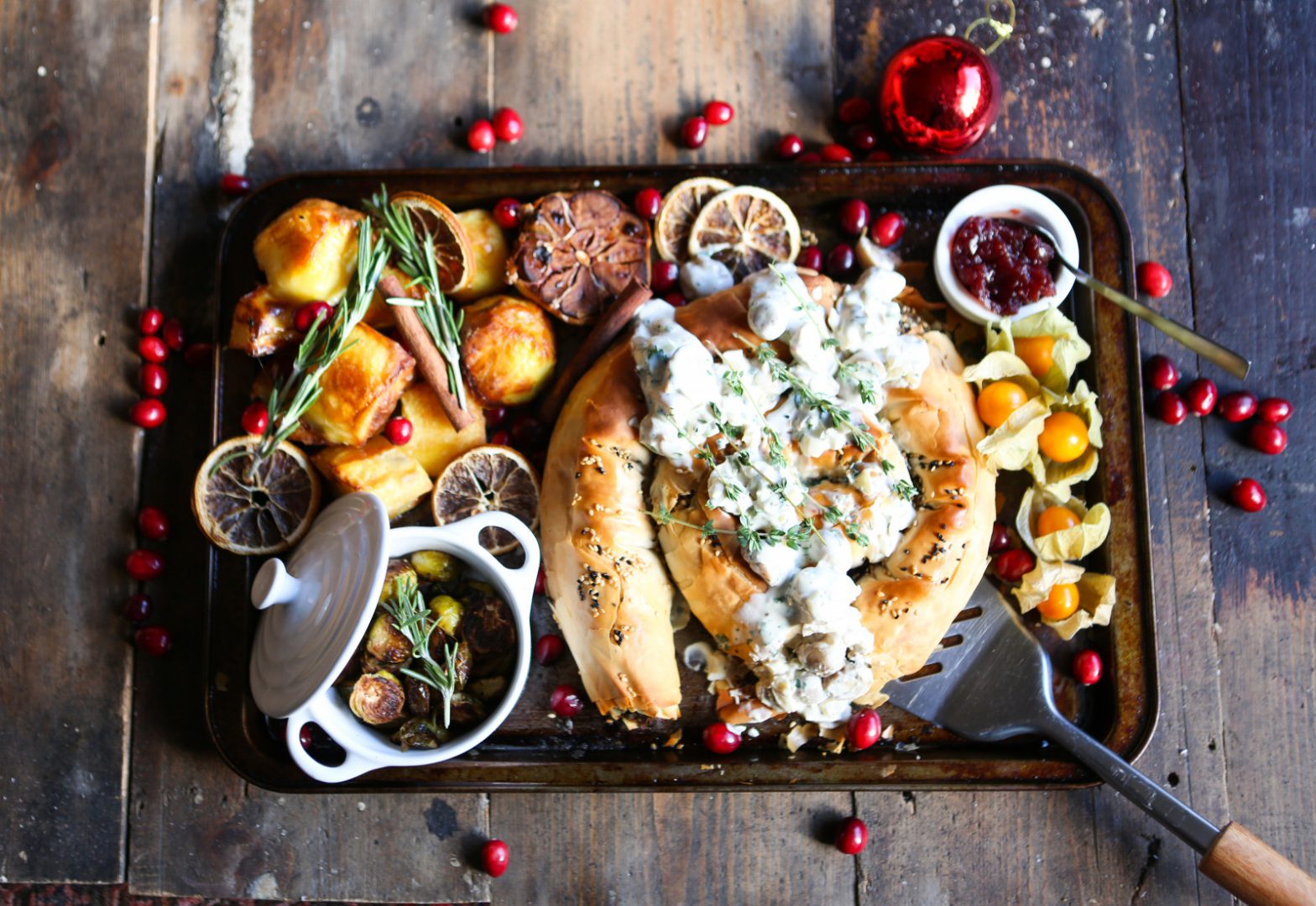 We are in love with this Christmas centrepiece! It's actually a lot easier to make than it looks and is a real crowd pleaser. The combination of chestnut puree, walnuts, buttery leeks, cranberries and fresh herbs is vegan Christmas at its best!

Not too tricky

Ingredients
Filo Swirl
10 sheets filo pastry
Olive oil for brushing
1 tbsp vegan butter (our favourite is Naturli)
500g/17.5 oz leeks, trimmed and thickly sliced
3 cloves garlic, finely chopped
½ tsp nutmeg (fresh or ground)
1 tsp paprika
200g/7 oz baby spinach
200g/7 oz chestnut puree (eg Merchant Gourmet)
200g/7 oz vacuum packed chestnuts (eg Merchant Gourmet), finely chopped (easiest on pulse mode in a food processor)
100g/7 oz pecans or walnuts or cashews, toasted and finely chopped (easiest in a food processor – you can process them along with the chestnuts)
100g/1 cup plain breadcrumbs (fresh or ready to use)
1 tbsp miso
1 tsp syrup (eg maple or agave)
1 apple, grated
Zest of half lemon, finely chopped
1 tbsp lemon juice
2 tbsp fresh sage leaves, finely chopped
1 tbsp rosemary, finely chopped
Salt and pepper, to taste
100g/1 scant cup dried cranberries, soaked in boiling water for 30 minutes then drained (optional)
Mixed seeds for topping (optional)
Mushroom Sauce
Instructions
Preheat the oven to 180ºC/350ºF/Gas Mark 4.
In a large pan, add the spinach with a little water. Place the lid on the pan and allow the spinach to wilt down. Once cool, thoroughly drain, squeeze out all the water and then set aside.
In a large non-stick pan, melt the butter before adding the leeks. Place the lid on the pan and allow the leeks to cook for around 10 minutes, stirring frequently.
After 10 minutes, add the garlic and fry for a further 1-2 minutes.
Add the nutmeg and paprika, stir through and fry for a minute.
Add all of the remaining ingredients to the pan, including the wilted spinach. Stir everything through and warm on a low-medium heat for a few minutes until everything is thoroughly combined. Try the mixture and then add salt and pepper to your taste. You might want to add a little more syrup or a little more lemon juice to balance the flavours – keep trying the mixture until you have it right.
Transfer the mixture to a large bowl and place in the fridge until needed. This will also help to firm the mixture.
Place two clean, damp tea towels edge to edge on a large worksurface with the longest sides facing towards you. Then carefully take 3 filo sheets and lay them over the tea towels so that the shortest edges are facing you. Overlap them by about an inch and seal this overlap with a little water. Lightly brush the 3 filo sheets with olive oil until they are completely covered. Place another 3 filo sheets over the top to create another layer. Again seal the overlap with water and brush lightly with olive oil. Repeat this with another 3 sheets so you have used 9 filo sheets in total. The remaining sheet will be used to patch up the swirl if any cracks occur.
Take the filling mixture from the fridge and as evenly as possible, spread it out into a sausage shape all the way along the longest edge nearest to you. Make sure to spread it right to each end and squash it together with your hands so it's compact and even.
Once the filling is in place, carefully roll the filo up away from you, like a sushi roll. Then roll this long sausage shape into a large pinwheel shape, trying not to allow any cracks to occur. If you do get cracks, use the spare filo sheet to patch them up – you will need to create a good overlap of pastry to cover the crack as the pastry will shrink in the oven. Use a light brushing of olive oil to seal the patched up pastry.
Transfer the filo swirl to a lined baking tray, brush all over lightly with olive oil then place in the oven for 30 minutes. If you're using seeds as a topping, take the pastry out at this stage, give it another light brushing of olive oil then sprinkle the seeds over the top. Place it back in the oven and cook for a further 5-15 minutes or until crisp and golden.
Serve with our delicious creamy mushroom sauce.
Did you know that Vegan Recipe Club is run by a charity?
We create vital resources to help educate everyone – vegan veterans, novices and the v-curious alike – about vegan food, health and nutrition; as well as the plight of farmed animals and the devastating environmental impact of farming.
Through this work we have helped thousands of people discover veganism; but we want to reach millions more! We rely entirely on donations as we don't get any government funding. If you already support us, thank you from the bottom of our hearts, you are really making a difference! Please share our details with your friends and loved ones too, as every donation enables us to keep fighting for change.