Justine's Chocolate Mousse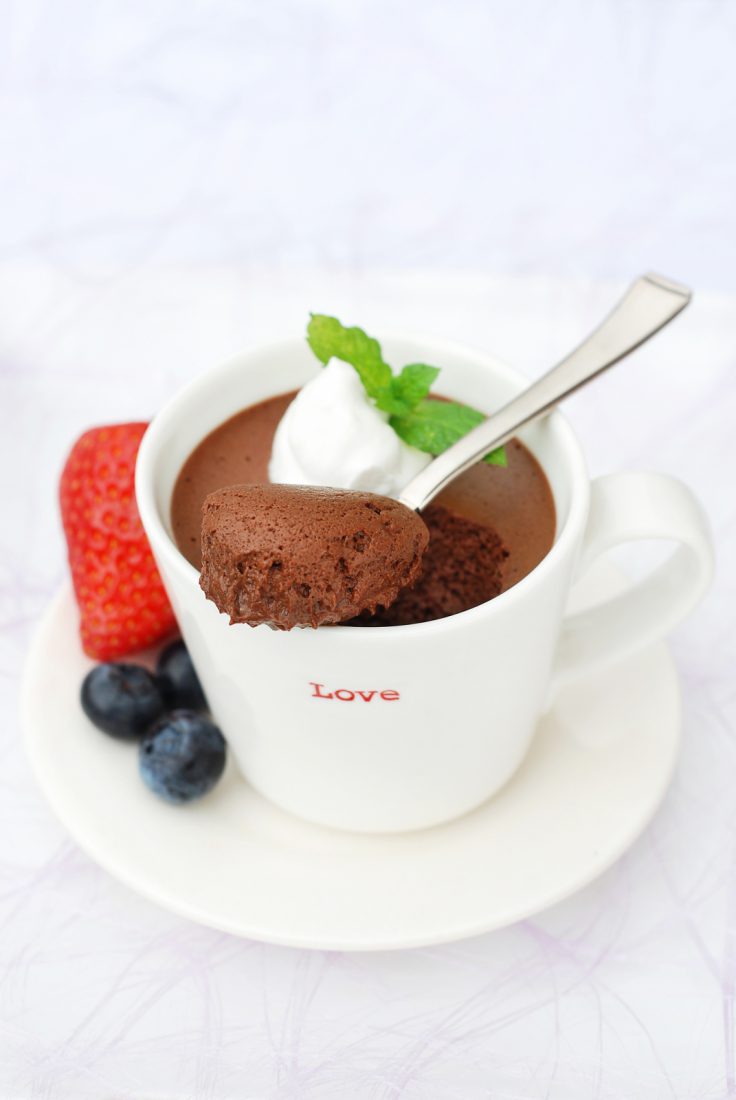 Beam me up, Choccie! Yes, our colleague and fellow-foodie Justine has been boldly going to the new frontiers of aquafaba cooking! This stunning and simple chocolate mousse has the mouthfeel of the stuff made with eggs – but of course, it's all completely and deliciously vegan.
So what's aquafaba? It's the new 'must-have' vegan ingredient that is laughably simple, cheap and will make your jaw drop… bean juice, to be exact. Yup, that gunk at the bottom of a tin of chickpeas turns out to have very similar qualities to eggs – it's adding a whole dimension to vegan and other cuisines. There are whole websites, Facebook pages and more of excited amateur and professional cooks experimenting and eating everything from meringues to cakes and more. And no, it doesn't taste beany!
Justine says: light, fluffy and creamy with a strong but not overwhelming chocolate kick. This aquafaba stuff is revolutionising vegan cooking – there are no limits! And no baby chicks were harmed in its production… I reckon I might try choux pastry next'Ķ
Recipe from Justine's blog with thanks. Check it out – and her other culinary adventures here – on JustBloggs
Photo from Chava Eichner's Flavourphotos with thanks

Not too tricky




Ingredients
200g dark chocolate (I used two bars of Seed & Bean Extra Dark Chocolate currently on sale here)
½ cup of coconut cream (nearly a whole small tin from here) Alternatively, use 120ml Blue Dragon coconut cream. It's sold in tetrapacks (not to be confused with creamed coconut, which is in a block nor coconut milk which is in a tin and thinner)
1-2 tins chickpeas, drained. Use 1 cup aquafaba (the thick strained liquid from the chickpeas. Use the whole chickpeas in another dish, eg hummus or a curry)
½ cup caster sugar – most UK brands of sugar are vegan, including Aldi and Sainsbury's
1 tsp vanilla extract
A pinch of salt
Aldi and Lidl also do good quality and fairtrade dark chocolate that's vegan – most dark chocolate is fine but always check, as some brands add whey, butterfat or other animal ingredients
Instructions
Melt the chocolate and coconut cream together in a glass bowl over a pan of boiling water.*
Remove from heat and stand the bowl on the side to cool. If the chocolate splits and you get dark clumpy chocolate and clear fat, add a small amount of water (a few teaspoonfuls) and stir – it will go creamy again.
Whisk the aquafaba in a clean glass bowl with an electric balloon whisk until stiff peaks form.
Then slowly add the caster sugar whisking all the time.
When the chocolate has cooled a bit gently fold it into the aquafaba with the vanilla extract and salt. Stir gently – you don't want it to collapse.
Transfer into glasses or small coffee cups and chill in the fridge for at least 4-6 hours.
Serve with boozy fruit!
*This is sometimes called a double boiler in cookery books and websites
Optional extras / notes
Plus chilling time of 4-6 hours.
Did you know that Vegan Recipe Club is run by a charity?
We create vital resources to help educate everyone – vegan veterans, novices and the v-curious alike – about vegan food, health and nutrition; as well as the plight of farmed animals and the devastating environmental impact of farming.
Through this work we have helped thousands of people discover veganism; but we want to reach millions more! We rely entirely on donations as we don't get any government funding. If you already support us, thank you from the bottom of our hearts, you are really making a difference! Please share our details with your friends and loved ones too, as every donation enables us to keep fighting for change.