Golden Stuffed Squash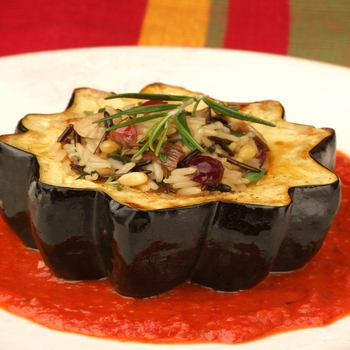 A wonderful way to eat squash this Autumn, serve as part of a roast dinner, with one of our sauces or homemade gravy.
Nut-free option? Omit the pine nuts and replace with a handful or two of frozen peas or fresh soya beans (edamame)
Top Tip
If you're in a hurry, try sachets of pre-cooked mixed grains instead of cooking it from scratch. Merchant Gourmet's Grains, Red Rice & Quinoa or similar would work well. Just reduce the amount of stock, reduce the cooking time to around 5-10 minutes frying up the onions etc – then add the grains last to warm through with the rest of the mixture.

Not too tricky





Meal
mains
lunches
sides-light-meals-and-salads
vegetable-side-dishes
Ingredients
Squash
2 small squashes (eg acorn, kabocha or small butternut )
3 cloves garlic
Low-cal oil spray
1 large sprig of fresh rosemary
Salt and freshly ground black pepper
Filling
2 tsp olive oil
1 onion, finely chopped
10g/⅓3 oz dried mushrooms (porcini or mixed), eg Merchant Gourmet
90g uncooked wholegrains: Eg 70g/2½ oz long grain rice + 20g/¾ oz quick-cook wild rice. Alternatively, use a pre-cooked mixture, as above
500ml/18fl oz vegetable stock (reduce this if using the pre-cooked grain option – you'll only need a couple of splashes of stock to heat through the wholegrains – about 60ml/¼ cup)
½ tsp chopped rosemary
2 tsp dried cranberries
1 tbsp pine nuts – omit these or replace with pumpkin or sunflowe seeds, depending on your allergy requirements
1 heaped tbsp fresh thyme leaves, chopped
Instructions
1. Preheat the oven to 200°C/400°F/Gas Mark 6.
2. Cut the squashes in half, remove all seeds with a spoon, and lightly mist the squash with oil spray.
3. Quarter the garlic cloves. Place some in the hollows of each squash piece and dot the rest around the edges of each squash half.
4. Add the rosemary needles and season with a little salt and black pepper.
5. Place in a roasting dish and roast for 45 minutes or until the flesh is soft.
6. While the squashes roast, prepare the filling.
In a saucepan, sauté the onion in the oil spray or oil until translucent and add the wild rice and vegetable stock.
7. Bring to the boil, then reduce the heat and simmer for 15 minutes.
8. Add the dried mushrooms, long grain rice, rosemary and dried cranberries.
9. Bring to the boil once more, then cover and simmer over a very low heat until the stock is absorbed and the rice is soft (about 20-25 minutes).
10. Meanwhile, make gravy, or a sauce such as Roasted Red Pepper Sauce and cook potatoes/other vegetables.
11. Once rice is cooked, stir in the pine nuts and chopped thyme.
12. Divide this filling between the four squash halves and return to the oven for 5 minutes. Serve hot with sauce or gravy.
Did you know that Vegan Recipe Club is run by a charity?
We create vital resources to help educate everyone – vegan veterans, novices and the v-curious alike – about vegan food, health and nutrition; as well as the plight of farmed animals and the devastating environmental impact of farming.
Through this work we have helped thousands of people discover veganism; but we want to reach millions more! We rely entirely on donations as we don't get any government funding. If you already support us, thank you from the bottom of our hearts, you are really making a difference! Please share our details with your friends and loved ones too, as every donation enables us to keep fighting for change.