Easy Quiche with Broccoli & Sundried Tomatoes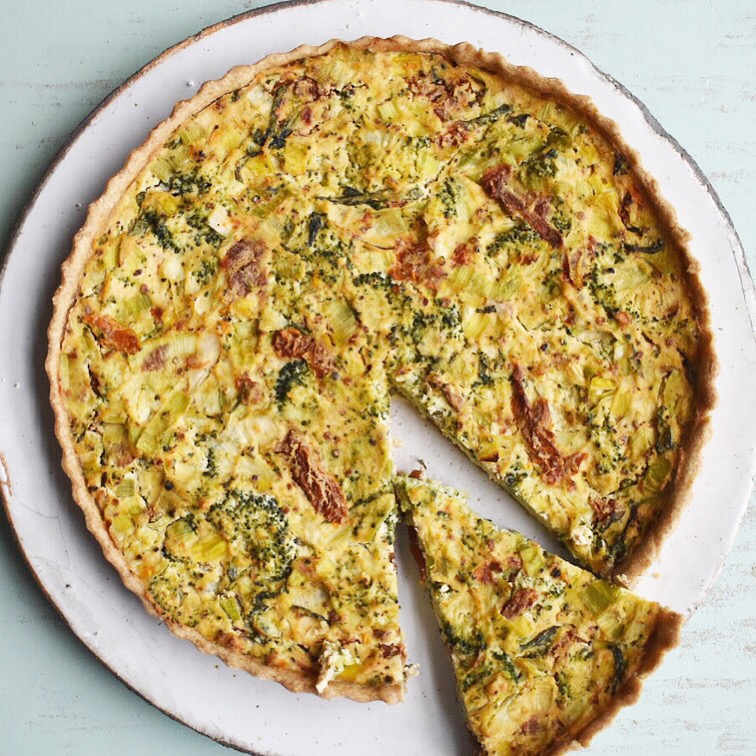 You might think that making a vegan quiche could be a palaver to make. In which case you'd be pleasantly surprised at just how quick and easy this recipe is! It really is delicious too. When baked, the creamy tofu provides the perfect quiche texture, and the garlic, leek and nutritional yeast all give lovely 'cheesy' and umami flavours. This quiche recipe is really versatile too. You can make it with a variety of different vegetables – whatever you have lying around – mushrooms, green peas, spinach, and roasted vegetables like courgette, aubergine, bell peppers and red onion, all work well. Nutritionally, it contains just a fraction of the saturated fat of a traditional quiche, with just as much protein, more fibre, more iron, and definitely all the flavour!

Easy




Ingredients
200g whole wheat flour
65ml olive oil & 1 tbsp for frying
65ml water
400g block of firm tofu
1 leek, thinly sliced
4 cloves of garlic, minced
½ jar of sundried tomatoes, drained and roughly chopped
2 tbsp nutritional yeast
½ head of broccoli, par-boiled
20g fresh basil
1 tsp dried oregano
½ tsp salt
Good pinch of black pepper
Instructions
Mix the olive oil and water, using a whisk to thoroughly combine until cloudy (this is the oil emulsifying). In a separate bowl, combine 200g flour with the salt, then gently pour the oil / water mixture into it.
Knead the ingredients for a few minutes with your hands until it comes together. Roll out the dough into a round shape on a lightly floured surface with a rolling pin (or a bottle of wine!) until just bigger than your tart dish. Lightly grease your dish with olive oil, then carefully transfer the flat dough to the dish and spread it out so it neatly covers all the edges. Place the dish with the dough in the fridge to chill for 20 minutes.
Meanwhile, preheat the oven to 180C (360F) and prepare the filling.
Unwrap the tofu and press it gently between your hands over the sink to squeeze out some of the liquid, then break up the tofu into a food processor. Blitz until smooth and creamy, adding a little splash of water or nut milk if necessary to help it reach a cream cheese texture.
In a frying pan, heat 1 Tbsp of olive oil and gently fry the leek for a few minutes. Add the garlic, broccoli, basil, oregano, sun-dried tomatoes, nutritional yeast, and seasoning (to taste) and continue to stir for another few minutes.
Now take the pan off the heat and stir in the processed tofu until thoroughly combined. Spoon the mixture into the base and spread out evenly using the back of a spoon.
Bake for 30-40 minutes, until the quiche is firm to the touch, starting to go golden on the top, and the base is nice and crispy.
Best served warm but store any leftovers in the fridge for up to 4 days as it's also delicious served cold or reheated.
Did you know that Vegan Recipe Club is run by a charity?
We create vital resources to help educate everyone – vegan veterans, novices and the v-curious alike – about vegan food, health and nutrition; as well as the plight of farmed animals and the devastating environmental impact of farming.
Through this work we have helped thousands of people discover veganism; but we want to reach millions more! We rely entirely on donations as we don't get any government funding. If you already support us, thank you from the bottom of our hearts, you are really making a difference! Please share our details with your friends and loved ones too, as every donation enables us to keep fighting for change.