Aubergine, Tomato & Chickpea Stew with Quick Quinoa Pilaf for Caterers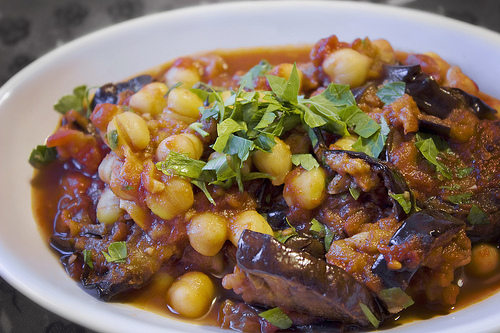 A classic with a bit of a twist – the Quinoa Pilaf is simple but very good, although brown rice works well too. We also include other serving suggestions to enhance the recipe's flavours and presentation. The stew is even nicer if made the day before.
Picture courtesy of Messy Vegetarian Cook with thanks.

Not too tricky



Cuisine
Middle Eastern and Moroccan
Meal
mains
lunches
vegetable-side-dishes
Ingredients
100ml olive oil
6 large red onions, chopped
6 large aubergines, chopped into medium-small cubes
12 medium carrots, diced
6 large King Edward or other solid white potatoes, diced
6 medium-large red peppers, chopped into pieces
2 bulbs garlic, chopped fine
6 x 400g tins chickpeas, rinsed and drained OR 1.4K cooked chickpeas
10 x 400g tins chopped tomatoes
300ml red wine (many supermarket own-brand wines are suitable, eg Co-op, Sainsbury and Tesco. 3663 also supply details of their vegan food and booze)
Large bunch fresh parsley, chopped fine
3 tsp dried oregano
3 tsp dried basil
3 tsp ground cinnamon
100ml good quality soya sauce (eg shoyu). For a gluten-free version, use tamari
500-700ml vegan stock – start with less, add more if necessary
Salt and black pepper
Serving ideas
Quinoa Pilaf (see below)
Plain vegan yoghurt (eg Alpro/Provamel/Sojade/Sojasun or CoYo)
Hot pitta bread
Rice – brown or white
Roasted butternut squash or sweet potatoes
Mash with olive oil and fresh herbs
Vegan sour cream in multiple quantities Try our Tofu-based Sour Cream or Cashew-based Sour Cream
Quinoa Pilaf
2K quinoa
3.5-4L hot vegan stock: home made OR Green Oxo/Marigold vegan bouillon (red or purple tubs); Kallo vegan stock cubes etc (just check no added dairy, eg whey powder)
2 x 350g jars olives: black, green or mixed – drained and roughly chopped
2 jars or packs of sundried tomatoes, drained and chopped with scissors
Instructions
Heat the oil and sauté the onions. Salt the aubergine pieces, add them to the onions and sauté for another few minutes.
Add the rest of the vegetables and sauté for a few minutes.
Add the chickpeas, tinned tomatoes and the rest of the ingredients. Cook until the vegetables are tender.
Serve hot, with Quinoa Pilaf and/or other serving suggestions, as above.
Quinoa Pilaf. Dry roast the quinoa in a large pot for 1-2 minutes, stirring so it doesn't burn. Add the stock and cook for 15-20 minutes or until tender. Add more water/stock if it starts to stick. Add the olives and sundried tomatoes, mix in well and heat through before serving.
Optional extras / notes
Vegetable preparation plus 30 minutes cooking – better made the day before
Did you know that Vegan Recipe Club is run by a charity?
We create vital resources to help educate everyone – vegan veterans, novices and the v-curious alike – about vegan food, health and nutrition; as well as the plight of farmed animals and the devastating environmental impact of farming.
Through this work we have helped thousands of people discover veganism; but we want to reach millions more! We rely entirely on donations as we don't get any government funding. If you already support us, thank you from the bottom of our hearts, you are really making a difference! Please share our details with your friends and loved ones too, as every donation enables us to keep fighting for change.