Roast Cauliflower, Baba Ganoush, Spiced Harissa Chickpeas & Dukka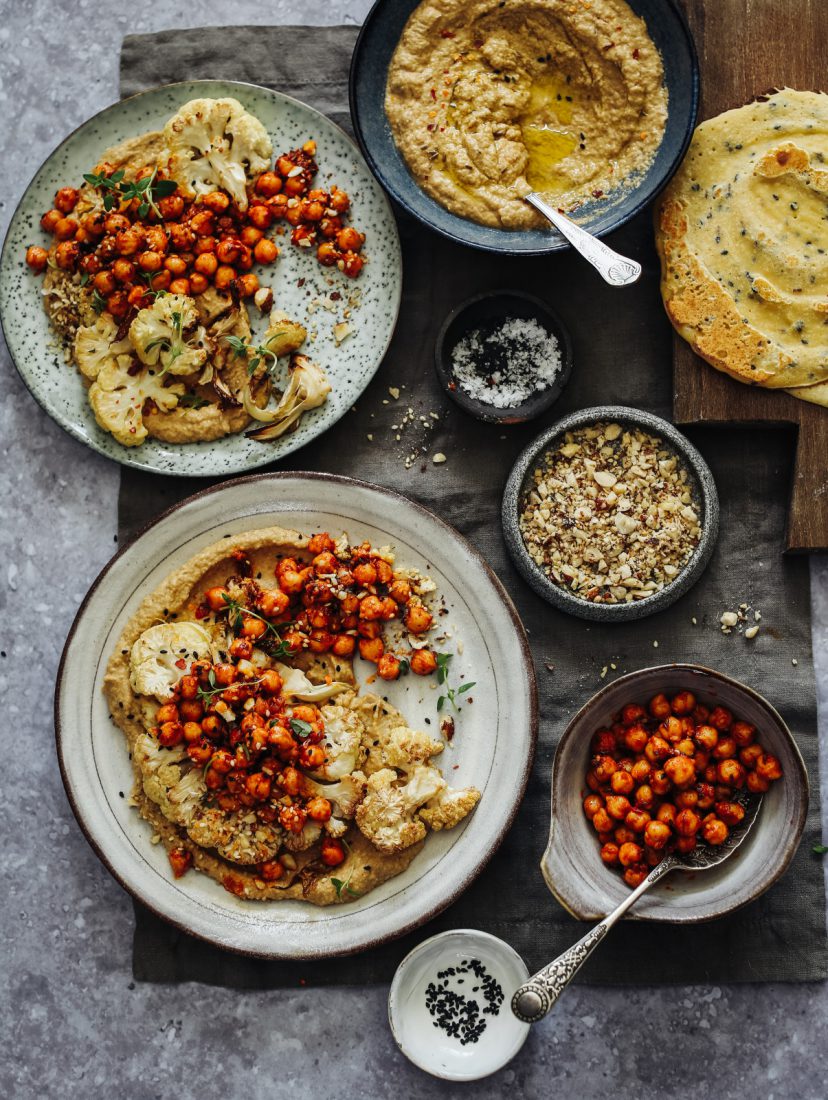 This dish combines so many of my favourite ingredients and flavours – smokey and creamy baba ganoush filled with nutty cauliflower steaks, harissa chickpeas and crunchy dukka. A veritable taste and texture explosion and I absolutely love it.

Not too tricky


Courtesy of Rebel Recipes



See other recipes by Rebel Recipes
Cuisine
Middle Eastern and Moroccan
Meal
mains
lunches
sides-light-meals-and-salads
vegetable-side-dishes
Ingredients
Cauliflower
½ medium cauliflower, cut into steaks
2 tbsp olive oil
Pinch sea salt
Aubergine dip (baba ganoush)
2 medium aubergines
2 tbsp extra virgin oil
1 clove garlic, sliced (optional)
1 tbsp tahini
Juice ½ lemon
1 tsp smoked paprika

1 tsp sea salt

1 tsp cumin seeds
Chickpeas
1 can chickpeas, drained and rinsed
1 tbsp rose harissa or 1 tsp harissa paste
2 tbsp extra virgin olive oil
Squeeze lemon juice
Pinch sea flakes
½ tsp smoked paprika
½ tsp caraway seeds
Big pinch sea salt
Dukka
100g raw, unsalted hazelnuts
1 tbsp cumin seeds
1 tbsp coriander seeds
3 tbsp sesame seeds
2 tbsp sunflower seeds
1 or 2 sprigs of fresh thyme
1 tsp pink Himalayan salt
½ tsp chilli flakes
Flatbreads
50g gram (chickpea) flour, sieved
Pinch sea salt
Splash olive oil
½ tsp apple cider vinegar
100ml water
Instructions
To roast the cauliflower
Cut cauliflower up into steaks.
Add to a large roasting pan with the olive oil and salt. Roast for 20 minutes, then turn. Continue to roast for a further 20 minutes or until the veg is cooked and golden brown. Remove from the oven to cool.
To make the baba ganoush
Preheat your oven to 180°C/350°F/Gas Mark 4.
Add the aubergines to a roasting tin then roast for 25-30 minutes.
Remove and allow to cool.
Slice through the skin and scoop out the flesh. Discard the skin and keep the flesh.
Add all the ingredients to a food processor or blender and blitz to a smooth paste.
You can drizzle more extra virgin olive oil to serve.
To make the chickpeas
Add all the ingredients to a small saucepan – stir to combine and heat through.
To make the dukka
Put the nuts, cumin seeds, coriander seeds and sesame seeds on to a baking tray lined with parchment paper.
Dry toast for 12 minutes on 180°C. Allow to cool.
Add thyme leaves, chilli & salt to a mini chopper and pulse on 1 second bursts.
Check after each pulse as you don't want it too finely chopped.
To make the flatbreads
Add the gram flour and seasoning to a large bowl. Stir to combine. Add in the water, olive oil and vinegar. Mix to a smooth batter. Set aside for 10 minutes.
Add a little oil to the base of a non-stick small frying pan. Add ¼ cup of the batter to the pan and swirl around the bottom so you get an even crepe.
Cook on a medium heat for approximately 2 minutes until there are bubbles in the crepe and you can lift over to flip easily.
Flip and cook on the other side for 30 seconds to a minute.
Remove from the pan and place on and cover with a clean cloth to keep warm.
Repeat the process with the remaining batter.
To serve
Load your plate with baba ganoush, cauliflower steaks, smokey chickpeas and dukka.
Did you know that Vegan Recipe Club is run by a charity?
We create vital resources to help educate everyone – vegan veterans, novices and the v-curious alike – about vegan food, health and nutrition; as well as the plight of farmed animals and the devastating environmental impact of farming.
Through this work we have helped thousands of people discover veganism; but we want to reach millions more! We rely entirely on donations as we don't get any government funding. If you already support us, thank you from the bottom of our hearts, you are really making a difference! Please share our details with your friends and loved ones too, as every donation enables us to keep fighting for change.