Aubergines (or eggplants) are an incredible addition to many types of vegan recipes – from currys, stews, pastas, salads and even pizzas. Check out our delicious vegan aubergine recipes below.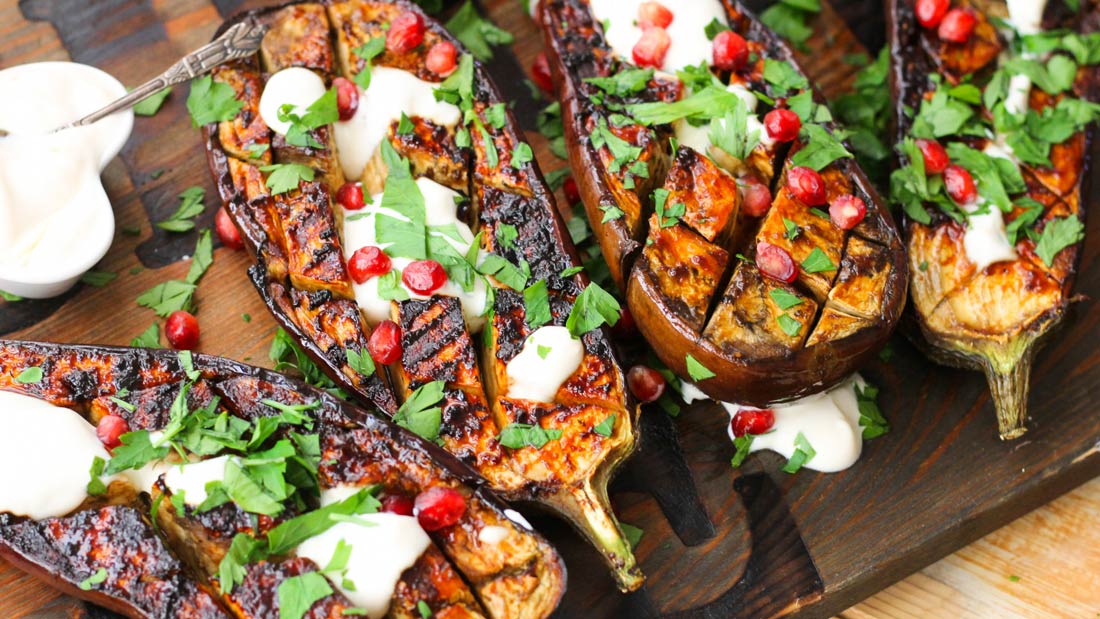 These smooth-skinned plants are incredibly versatile and can be cooked and prepared in a number of ways. This has made them a popular ingredient all over the world in vegan recipes and non-vegan recipes alike.
Aubergines are a member of the nightshade family along with tomatoes and potatoes, and are technically a fruit, not a vegetable! They come in many varieties but the most common is the deep-purple elongated type which also happens to be the healthiest thanks to all the pigment it contains!
Aubergine FAQs
Are aubergines vegan-friendly?
They are a fruit and are absolutely suitable for vegans to enjoy. Take a look at our easy aubergine recipes above!
Are aubergines healthy?
Yes! Aubergines are high in fibre, low in fat and sugar, and are rich in nutrients and antioxidants such as nasunin, responsible for their signature purple skin colour. There is evidence to suggest that aubergines may help reduce the risk of heart disease, diabetes and cholesterol and aid in weight management, amongst other benefits. Our healthy aubergine recipes will make a great addition to any diet.
How to pick a good aubergine?
Try to ensure you select aubergines that are firm, shiny, unblemished have, bright green stems and have some weight to them. If they feel too light, it suggests they may have dried out inside. Try to avoid ones that have scratches, wrinkles or discolouration if possible.
How should aubergines be stored?
There is some debate over how aubergines should be stored. Some sources say they are okay to be kept in the fridge while others say they should be kept in a cool, dark cupboard. At VRC, we don't keep aubergines in the fridge. However you choose store them, try to keep them away from produce which release ethylene such as apples, bananas, melons, peppers and tomatoes. They will cause the aubergine to ripen and spoil faster. Take a look at this ethylene sensitive chart for more info.
Do you need to peel the skin of an aubergine?
No, the skin of an aubergine is perfectly edible and doesn't need to be peeled!