Thai Aubergine Curry
This is a simplified version of a Thai street food dish. The combination of aubergine, lemongrass, tamarind, coconut milk, sugar and spices is incredible. Many people have said this is the most delicious curry they've ever eaten!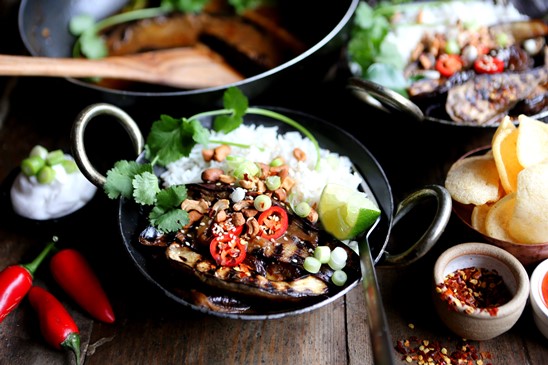 Ingredients
3 large aubergines, each cut into 6 slices (lengthways)
Sesame oil for frying (you can also use rapeseed)
5 shallots or 1 large onion, finely diced
2 cloves garlic, crushed
1 stick lemongrass (bashed)
1 tsp tamarind paste
4 tbsp soya sauce
2 tins coconut milk
2 tbsp syrup (eg maple, agave) or 1 tbsp brown sugar
1 tsp stock powder (eg Marigold, vegan)
Juice of 2 limes
Spices
2 tsp ground cumin
2 tsp ground coriander
¼ tsp ground nutmeg
½ tsp cinnamon
½ tsp chilli powder
Pinch ground cloves
Pinch fennel seeds
Optional: serve with Jasmine rice, Thai crackers (Sainsbury's do a fish-free version… see below), fresh coriander, Thai Basil, lime, unsweetened vegan yoghurt, sweet chilli sauce, toasted cashews
Instructions
Either fry the aubergine slices on each side until golden with a little oil and salt OR if you prefer pre-heat the oven to 180ºC (fan)/350ºF/Gas Mark 4, lightly coat the slices in oil and a sprinkle of salt and roast them until golden (around 15 minutes on each side), turning once. Set aside. (Note: we charred ours on a griddle pan first – a few minutes on each side)
Lightly fry the shallots/onion with the fennel seeds in the sesame oil until soft and golden.
Add the crushed garlic and fry for a further minute.
Add all the spices, stir and fry for another minute.
Add the coconut milk, tamarind paste, lemongrass, soya sauce, stock powder, syrup/sugar. Bring to the boil and then simmer to reduce for around 20-30 minutes.
Adjust the flavour to your taste, adding more soya sauce, syrup or lime juice (if necessary).
Remove the lemongrass before serving. Serve with rice and optional extras.
Did you know that Vegan Recipe Club is run by a charity?
We create vital resources to help educate everyone – vegan veterans, novices and the v-curious alike – about vegan food, health and nutrition; as well as the plight of farmed animals and the devastating environmental impact of farming.
Through this work we have helped thousands of people discover veganism; but we want to reach millions more! We rely entirely on donations as we don't get any government funding. If you already support us, thank you from the bottom of our hearts, you are really making a difference! Please share our details with your friends and loved ones too, as every donation enables us to keep fighting for change.