Mediterranean Vegetable & 'Feta' Tart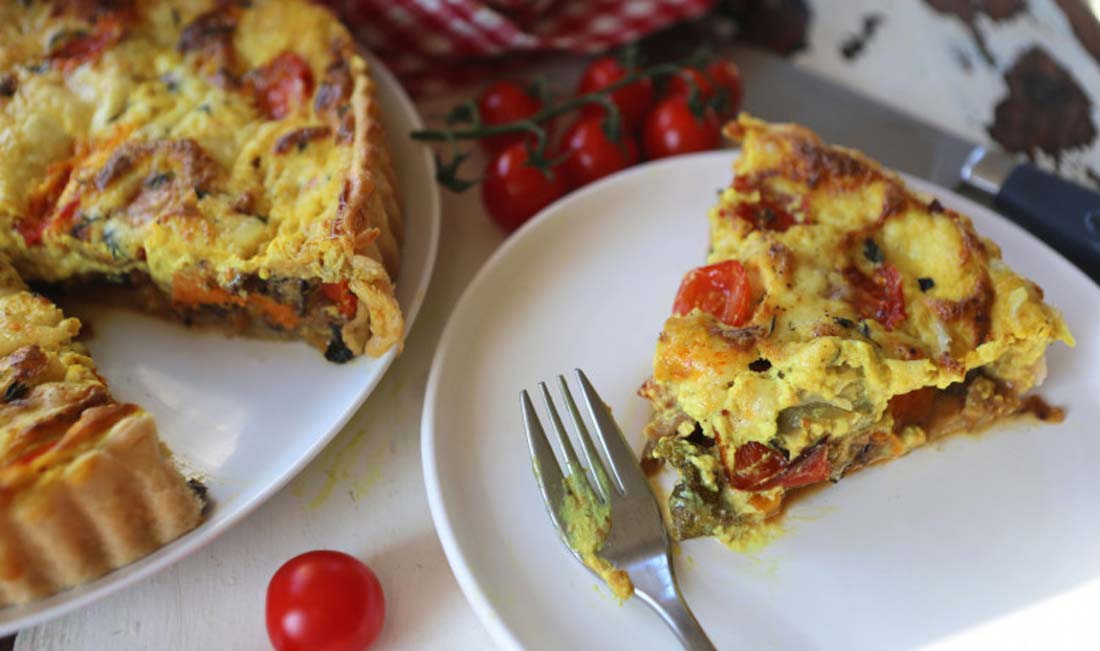 This is a delicious dish which is a great addition to a barbecue, picnic, summer lunch or well anytime really 🙂

Not too tricky



Ingredients
Pastry
320g/1 sheet ready-made shortcrust pastry (eg Jus-Rol or some supermarket own-brands. Use gluten-free if necessary eg Genius)
Vegetables
2 onion, finely sliced
2 cloves garlic, finely chopped
1 courgette, cut into 3cm chunks
1 aubergine, cut into 4cm chunks
1 sweet potato, cut into 3cm chunks
2 red pepper (or 1 red, 1 yellow), roughly sliced
2 tbsp thyme leaves
Sauce
400g/1¾ cups firm tofu
225g/2 cups plus 1 tbsp savoury vegan cream cheese (eg Sheese, Tofutti, Tesco, Sainsbury's, Koko, Violife)
125ml/½ cup unsweetened plant milk (eg soya, almond or oat)
1 tsp fresh thyme leaves
1 tbsp Dijon mustard
1-2 tsp lemon juice (fresh or bottled)
3 tbsp nutritional yeast
1 tsp vegan syrup eg maple or agave
¼-½ tsp turmeric
1 tbsp cornflour
1½ tsp salt (or add more to taste)
Pinch of black pepper
Extras
200g Greek-style/'feta' cheese (we used Violife but you can also use Green Vie, Bute Island Sheese, supermarket own-brand)
10 cherry tomatoes, halved
Instructions
Preheat oven to 180ºC/350ºF/Gas Mark 4.
Pastry
Roll out the pastry block to fit a large flan dish (diameter about 25-28 cm/10-11 inch). Spread around evenly with your thumb and fingers.
Roll a rolling pin over the top of the flan dish to evenly trim the edges of the pastry.
Refrigerate while you prepare the filling.
Vegetables
On a couple of oiled baking trays place the courgette, aubergine, sweet potato and pepper (keep them in sections as you might need to remove one vegetable before the rest), sprinkle with a little salt and the thyme leaves.
Check them every 15 minutes, turning once and remove from the oven when golden. Remove each different vegetable when it's ready and set aside.
Fry the onion slices in a little oil for 20-25 minutes or until soft and caramelised.
Add the garlic to the onion a couple of minutes before the end of cooking time.
Add all the other roasted vegetables to the pan (off the heat) and mix them together.
Sauce
Combine all ingredients in a high-speed blender until smooth.
Assembly
Increase the temperature of the oven to 190ºC/375ºF/Gas Mark 5.
Remove the pastry case from the fridge and spoon a bit of the vegetable mixture onto the bottom. Crumble a bit of the 'feta' over the base. Add half of the sauce until evenly spread. Repeat this stage again until all of the mixed vegetables, sauce and cheese have been used up. Make sure you crumble some of the cheese and layer some of the veg on the top of the quiche.
Finish off with the cherry tomato halves, seed side facing up.
Cover the top of the quiche with foil or baking parchment and bake for 20 minutes. Remove the foil/baking parchment and bake for another 15-20 minutes or until golden and the cheese is bubbling.
Serve with a fresh salad and garlic bread or quinoa.
Note: the tart will harden as it cools so don't worry if it's quite soft when it comes out of the oven.
Did you know that Vegan Recipe Club is run by a charity?
We create vital resources to help educate everyone – vegan veterans, novices and the v-curious alike – about vegan food, health and nutrition; as well as the plight of farmed animals and the devastating environmental impact of farming.
Through this work we have helped thousands of people discover veganism; but we want to reach millions more! We rely entirely on donations as we don't get any government funding. If you already support us, thank you from the bottom of our hearts, you are really making a difference! Please share our details with your friends and loved ones too, as every donation enables us to keep fighting for change.