5:2 Fast Diet – Green Beans, Spring Onions & Garlic Tofu with Soya-Chilli Dressing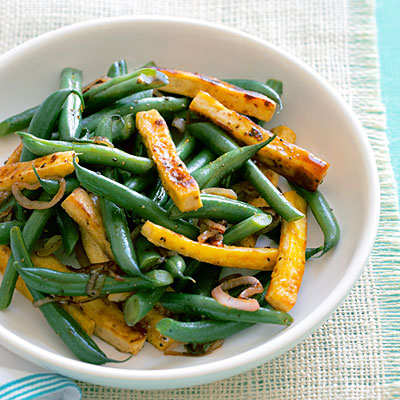 Calories: 252
Men's Extra: 50g plain tofu (35 cals)
A simple but tasty way to cook tofu and green beans
Photo courtesy of sunset.com

Easy

Meal
mains
lunches
sides-light-meals-and-salads
vegetable-side-dishes
Ingredients
300g green beans (75 cals)
150g plain tofu, cubed (105 cals)
1 tsp crushed garlic or garlic paste (6 cals)
3 squirts of oil spray (3 cals)
4 thin spring onions, thinly sliced (40g) (13 cals)
Dressing:
1 tbsp soy sauce (10 cals) Shoyu type is the nicest. Use tamari for a gluten-free option
1 tsp olive oil (40 cals)
¼ tsp wine or cider vinegar
a few drops of chilli sauce (optional)
Instructions
1. Steam the green beans until just done then cool under the tap.
2. Meanwhile, in a non-stick frying pan or wok, fry the tofu in the oil spray until golden brown. Add the spring onions and cook in for about a minute.
3. Mix the dressing ingredients.
4. Toss the beans, tofu cubes and spring onion in the dressing and serve.
Did you know that Vegan Recipe Club is run by a charity?
We create vital resources to help educate everyone – vegan veterans, novices and the v-curious alike – about vegan food, health and nutrition; as well as the plight of farmed animals and the devastating environmental impact of farming.
Through this work we have helped thousands of people discover veganism; but we want to reach millions more! We rely entirely on donations as we don't get any government funding. If you already support us, thank you from the bottom of our hearts, you are really making a difference! Please share our details with your friends and loved ones too, as every donation enables us to keep fighting for change.