5:2 Fast Day – Spiced Tomato Dahl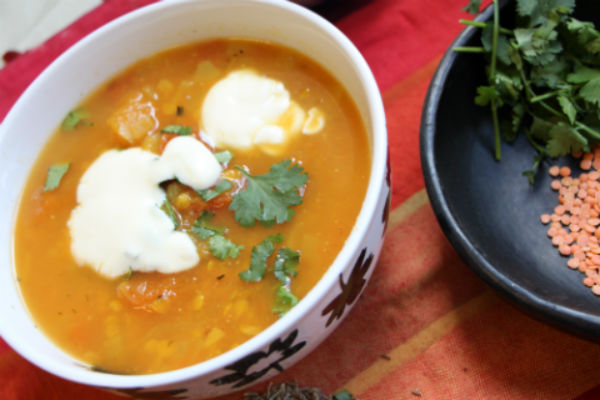 Calories: 220
Men's extra: 1 poppadum (37 cals)
A tasty, filling soup. Make the day before if possible – or perhaps make a double batch to eat on the second fast day of the week?

Not too tricky






Cuisine
Indian and Indian Subcontinent
Meal
soups-starters
lunches
sides-light-meals-and-salads
vegetable-side-dishes
Ingredients
2 squirts oil spray (2 cals)
80g red onion, thinly sliced (28 cals)
¼ tsp turmeric powder (0 cals)
½ tsp black mustard seeds (optional) (0 cals)
½ tsp ground cumin seeds (0 cals)
a pinch of dried chilli flakes (optional) (0 cals)
1 clove garlic, chopped (5 cals)
500g tomatoes, chopped (105 cals)
500ml water
20g red lentils (72 cals)
3 tbsp finely chopped coriander leaves (1 cal)
1 tbsp Sojade/Alpro/Provamel/Tesco plain vegan yoghurt (7.5 cals)
Men's extra
Instructions
1. Heat the oil spray in a saucepan, add the onion and cook until soft and lightly browned.
2. Stir in the turmeric, cumin, mustard seed and chilli flakes. Cook gently for another minute. Use a little water or juice from the tomatoes if it starts to stick.
3. Add the garlic, tomatoes and lentils. Stir in the water and a fat pinch of salt. Simmer for about half an hour, topping up with water if necessary, until the lentils are very soft.
4. Taste and adjust the seasoning. Mix the yogurt with 1-2 tbsp water to make a pouring consistency. Eat the soup scattered with coriander and drizzled with yogurt.
Did you know that Vegan Recipe Club is run by a charity?
We create vital resources to help educate everyone – vegan veterans, novices and the v-curious alike – about vegan food, health and nutrition; as well as the plight of farmed animals and the devastating environmental impact of farming.
Through this work we have helped thousands of people discover veganism; but we want to reach millions more! We rely entirely on donations as we don't get any government funding. If you already support us, thank you from the bottom of our hearts, you are really making a difference! Please share our details with your friends and loved ones too, as every donation enables us to keep fighting for change.