Vegan Caesar Salad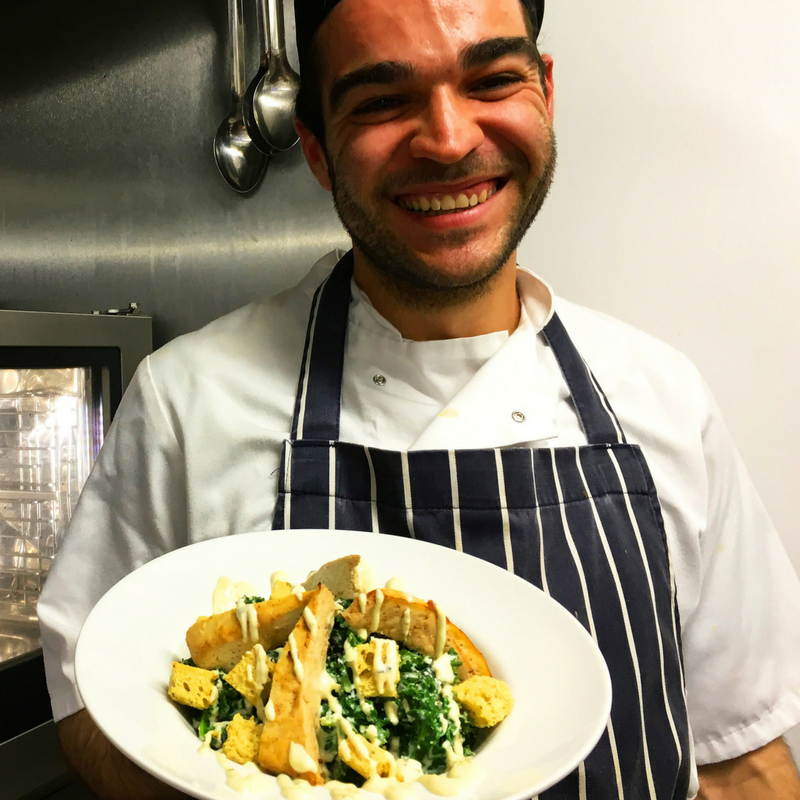 Liverpool restaurant's Our Kitchen presents this highly nutritious Caesar Salad. It is crisp, hearty and packed with flavour whilst delivering a super protein punch. Healthy and insanely tasty!

Not too tricky
Meal
soups-starters
lunches
sides-light-meals-and-salads
Ingredients
Caesar Dressing
70g raw cashews – soak overnight
60ml of water
2 tbsp olive oil
1 tbsp freshly squeezed lemon juice
2 tsp mustard
½ tsp garlic powder
1 tsp vegan Worcestershire sauce
2 tsp capers
2 garlic cloves crushed
Large pinch of sea salt and black pepper
Kale
1 medium sized bunch of kale
Tofu
1 block (400g) of extra firm tofu, drained
2 tbsp of coconut oil
Croutons
1 day old French bread loaf or similar
Olive oil
Garlic powder
Instructions
Caesar Dressing
Soak the cashew nuts overnight, drain then rinse.
Place into a blender along with the other ingredients, blend on high speed, add more water if required.
Blend until smooth.
Kale
Destem and place in a large pan of boiling water, simmer for 3 minutes.
Remove from water and allow to cool.
Tofu
Heat 2 tablespoons of coconut oil in a frying pan.
Cut the tofu into 1 inch thick slices and fry until golden brown then leave to cool.
Croutons
Pre-heat oven to 190ºC/375ºF/Gas Mark 5.
Cut the bread into bite size cubes, ½ inch.
Mix the bread , oil and garlic powder together in a large bowl, ensure all bread cubes are coated.
Bake for 10-15 mins, turning every 5 minutes until golden brown
Allow to cool.
Assembly
Place the kale into a serving bowl, add the dressing then scatter with croutons and top with the tofu and vegan parmesan (we like Violiife Prosociano)
Did you know that Vegan Recipe Club is run by a charity?
We create vital resources to help educate everyone – vegan veterans, novices and the v-curious alike – about vegan food, health and nutrition; as well as the plight of farmed animals and the devastating environmental impact of farming.
Through this work we have helped thousands of people discover veganism; but we want to reach millions more! We rely entirely on donations as we don't get any government funding. If you already support us, thank you from the bottom of our hearts, you are really making a difference! Please share our details with your friends and loved ones too, as every donation enables us to keep fighting for change.