Spicy Seitan Sausage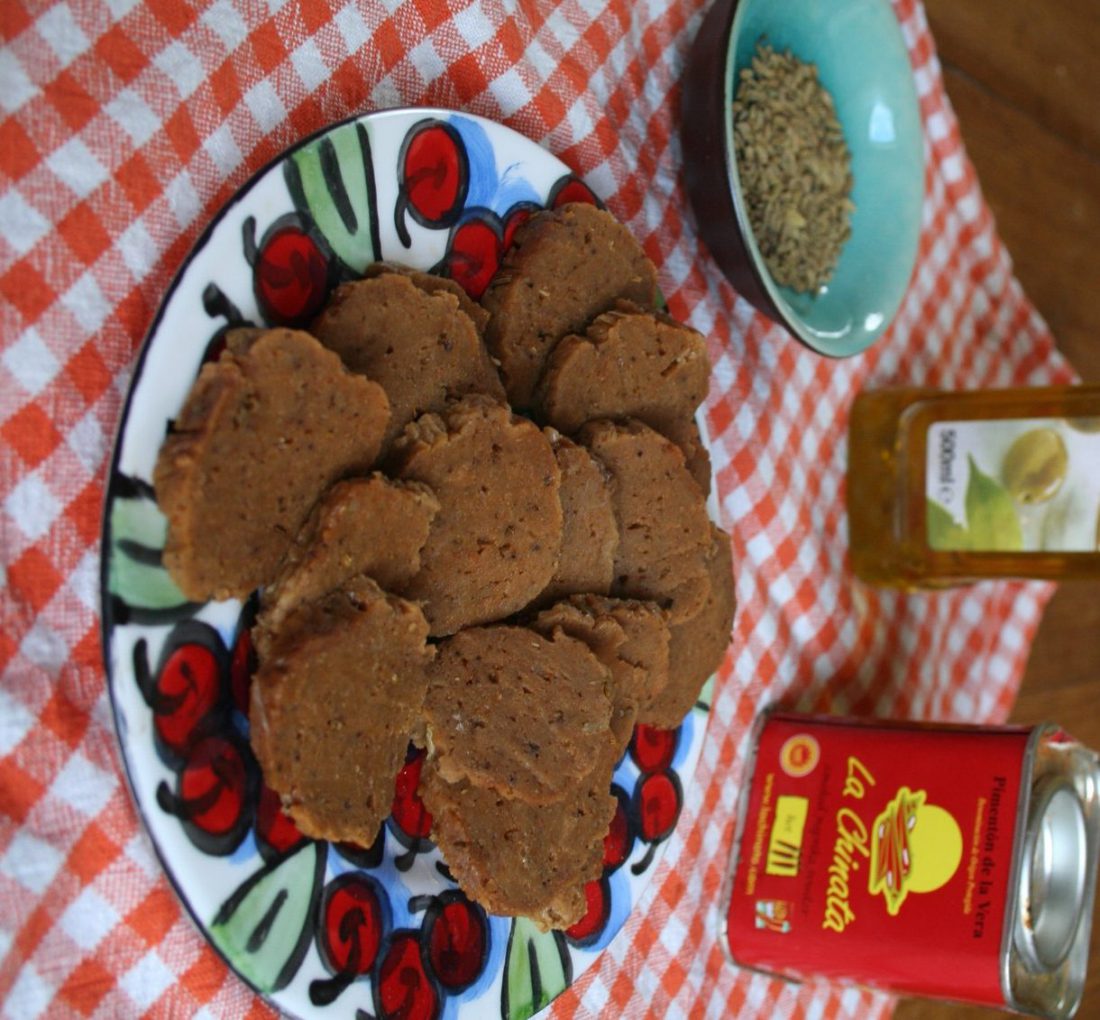 I had great fun making this lovely recipe – a kind of cross between chorizo and pepperoni. It is easy to make, very cheap and most importantly, it tastes really good. It is simple to prepare and freezes well so it is worth making a double batch or even more.
Although there is a long list of ingredients, most of them are spices/herbs that you just need to measure into a small bowl. Other than that it only takes a few minutes to knead the mix then roll out the pepperoni sausages. Baking takes an hour and it needs turning halfway through so you need to be around – but that time can be used to other things! Just make sure to set an oven timer, mobile phone or whatever.
It uses vital gluten flour to create a firm-textured 'meaty' product. Obviously, this is not a good dish for the gluten or wheat intolerant but it is otherwise a good, natural source of protein and very versatile. Seitan/gluten products have been eaten in the Orient for centuries, if not thousands of years.
Product sourcing – we use three ingredients you might not be familiar with: vital gluten flour; tapioca flour and liquid smoke. The good news is that two of them are available from health food shops or Oriental grocers as well as online; the last online. There are plenty of uses for all three, not just this recipe! Making your own quick seitan at home can save you lots of money – try making vegan meatballs; savoury roasts… lots of potential here.
1. Vital gluten flour is available from good health food shops or online, eg
Realfoods (organic) – they also sell organic tapioca flour
www.lowcarbmegastore.com/ingredients/wheat-gluten-powder
www.veggiestuff.com/acatalog/vital-wheat-gluten-flour.html#aNUV9999
www.buywholefoodsonline.co.uk/gluten-1kg.html
We also found it on Amazon
2. Tapioca flour is available from Asian grocers or online, eg
www.healthysupplies.co.uk/tapioca-flour.html
www.goodnessdirect.co.uk/cgi-local/frameset/detail/159033_Goodness_Organic_Tapioca_Flour_500g.html £1.73
www.buywholefoodsonline.co.uk/tapioca-flour
Suma sells it too and there are several brands listed on Amazon.
3. Liquid Smoke
Used to add a smoky taste to this recipe – and also other vegan savouries, eg crispy tempeh bacon bits'! Colgin brand is sold in larger branches of Tesco, Stubbs is in Harvey Nichols (!) but it can be found online too. Alternatively, just increase the smoked paprika instead by 1/2-1tsp
www.melburyandappleton.co.uk/stubbs-liquid-smoke-hickory-3384-p.asp
compare.ebay.co.uk/like/360672182920
www.buywholefoodsonline.co.uk/liquid-smoke-natural-hickory-colgin-118ml.html
Thanks to Robin Robertson's Vegan on the Cheap from which this recipe is adapted.

Not too tricky




Meal
mains
sides-light-meals-and-salads
vegetable-side-dishes
Servings
approximately 600g|Makes 2 large sausages
Ingredients
Ingredients
1 cup vital gluten flour – see above
½ cup nutritional yeast flakes (Engevita brand, health food shops, Ocado and some Tesco)
3 tbsp tapioca flour – see above
Spice mix
2 tsp smoked paprika
1 tsp ground fennel seed
½ tsp whole fennel seeds
¾ tsp onion powder
½ tsp allspice
½ tsp cayenne or mild chilli powder
½ tsp salt
¼ tsp black pepper
Wet mix
¾ cup water
2 tbsp tomato sauce or puree
2 tbsp olive oil
2 tbsp soya sauce
1 tsp liquid smoke – see above (if you can't get it, use another ½ tsp smoked paprika)
+ 2 medium cloves garlic, crushed
Equipment
Measuring spoons
Measuring cups
Large mixing bowl
Sieve
Mixing spoon
Steamed version – all above plus steamer with several trays and tinfoil
Baked version – all above plus baking tray and tinfoil
Instructions
1. Preheat the oven to 180C/350F/Gas Mark 4. Fill a small but fairly deep baking tray – about 23cm/9inches long – with about 1cm/½ inch of water. Measure the spice mix ingredients into a small bowl and set aside.
If you're making double or quadruple batches then increase the size or amount of baking trays – and factor in more tinfoil to wrap up each sausage. NB, these can also be steamed – they take the same time – but keep an eye on the water levels in the steamer and turn the sausages halfway through the cooking time.
2. In a mixing bowl, sieve the vital gluten and tapioca flour then add the yeast flakes. Add the spice mix to it and stir everything well. In a smaller bowl, mix the wet mix ingredients together with the crushed garlic. Stir this into the dry ingredients and mix in very well. Knead the mixture thoroughly for 2-3 minutes.
3. Divide the mixture into two even-sized pieces. Roll them into fat sausages about 18cm/7inches long. Wrap them in tinfoil so they are completely sealed on the edge and at both ends.
4. Bake or steam the logs for 30 minutes, then turn over and bake for another 30 minutes. Unwrap and let them cool for about 15 minutes then transfer to the fridge in the foil and let them firm up for about 1-2 hours. The pepperoni can be thinly sliced with a breadknife when cool or cut into chunks.
5. Use as it is, eg on a pizza, or fry up as needed. Keep tightly wrapped in the fridge and use within 3-4 days. It will freeze for about a month.
Optional extras / notes
Quicker steamed than baked.
Did you know that Vegan Recipe Club is run by a charity?
We create vital resources to help educate everyone – vegan veterans, novices and the v-curious alike – about vegan food, health and nutrition; as well as the plight of farmed animals and the devastating environmental impact of farming.
Through this work we have helped thousands of people discover veganism; but we want to reach millions more! We rely entirely on donations as we don't get any government funding. If you already support us, thank you from the bottom of our hearts, you are really making a difference! Please share our details with your friends and loved ones too, as every donation enables us to keep fighting for change.