Vegan Sticky Toffee Pudding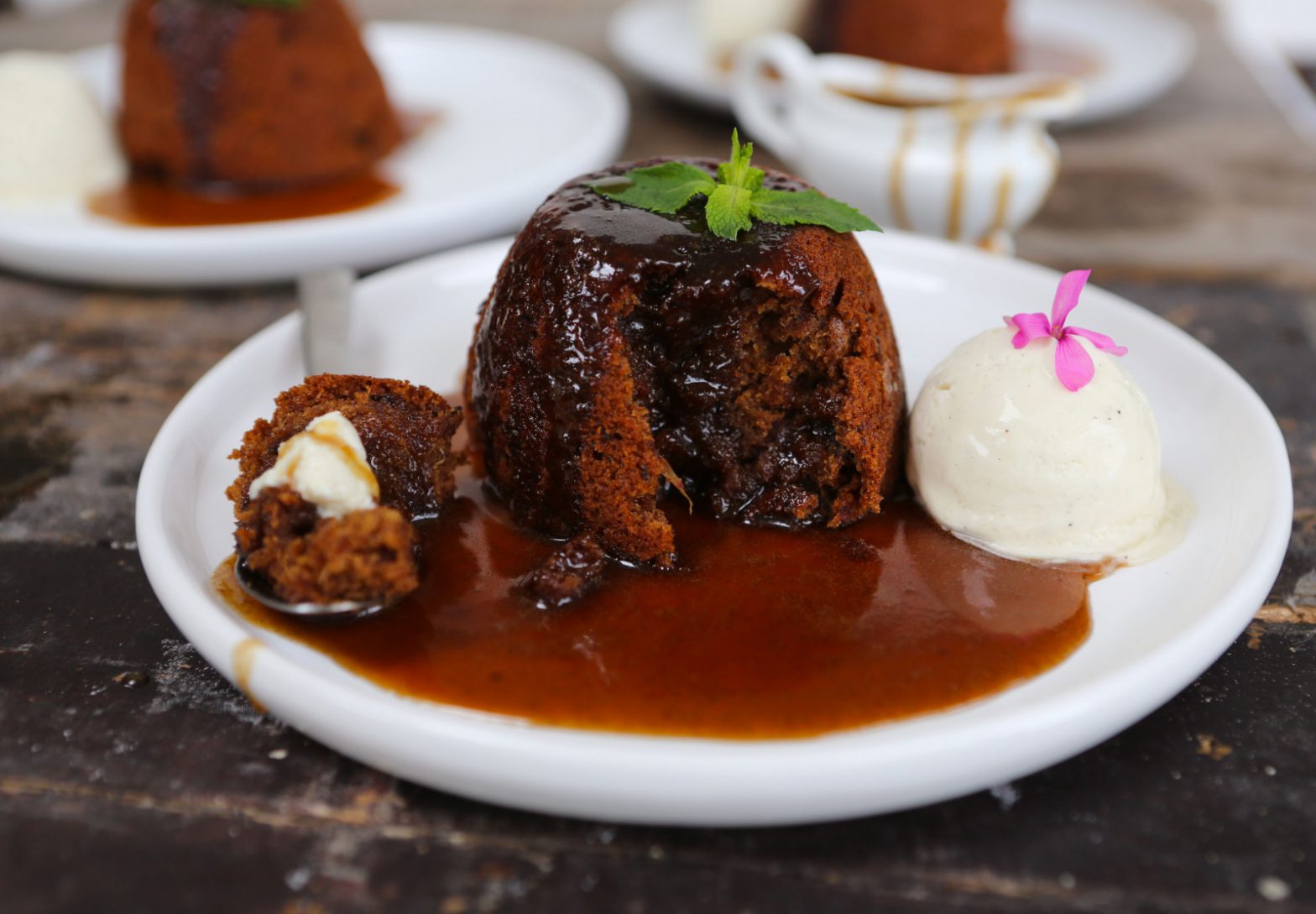 One of the nation's favourite desserts but vegan of course (and you'd never tell the difference)! Enjoy the deliciousness!
This recipe was taken straight from our Everybody's Going Dairy-free Guide (over 95 pages full of recipes, handy charts, helpful tips, dairy-free secrets, eating out and lots more)

Not too tricky


Ingredients
The Puddings
240ml/1 cup soya milk

110ml/½ scant cup water
200g/2½ cups pitted dates, chopped into small pieces
1 tsp bicarbonate of soda
110g/½ cup vegan margarine/spread
200g/1½ cups self-raising flour
½ tsp cinnamon
Pinch of ground cloves
60g/⅓ cup muscovado sugar (light or dark)
60g/¼ cup golden caster sugar
1 tbsp apple cider vinegar
95g/¾ cup chopped walnuts (optional)
Sticky Toffee Sauce
3 tbsp golden syrup
100g muscuvado sugar (light or dark)
100g golden caster sugar
120ml/½ cup soya cream
150g/⅔ cup vegan margarine/spread
1 tsp vanilla extract
Instructions
Puddings
Preheat the oven to 180˚C (fan)/350˚F/Gas Mark 4.
Grease 4 pudding basins (209ml approx. Buy from Lakeland, supermarket home section or kitchen shop) with vegan margarine and place them on a baking tray.
In a small bowl or jug, mix the cider vinegar with a small amount of the soya milk and set aside.
Place the remaining soya milk, water and chopped dates into a medium size saucepan and simmer until the dates are soft. This should take around 5 minutes.
Sieve the flour, bicarbonate of soda and spices into a large bowl and set aside.
In a separate bowl, cream the margarine and sugar together until smooth.
Finally add all the wet ingredients to the dry ingredients, but only do this just before you are ready to put the puddings into the oven or the rising agents will start working too quickly.
Pour the mixture evenly into each pudding basin, about two thirds full.
Give the tray a tap on the work surface before putting them into the oven.
Bake in the oven for 25-35 minutes. The sponge should bounce back when ready but you can also test them with a cake probe or skewer.
Sticky Toffee Sauce
Make the sauce around 10 minutes before the cakes are due to come out of the oven.
Place all ingredients in a medium size saucepan and heat gently on a medium heat, stirring well throughout. Simmer for approximately 5 minutes.
Pour over the freshly baked puddings and serve with vegan ice cream and fresh mint.
Did you know that Vegan Recipe Club is run by a charity?
We create vital resources to help educate everyone – vegan veterans, novices and the v-curious alike – about vegan food, health and nutrition; as well as the plight of farmed animals and the devastating environmental impact of farming.
Through this work we have helped thousands of people discover veganism; but we want to reach millions more! We rely entirely on donations as we don't get any government funding. If you already support us, thank you from the bottom of our hearts, you are really making a difference! Please share our details with your friends and loved ones too, as every donation enables us to keep fighting for change.