Easy Strawberry Galette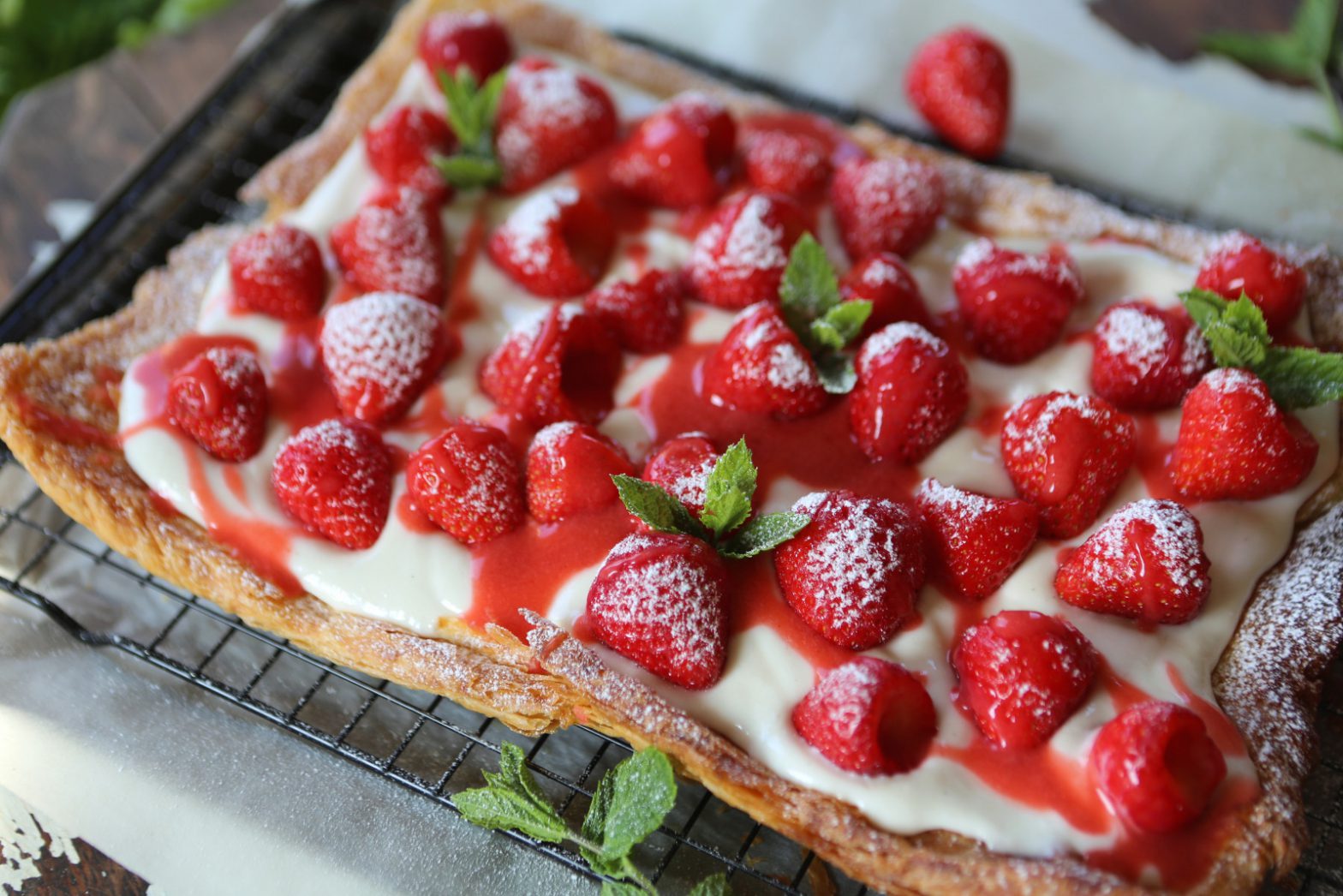 This tart is so easy to make but will seriously impress… win win!

Easy



Ingredients
320g/1 sheet ready to use puff pastry (eg Jus-Rol or some supermarket own brands. Use gluten-free if necessary – Jus-Rol has a GF version)
800g fresh strawberries, hulled (if you leave them whole they look prettier but halving or quartering them makes them much easier and nicer to eat)
2 x 200ml tubs Oatly Creme Fraiche (or you can make our coconut cream whip or the sweet version of our cashew cream. If you make one of these other cream options you don't need to add the lemon juice, icing sugar and vanilla extract below)
½ tbsp lemon juice
6 tbsp icing sugar (plus a bit more for dusting), sieved
½ tsp vanilla extract or paste
Optional decoration: fresh mint sprigs, dusting of icing sugar, chopped nuts
Instructions
Preheat the oven to 180ºC (fan)/350ºF/Gas Mark 4.
Place the sheet of puff pastry on a baking tray lined with greaseproof paper, prick it with a fork and then pop in the oven for 15 minutes or until golden.
Take the sheet out, turn it over, gently press it down to flatten it again and return it to the oven for another 5-10 minutes.
Leave to cool for minimum 15 minutes.
Liquidise 100g of the hulled strawberries and then push them through a sieve to create a smooth paste. Put in the fridge until needed.
In a medium sized bowl, mix the Oatly, lemon juice, icing sugar and vanilla extract until smooth.
Spread the cream evenly over the cooled puff pastry sheet.
Place the fresh strawberries evenly over the layer of cream.
Top off with the liquidised strawberry paste, a dusting of icing sugar and mint.
Did you know that Vegan Recipe Club is run by a charity?
We create vital resources to help educate everyone – vegan veterans, novices and the v-curious alike – about vegan food, health and nutrition; as well as the plight of farmed animals and the devastating environmental impact of farming.
Through this work we have helped thousands of people discover veganism; but we want to reach millions more! We rely entirely on donations as we don't get any government funding. If you already support us, thank you from the bottom of our hearts, you are really making a difference! Please share our details with your friends and loved ones too, as every donation enables us to keep fighting for change.