Roast Tomato Sauce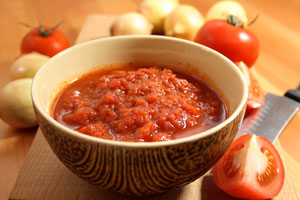 This is deliciously simple. The roasting gives the ingredients a divinely rich flavour while the method means you only need to bung everything in the oven while you're busy with other things. Then just give it a quick blend – result!

Easy




Ingredients
450g/1lb tomatoes, quartered
1 red pepper, roughly chopped
1 onion, chopped
2 garlic cloves, crushed
1 tsp mixed herbs
2 tbsp olive oil
Salt and pepper
Instructions
1. Preheat oven to 200ºC/400ºF/Gas Mark 6. Mix all the ingredients in a roasting tin, making sure the veg are well coated in oil. You don't need to skin the tomatoes – either blend them in if making a sauce or remove them after cooking if using whole. Bake for around 45 minutes but check after 30 to ensure they aren't catching.
2. Blend in a blender or food processor or pass through a sieve. Season to taste.
Did you know that Vegan Recipe Club is run by a charity?
We create vital resources to help educate everyone – vegan veterans, novices and the v-curious alike – about vegan food, health and nutrition; as well as the plight of farmed animals and the devastating environmental impact of farming.
Through this work we have helped thousands of people discover veganism; but we want to reach millions more! We rely entirely on donations as we don't get any government funding. If you already support us, thank you from the bottom of our hearts, you are really making a difference! Please share our details with your friends and loved ones too, as every donation enables us to keep fighting for change.