Puttanesca Aubergine Parmigiana
This pepped-up parmigiana is an approximation of another Italian classic, puttanesca. Mind you don't over-season the sauce – the capers and olives bring plenty of salt to the show.
Nutritional yeast adds a deep savoury flavour to the crumb. This is a brilliant dish that will feed a crowd – one for sharing with your mates of a bottle of wine or two.
Gluten free
Wheat free
Freezable
Courtesy of Dirty Vegan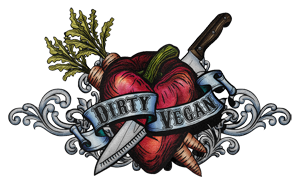 See other recipes by Dirty Vegan
Ingredients
Olive oil, for frying
2 red onions, sliced
2 garlic cloves, finely chopped
175ml white wine
1 tbsp tomato purée
2 x 400g cans chopped tomatoes
2 tbsp capers, chopped
100g green olives, sliced
200ml water
4 aubergines, cut lengthways into 1cm thick slices
20g basil leaves, torn
50g sourdough breadcrumbs (use gf if appropriate)
1 tbsp nutritional yeast flakes
Zest of ½ a lemon
Pinch of salt and black pepper
80g vegan mozzarella, torn (optional)
Instructions
Heat 2 tablespoons oil in a frying pan and cook the onion over medium-low heat for 10 minutes, until starting to soften.
Stir in the garlic, wine and tomato puree, then let the mixture bubble away until reduced by half. Stir in the chopped tomatoes, capers, olives and measured water.
Simmer for 20 minutes, until the sauce is thick and rich.
Preheat the oven to 190°C (Gas Mark 5).
While the sauce cooks, heat some olive oil in a large frying pan and fry the aubergine, turning, over medium heat until golden and cooked through.
(You'll use more oil than you think as the slices soak it up as they cook.) Set aside.
When the sauce is ready, mix in the basil leaves. Taste and tweak the seasoning as desired.
In a food processer, pulse together the breadcrumbs, yeast flakes, lemon zest, a pinch of salt and 1 tablespoon oil.
Lay half the aubergines into a large (about 30 x20cm) baking dish and top with half the sauce. Repeat the layering process to fill the dish.
Tear the mozzarella over the top, if using. Top evenly with the breadcrumb mix.
Bake for 20–40 minutes, until the top is golden and the aubergine is tender.
Did you know that Vegan Recipe Club is run by a charity?
We create vital resources to help educate everyone – vegan veterans, novices and the v-curious alike – about vegan food, health and nutrition; as well as the plight of farmed animals and the devastating environmental impact of farming.
Through this work we have helped thousands of people discover veganism; but we want to reach millions more! We rely entirely on donations as we don't get any government funding. If you already support us, thank you from the bottom of our hearts, you are really making a difference! Please share our details with your friends and loved ones too, as every donation enables us to keep fighting for change.