White Wine Lentils with Roasted Cherry Tomatoes & 'Crème Fraîche'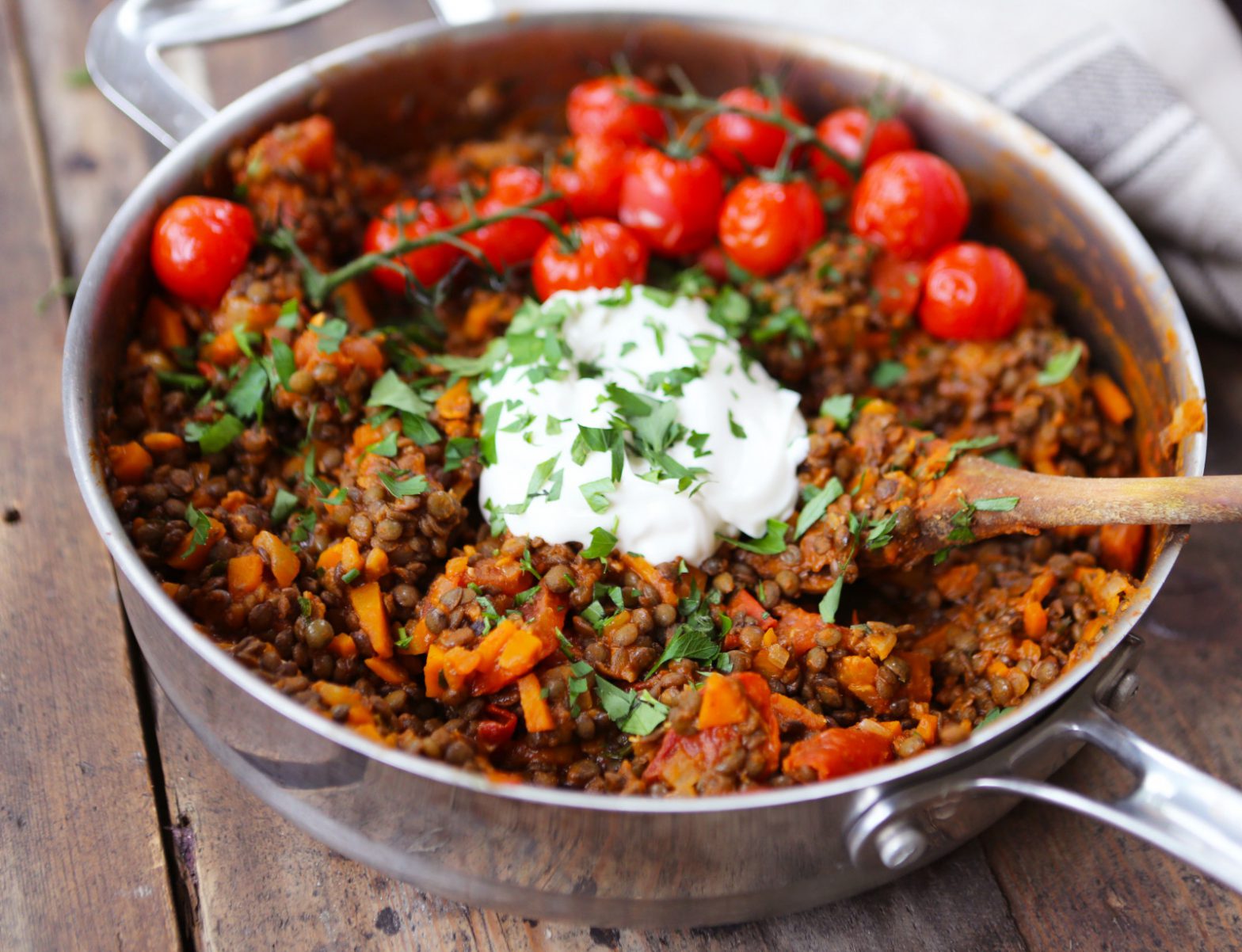 These are not just any old lentils… this is a truly delicious dish and a complete meal in itself, inspired by a traditional, Spanish recipe! Option to serve with a green salad, garlic bread and vegan bacon and/or our delicious potatas bravas recipe… but perfectly tasty on its own.

Not too tricky




Ingredients
400g cherry tomatoes (either roast in the oven or if you don't have time then heat them with a little oil in a saucepan on the stovetop.
225g green, brown or Puy lentils
Olive oil for frying
1 medium onion, finely diced
2 cloves garlic, finely sliced
200g carrot, finely chopped
1 tbsp smoked paprika (ideally Pimentón de la Vera but any fine)
2 large tomatoes, roughly chopped
130ml/¼ cup dry white (vegan) wine)
130ml/¼ cup vegan stock
1 tbsp flat leaf parsley, roughly chopped
Salt and pepper, to taste
A good dollop of vegan crème fraîche per serving (eg Oatly)
Vegan bacon or chorizo, lightly fried (optional)
Instructions
Pre-heat the oven to 180ºC (fan)/350ºF/Gas Mark 4.
Cook the lentils according to the packet (rinse, bring to the boil and then simmer for around 20 minutes) but don't overcook — keep them with a bit of bite/al dente.
Pop the cherry tomatoes on a baking tray with a drizzle of oil and cook in the oven for around 15 minutes.
While the tomatoes are roasting, fry the onion until soft and golden.
Add the garlic and and fry for a further minutes.
Add the carrot and smoked paprika and fry for 5-10 minutes.
Stir through the tomatoes, white wine and simmer for around 5 minutes.
Add the lentils, vegan stock and parsley and simmer for another 5 minutes.
Serve with a dollop of crème fraîche, the roasted tomatoes, a sprinkling of parsley and (optional) vegan bacon or chorizo.
Delicious on its own or add a green salad and garlic bread.
Did you know that Vegan Recipe Club is run by a charity?
We create vital resources to help educate everyone – vegan veterans, novices and the v-curious alike – about vegan food, health and nutrition; as well as the plight of farmed animals and the devastating environmental impact of farming.
Through this work we have helped thousands of people discover veganism; but we want to reach millions more! We rely entirely on donations as we don't get any government funding. If you already support us, thank you from the bottom of our hearts, you are really making a difference! Please share our details with your friends and loved ones too, as every donation enables us to keep fighting for change.