Mushrooms & Chestnut Gravy with Parsley Mash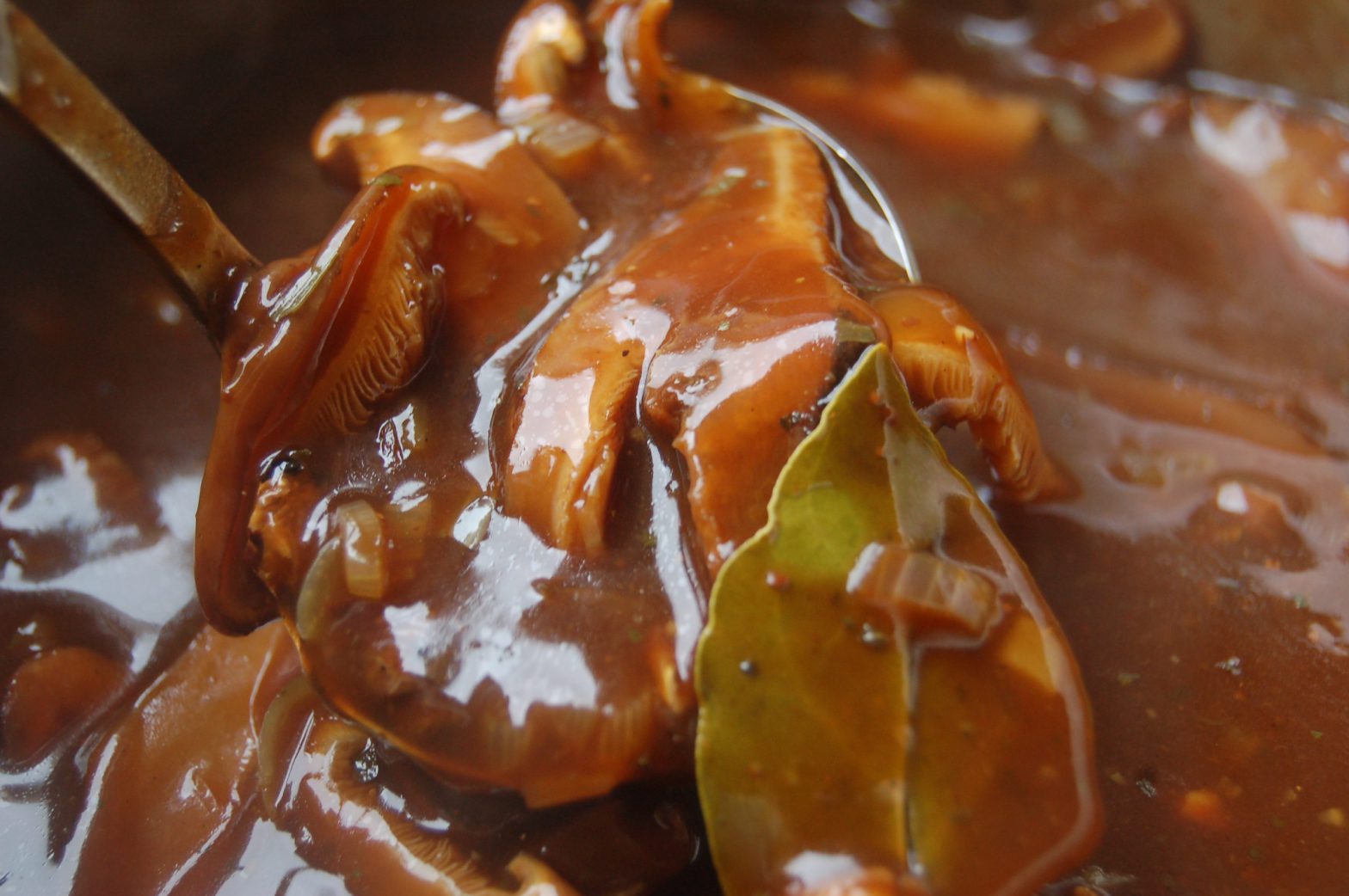 This is comfort food at its nicest! Very good on its own or team it with vegan sausages bought or our home-made recipe or mini nut roasts or seitan wheat meat balls… you get the picture!
Gluten-free and wheat-free option
thicken the gravy by mixing 1 heaped tsp arrowroot with a little cold water. Omit the flour section of the recipe – just add this mixture with the other liquids and cook in for a few minutes.
use GF tamari soya sauce
use a g-f stock cube or bouillon powder (Marigold vegan bouillon – red or purple tub – is suitable)
Low-fat/diabetic-friendly option
Replace oil with oil spray and a splash of water/stock to fry the onions etc
Replace white potatoes with sweet potato mash OR rooty mash made from two or all of these: butternut squash, swede, carrot
Budget option

Not too tricky




Ingredients
Gravy
2 tsp olive oil or oil spray (see above)
1 onion, finely chopped
175g/6oz chestnut mushrooms, sliced
2 garlic cloves, chopped
1 tbsp plain flour
2 tbsp Madeira or sweet sherry (most of Harvey's sherries are vegan but check other brands) – or vegan red wine, eg some Co-op own-brands
1 vegetable or mushroom stock cube, dissolved in 300ml/10fl oz water
1 tbsp soya sauce, preferably tamari or shoyu type
175g/6oz cooked chestnuts, roughly chopped – not too fine, keep them chunky – eg Merchant Gourmet vacuum-packed
Salt and freshly ground black pepper
Optional: small handful of porcini or mixed dried mushrooms, soaked in hot water for 10-15 minutes and chopped up with scissors
Mash
750g/1½lb potatoes, peeled and cut into 1cm/½ inch pieces OR same quantity of sweet potatoes (or a mixture of swede, carrot, butternut squash)
1 tbsp olive oil + (or vegan margarine) OR a splash of plant milk, eg soya or almond for low-fat version
1 tbsp fresh parsley, chopped
Salt and freshly ground black pepper
Instructions
1. Cook potatoes ina large saucepan of lightly salted water for about 10-15 minutes, or until tender. Drain potatoes, reserving water.
2. Meanwhile, make gravy. Heat oil in a large saucepan, add onion and fry for 5 minutes, until beginning to soften and brown. Add mushrooms and garlic and cook for further 2-3 minutes.
3. Sprinkle in flour and stir continuously over the heat for a couple of minutes, letting it brown a little.
4. Add Madeira/sherry and let it bubble up, then pour in the stock, stirring until thickened. Add soya sauce and chestnuts, then leave to simmer gently, uncovered.
5.Mash the potatoes with olive oil and enough of the reserved cooking water to give creamy consistency.
6. Add chopped parsley to the mash plus salt and pepper to taste.
7. Check seasoning of gravy, then serve hot over the hot mash.
Optional extras / notes
30 minutes: 10 minutes preparation, 20 minutes cooking
Did you know that Vegan Recipe Club is run by a charity?
We create vital resources to help educate everyone – vegan veterans, novices and the v-curious alike – about vegan food, health and nutrition; as well as the plight of farmed animals and the devastating environmental impact of farming.
Through this work we have helped thousands of people discover veganism; but we want to reach millions more! We rely entirely on donations as we don't get any government funding. If you already support us, thank you from the bottom of our hearts, you are really making a difference! Please share our details with your friends and loved ones too, as every donation enables us to keep fighting for change.