Hearty Chia Porridge Breakfast Bowl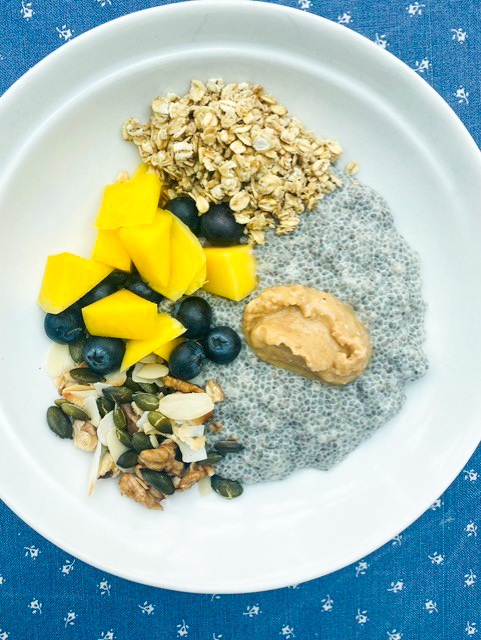 This is my breakfast at least three or four times a week. I just can't get enough of it! It's delicious and filling, and full of vital vegan nutrients like omega-3 fatty acids from the chia seeds. This recipe is enough for two portions, so if you're feeling generous you can share it – but I usually save half of it to eat the next day!

Easy






Ingredients
Don't worry if you don't have measuring cups for this recipe – it doesn't have to be exact – just use a small mug
⅓ cup chia seeds
1 cup of plant milk (oat or coconut is best)
⅓ cup mixed nuts and seeds (I recommend pumpkin seeds, walnuts, flaked almonds and coconut flakes)
½ cup fresh fruit (I recommend blueberries, mango and bananas)
⅓ cup granola (optional)
1 tbsp peanut butter (optional)
Instructions
Mix the chia seeds and the plant milk in a bowl. You can leave it overnight (in which case add another splash of milk in the morning to loosen it up), or do it as soon as you wake up as it takes about half an hour for the seeds to absorb the milk and turn into a thick, gloopy porridge.
Meanwhile get your mix of nuts and seeds and fry them in a dry pan over a medium high heat. Keep your eye on them as they can suddenly burn. When the pumpkin seeds start popping and the edges of the coconut flakes turn brown then they are ready. There will be a lovely buttery fragrance – it's one of my favourite smells!
Chop your fruit into mouthful sized pieces. If you're using berries then you can leave them whole. All these work really well: mango, blueberries, raspberries, strawberries, cherries, banana.
Once the chia porridge is ready, then stir in your fresh fruit and sprinkle your nuts and seeds on top.
If you're hungry add in the granola. If it appeals, then add a generous tablespoon of peanut butter.
If you're saving half a portion for the next day then keep the nuts, seeds and granola separate from the chia porridge so they don't go soggy.
Did you know that Vegan Recipe Club is run by a charity?
We create vital resources to help educate everyone – vegan veterans, novices and the v-curious alike – about vegan food, health and nutrition; as well as the plight of farmed animals and the devastating environmental impact of farming.
Through this work we have helped thousands of people discover veganism; but we want to reach millions more! We rely entirely on donations as we don't get any government funding. If you already support us, thank you from the bottom of our hearts, you are really making a difference! Please share our details with your friends and loved ones too, as every donation enables us to keep fighting for change.