French Tomato Salad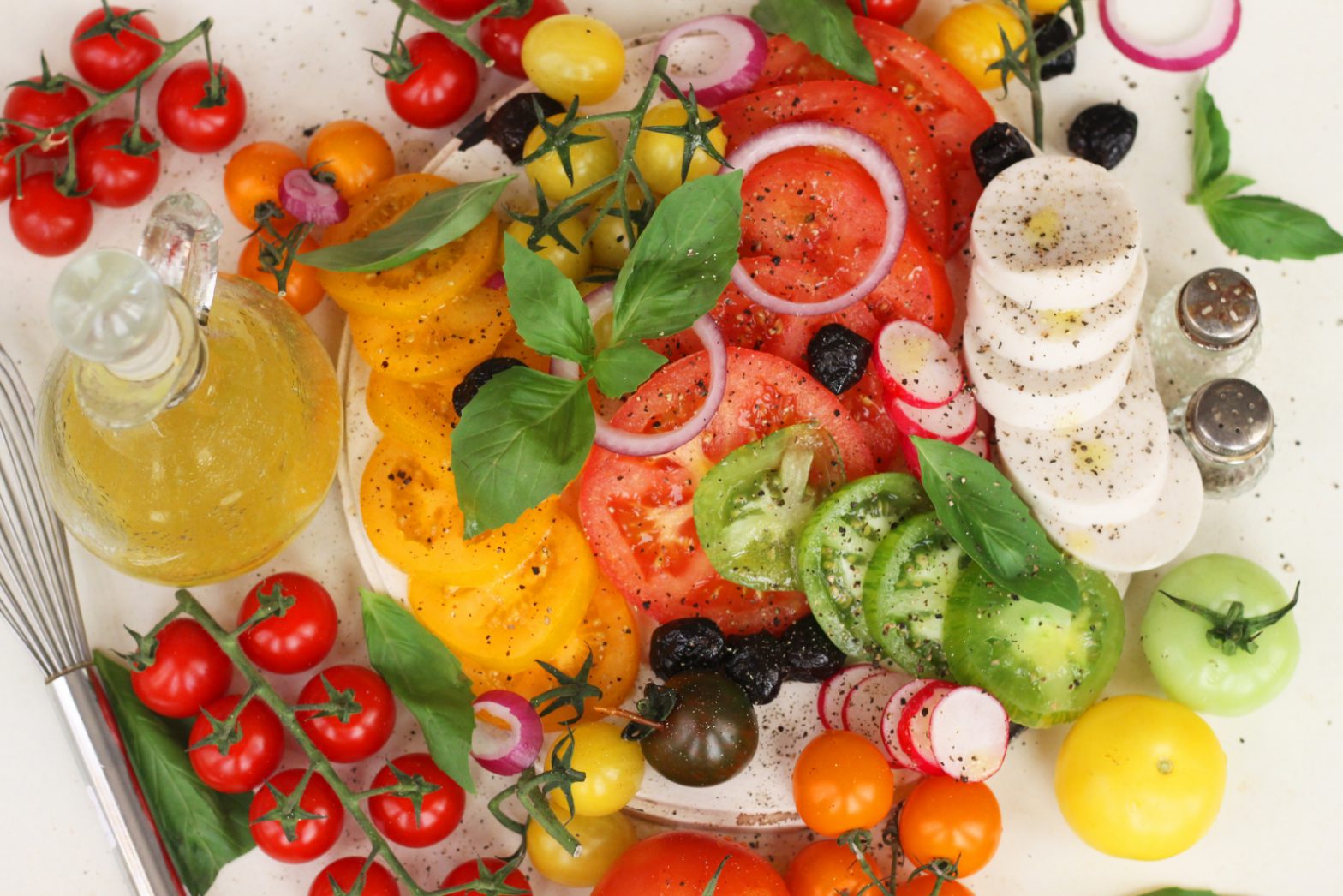 Simple and lovely. Like all the best recipes, it's nicest when the tomatoes are in season, rather than imported. Go for the best you can find – this is where a good local greengrocer comes up trumps. Also, try for organic if you can stretch to it; tomatoes are one of the most heavily sprayed crops.

Easy




Meal
soups-starters
sides-light-meals-and-salads
vegetable-side-dishes
Ingredients
4 medium large thinly sliced tasty tomatoes (aim for at least one tomato per person)
1 large very thinly sliced red onion
2 cloves of garlic, crushed
Salt and lots of freshly ground black pepper
Lots of fresh basil leaves, torn or chopped with scissors
To serve: Mustard Vinaigrette
Mustard vinaigrette (quantities can be halved or doubled if desired)
175ml/6fl oz extra virgin olive oil
75ml/3fl oz white wine vinegar
2 dsp (40ml) French or Dijon mustard
A little salt
Lots of freshly ground black pepper
Instructions
1.Make the vinaigrette by placing everything into a jug or screwtop jar. Whisk with a fork thoroughly to mix it all together. It should emulsify – the oil and vinegar should form a sauce. Set aside.
2. Slice the tomatoes and onions as instructed. Arrange on a nice flat platter or dish, add garlic, salt and pepper then drizzle with vinaigrette. Scatter with lots of basil pieces and serve immediately.
Optional
Use a variety of coloured tomatoes and serve with MozzaRisella and black olives.
Did you know that Vegan Recipe Club is run by a charity?
We create vital resources to help educate everyone – vegan veterans, novices and the v-curious alike – about vegan food, health and nutrition; as well as the plight of farmed animals and the devastating environmental impact of farming.
Through this work we have helped thousands of people discover veganism; but we want to reach millions more! We rely entirely on donations as we don't get any government funding. If you already support us, thank you from the bottom of our hearts, you are really making a difference! Please share our details with your friends and loved ones too, as every donation enables us to keep fighting for change.