Double Chocolate Brownies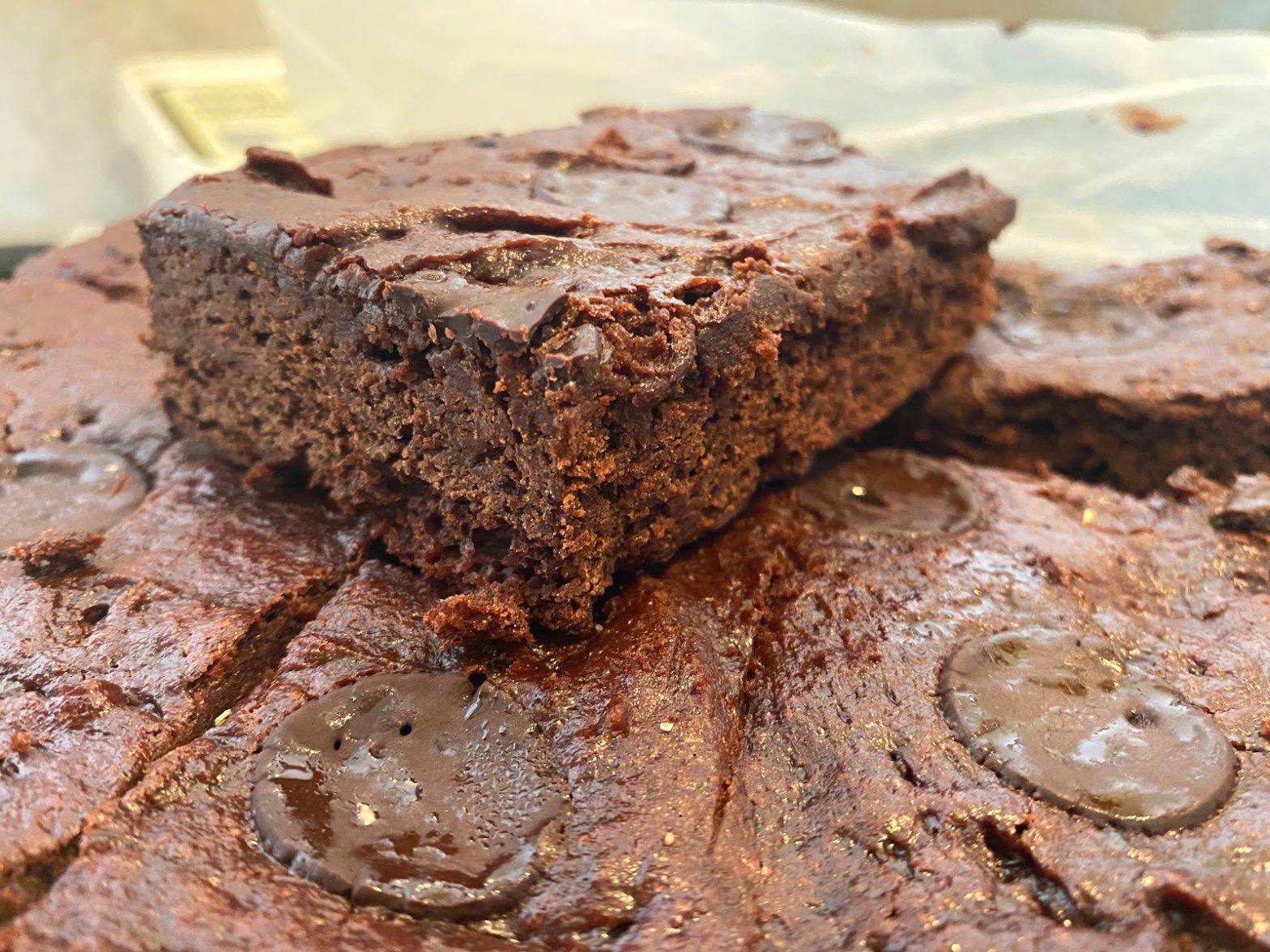 These brownies are absolutely delicious – rich, chewy and amazingly chocolatey. Enjoy them cold or warm them up and serve with vegan ice cream for a luxurious dessert. They are ideal for keeping in the freezer and defrosting for use as and when.

Easy





Cuisine
United States and Canada
Ingredients
200g vegan dark chocolate (approx. 70% cocoa solids. Eat Your Greens use Montezumas dark chocolate buttons)
200ml just-boiled water
½ cup of soaked raisins or sultanas (soak in boiling water for 10 mins then drain when bloated)
450g soft dark brown sugar
450g gluten-free self raising flour (eg Dove's Farm. You can also use regular self-raising flour if you're not gluten intolerant)
2 tsp baking powder
80g cocoa or raw cacao powder
180g melted coconut oil (microwave for 2 minutes or stand the jar in hot water for 5 minutes)
Instructions
Preheat your oven to 175ºC (fan)/345ºF/Gas Mark 4.
Using a food processor, add the chocolate and blitz until it's a fine crumb.
Add the 200ml boiling water, raisins and brown sugar. Blitz again until thoroughly combined.
Add the cocoa, baking powder and melted coconut oil then pulse a few times until it's combined.
Lastly add the flour (you may need to do this by hand in a bowl if your food processor is not very powerful as the dough can get very sticky and thick!) and pulse until thoroughly combined.
Tip into your greased & lined baking tray, sprinkle large chocolate chunks intermittently on the surface then place on the middle shelf and bake for 22-24 minutes.
Remove and leave to cool. Chop up the brownies into 16 rectangles and freeze! Extract for eating as desired 🙂 They will keep for 3 months in the freezer.
Serving suggestion: vegan ice cream, cream or custard
Did you know that Vegan Recipe Club is run by a charity?
We create vital resources to help educate everyone – vegan veterans, novices and the v-curious alike – about vegan food, health and nutrition; as well as the plight of farmed animals and the devastating environmental impact of farming.
Through this work we have helped thousands of people discover veganism; but we want to reach millions more! We rely entirely on donations as we don't get any government funding. If you already support us, thank you from the bottom of our hearts, you are really making a difference! Please share our details with your friends and loved ones too, as every donation enables us to keep fighting for change.