Creamy Cashew & Tofu Curry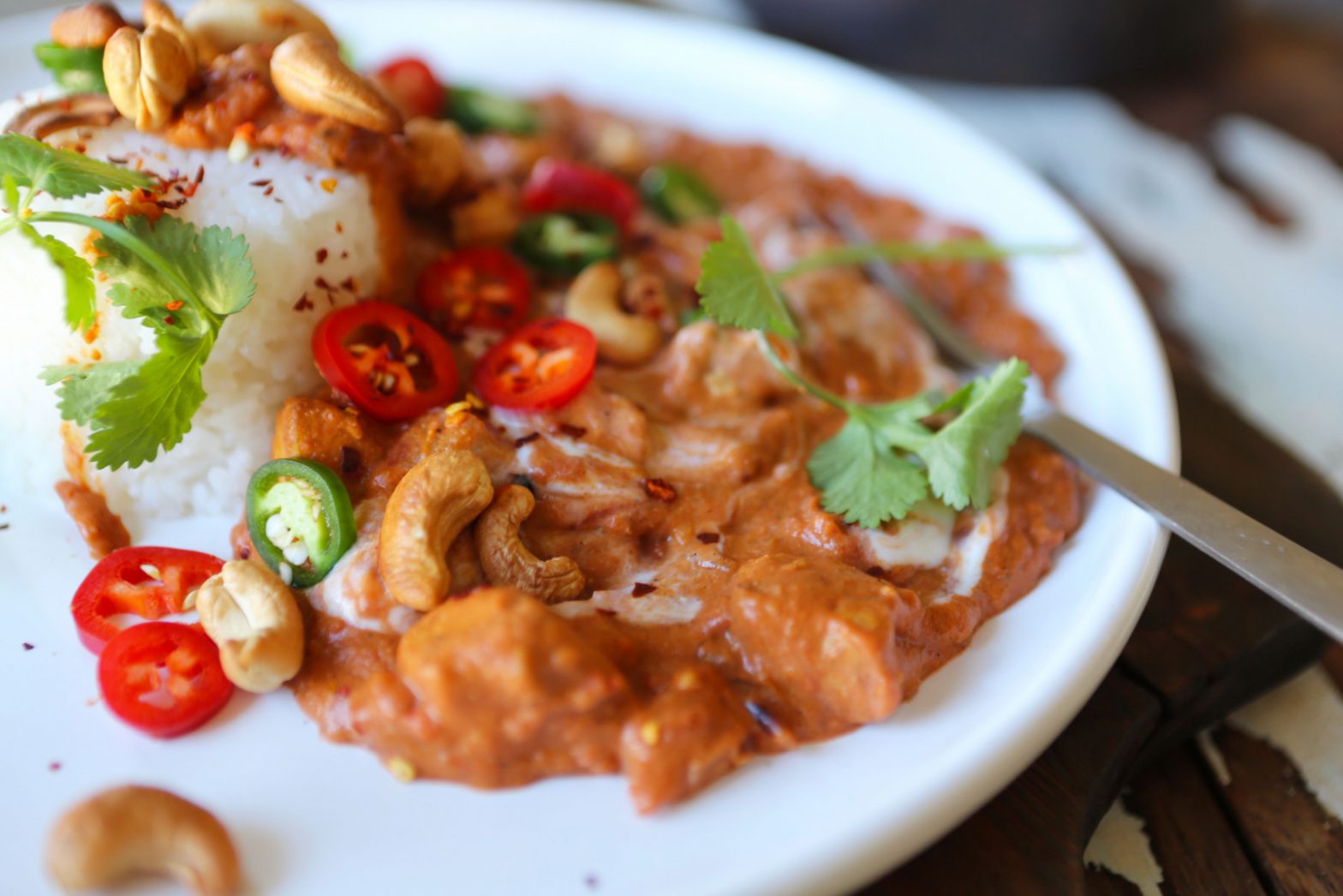 This is a lovely rich and creamy curry, full of flavour and protein. It's easy to make and could be one for the weekly staples.

Easy




Cuisine
Indian and Indian Subcontinent
Ingredients
6 tbsp cashews, soaked in 500ml/2 cups boiling water for 10-15 minutes
1 onion, finely diced
1 fresh chilli, finely chopped
2 thumbnails of ginger, peeled and grated
2 cloves garlic, finely chopped
2 tins chopped tomatoes
1 tbsp tomato puree
1 tbsp sugar or syrup (optional)
2 stock cubes (or 3 tsp stock powder), dissolved and mixed well in 2 tbsp boiling water
1 tbsp lemon juice
200g firm tofu, cut into 2cm cubes
2-3 tbsp soya sauce
2 tbsp nutritional yeast (optional)
Salt and pepper, to taste
Spices
1 cinnamon stick or ½ tsp ground cinnamon
½ tsp ground cardamom
1 tsp chilli powder
2 tsp ground coriander
1 tsp ground fenugreek
Pinch ground cloves
Serving suggestions: fresh coriander, fresh chilli, toasted cashews, vegan natural yoghurt, rice, vegan naan, onion bhajis, vegetable samosas
Instructions
Soak the cashews in 500ml boiling water for 10-15 minutes and set aside.
Fry the onion in a little oil until soft.
Add the chilli and ginger and fry for a couple of minutes, stirring frequently.
Stir in the garlic and fry for a further minute.
Add the spices and fry for another minute. You might need to add a bit more oil at this stage.
Blend the cashews thoroughly, along with the water they are soaking in.
Add them to the mix along with the tomato puree, tinned tomatoes, stock and sugar.
Simmer for 10-15 minutes or until reduced slightly and thickened.
Whilst the curry is simmering, make the tofu.
Fry the tofu in a little oil unti slightly crisp and golden.
Add the soya sauce and the nutritional yeast and stir.
Add the fried tofu and lemon juice to the curry and stir through.
Taste the curry and adjust the seasoning where necessary.
Did you know that Vegan Recipe Club is run by a charity?
We create vital resources to help educate everyone – vegan veterans, novices and the v-curious alike – about vegan food, health and nutrition; as well as the plight of farmed animals and the devastating environmental impact of farming.
Through this work we have helped thousands of people discover veganism; but we want to reach millions more! We rely entirely on donations as we don't get any government funding. If you already support us, thank you from the bottom of our hearts, you are really making a difference! Please share our details with your friends and loved ones too, as every donation enables us to keep fighting for change.