Quick & Healthy Vegan Mac 'n' Cheese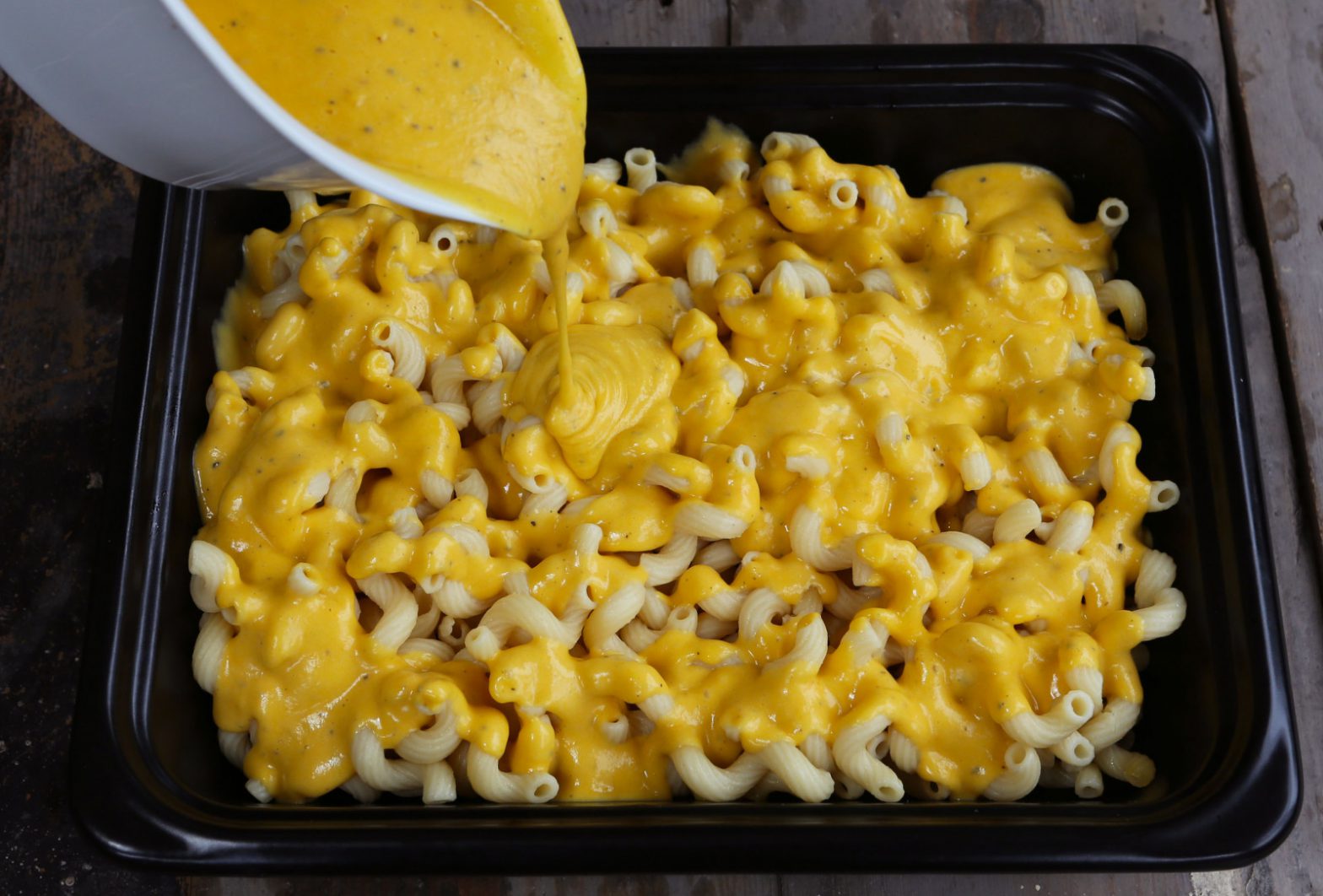 This sauce is really easy to make and sooo cheesy… the main ingredients are potatoes and carrots! There are lots of ways you can add your favourite bits if you fancy poshing it up! You can use the sauce anytime you need a cheesy sauce eg pasta bake, cauliflower cheese, jacket potato, nachos…
If you don't have time to make your own mac 'n' cheese, there are lots of options in the shops nowadays:
Ready-mades. At time of writing, Sainsbury's Free From Macaroni Cheese Style, Tesco Free From, Daiya and Amy's Kitchen are each truly ready-made, a vegan ping meal – but they each need to be served with a big plate of greens and/or salad to make them a balanced, healthy meal! (We estimate that there will be more such vegan ping meals on the shelves soon!)
Free & Easy Sauce Mix or Angel Food Cheesy Sauce Mix is very quick – cook some pasta and make the cheesy sauce mix from a tub (very simple) + a couple of extra ingredients.
The third version – Vegusto Cheese Sauce – needs cooked pasta too – but the sauce is instant, it just needs heating up.
This recipe was taken straight from our Everybody's Going Dairy-free Guide (over 95 pages full of recipes, handy charts, helpful tips, dairy-free secrets, eating out and lots more)

Easy




Ingredients
Pasta
300g/3 cups macaroni plus water for cooking (use gluten-free if necessary)
Cheese Sauce
(Use this sauce anytime you need a cheesy sauce eg pasta bake, cauliflower cheese, jacket potato, nachos. You won't believe how delicious and cheesy it is!)
225g /1¼ cup carrots
650-700g/4 cups potatoes
170ml/⅔ cup olive oil
170ml/⅔ cup water
40g/1 cup nutritional yeast
2 tbsp lemon juice
3 tsp salt
Optional extras/ideas: wilted spinach (just add to the pasta a few mins before end), fried cherry tomatoes, mixed seeds, fresh rocket, fresh basil, vegan parmesan, steamed broccoli, fried mushrooms, garden peas (add to pasta 5 mins before the end), mixed chopped nuts
Instructions
Pasta
Bring the macaroni to the boil and then simmer according to the instructions on the packet or to your preferred texture.
Cheese Sauce
Peel the potatoes and carrots and cut them into small chunks. In a large saucepan, bring them to the boil and then simmer until soft (around 15 minutes).
Drain the water and then add them to the blender.
Add all the other ingredients to the blender and then blitz until really smooth.
Add the cheese sauce straight onto the pasta and stir through until fully covered.
Add any of the optional extras or enjoy the dish on it's own… it's great either way!
Did you know that Vegan Recipe Club is run by a charity?
We create vital resources to help educate everyone – vegan veterans, novices and the v-curious alike – about vegan food, health and nutrition; as well as the plight of farmed animals and the devastating environmental impact of farming.
Through this work we have helped thousands of people discover veganism; but we want to reach millions more! We rely entirely on donations as we don't get any government funding. If you already support us, thank you from the bottom of our hearts, you are really making a difference! Please share our details with your friends and loved ones too, as every donation enables us to keep fighting for change.