Chocolate & Orange Tart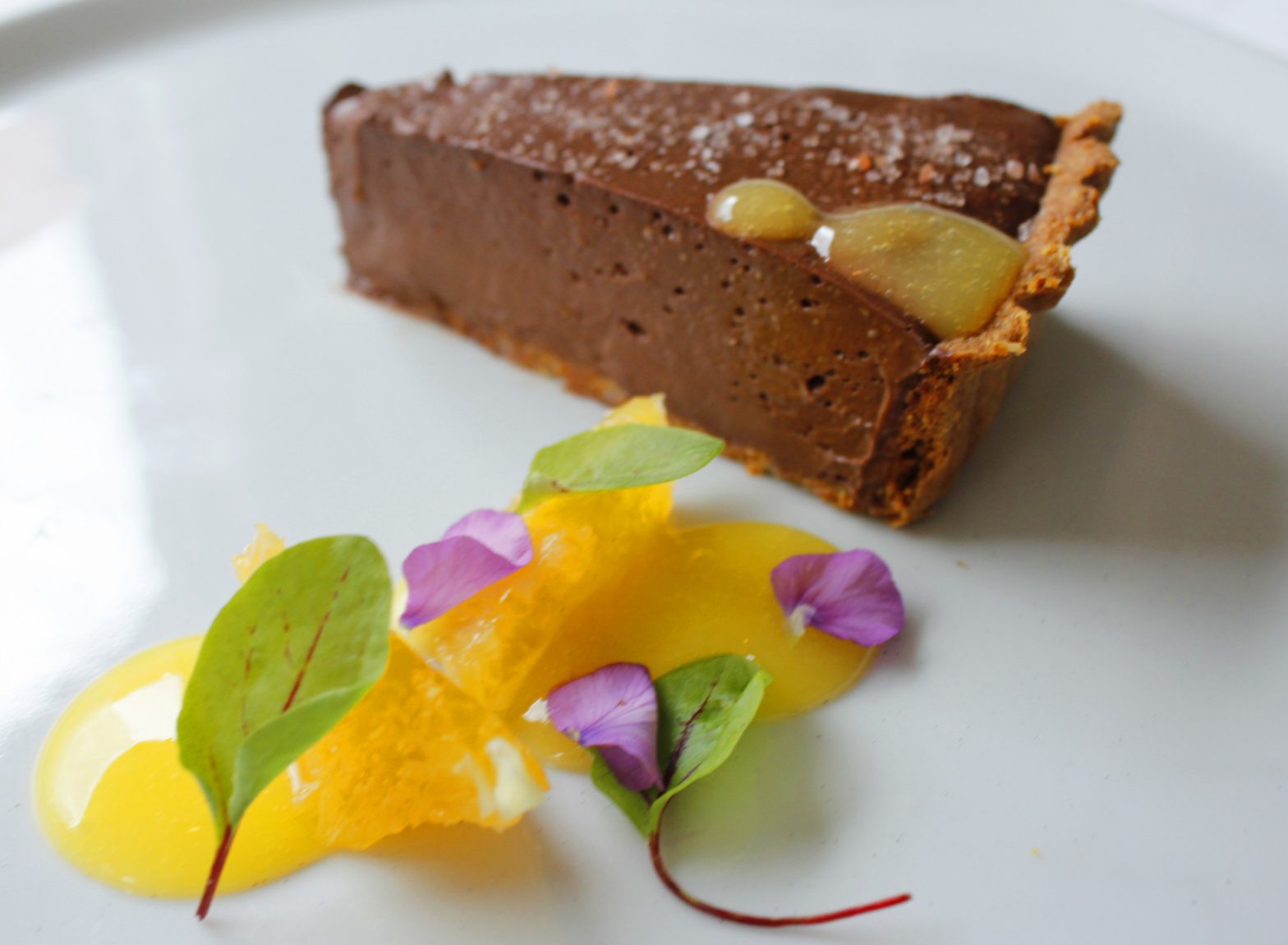 A new addition to The Allotment's midsummer menu, the chocolate orange tart is a surprisingly light dessert. Comprising of an orange-infused chocolate mousse encased in a crumbly oat and almond pastry, a smattering of Himalayan pink salt finishes this dish off just right.

Not too tricky

Ingredients
Hazelnut and oat pastry
125g oats
75g hazelnuts
100ml non-dairy milk
Zest from one orange
15ml/1 tbsp vegetable oil
20g sugar
½ tsp salt
Chocolate and orange tart filling
400g dark chocolate
One tin coconut milk
200ml aquafaba (liquid from a tin of chickpeas or other white beans)
Zest from one orange
Instructions
Hazlenut and oat pastry
Pre-heat the oven to 150ºC (fan) or 165ºC regular/325°F/Gas Mark 3.
Grease a loose bottom 25cm/10inch tart case with oil. Blend the oats and hazelnuts to a fine mixture.
Pour into a bowl, add remaining ingredients and mix with your hands until and the sugar and oil has been incorporated.
Roll out the pastry between two sheets of baking parchment to around 4mm/1'ÅÑ5 inch thick.
Peel the pastry off the parchment and lay into the tart case, gently pressing into the corners and making sure the sides aren't too thin. Alternatively, press the pastry into the case using your hands and just make sure the pastry is an equal thickness the entire way round the case.
Bake blind with baking beans or uncooked pulses/beans for 45 minutes. Check after 30 minutes.
The pastry should be dry on the bottom when cooked, and not soft. Let it cool for 25 minutes before filling the tart case.
Chocolate and orange tart filling
Melt the chocolate and coconut milk gently over a low heat.
Whisk aquafaba with an electric mixer until you reach stiff peaks.
Slowly add the melted chocolate and coconut mixture into the whipped aquafaba.
Pour down the side of the bowl gently to not lose any air in the mixture, finally add in the orange zest.
Once all incorporated, gently pour into the tart case and leave it to set overnight.
Enjoy with fresh orange segments and vanilla ice cream.
Did you know that Vegan Recipe Club is run by a charity?
We create vital resources to help educate everyone – vegan veterans, novices and the v-curious alike – about vegan food, health and nutrition; as well as the plight of farmed animals and the devastating environmental impact of farming.
Through this work we have helped thousands of people discover veganism; but we want to reach millions more! We rely entirely on donations as we don't get any government funding. If you already support us, thank you from the bottom of our hearts, you are really making a difference! Please share our details with your friends and loved ones too, as every donation enables us to keep fighting for change.