Chocolate & Marshmallow Dessert Pizza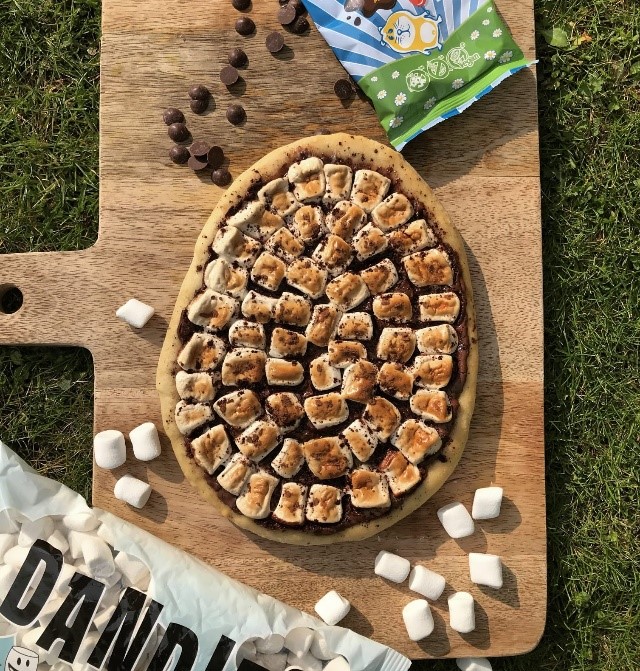 Here we have deliciously decadent, hand-stretched, artisan egg-shaped pizzas with melted chocolate sauce, roasted marshmallows and more chocolate… mmm!

Easy


Ingredients
For the dough (to make 2 medium pizzas)
280g strong white bread flour

4g fast-action dried yeast
½ tsp ground flaxseed (optional)
120ml water (preferably filtered) mixed with 50ml boiling water (also preferably filtered)
2 tbsp of rapeseed oil (ideally cold-pressed) (leave a little for glazing your bases)
½ tsp white sugar
¼ tsp freshly ground salt
For the sauce and toppings
250g vegan chocolate of choice
1 large bag vegan marshmallows (enough to cover 2 pizzas and extras for nibbling on)
Cocoa powder (cacao if preferred)
Chopped fresh fruit (optional)
Instructions
Add the flour, salt, sugar, yeast and flax seeds into a large mixing bowl. Next, stir the oil into your lukewarm measured water.
Pour the liquid mix into the flour mix. Use your hands to mix and knead into a soft dough that doesn't stick to the sides of the bowl. Cover the bowl with a damp tea towel and leave in a warm place for at least 1 hour until the dough has doubled in size.
Preheat the oven to 280ºC/530ºF/Gas Mark 10.
Split your dough into 2 balls. Knead for up to 2 minutes on a floured surface, then stretch or roll it out to the desired size and shape (we recommend egg shaped pizzas!).
Transfer each base to a baking sheet, lightly glaze with rapeseed oil and part-bake for 5 minutes.
When melting your chocolate, it's best to chop it first so it melts quicker and more evenly. Chop into pieces or chunks of roughly the same size. Fill a medium saucepan with 4cm of water. Place over a medium heat and bring to a very gentle simmer.
Place a heatproof bowl on top of the pan so that it fits well but doesn't touch the water. Lower the heat to a very gentle simmer. Add the chocolate and leave to melt for 4-5 mins, stirring regularly. Carefully remove the pan from the heat and allow the chocolate to cool a little before using.
Smother the bases in chocolate sauce as desired. Then top with marshmallows and decorate with any leftover sauce. Dust with cocoa powder and return to oven to bake for approximately 5 minutes. Keep a close eye on the marshmallows and remove when they begin to melt and brown.
Allow to cool slightly and serve with fresh fruit or more chocolate!
Did you know that Vegan Recipe Club is run by a charity?
We create vital resources to help educate everyone – vegan veterans, novices and the v-curious alike – about vegan food, health and nutrition; as well as the plight of farmed animals and the devastating environmental impact of farming.
Through this work we have helped thousands of people discover veganism; but we want to reach millions more! We rely entirely on donations as we don't get any government funding. If you already support us, thank you from the bottom of our hearts, you are really making a difference! Please share our details with your friends and loved ones too, as every donation enables us to keep fighting for change.