A Guide to Vegan Breakfast Cereals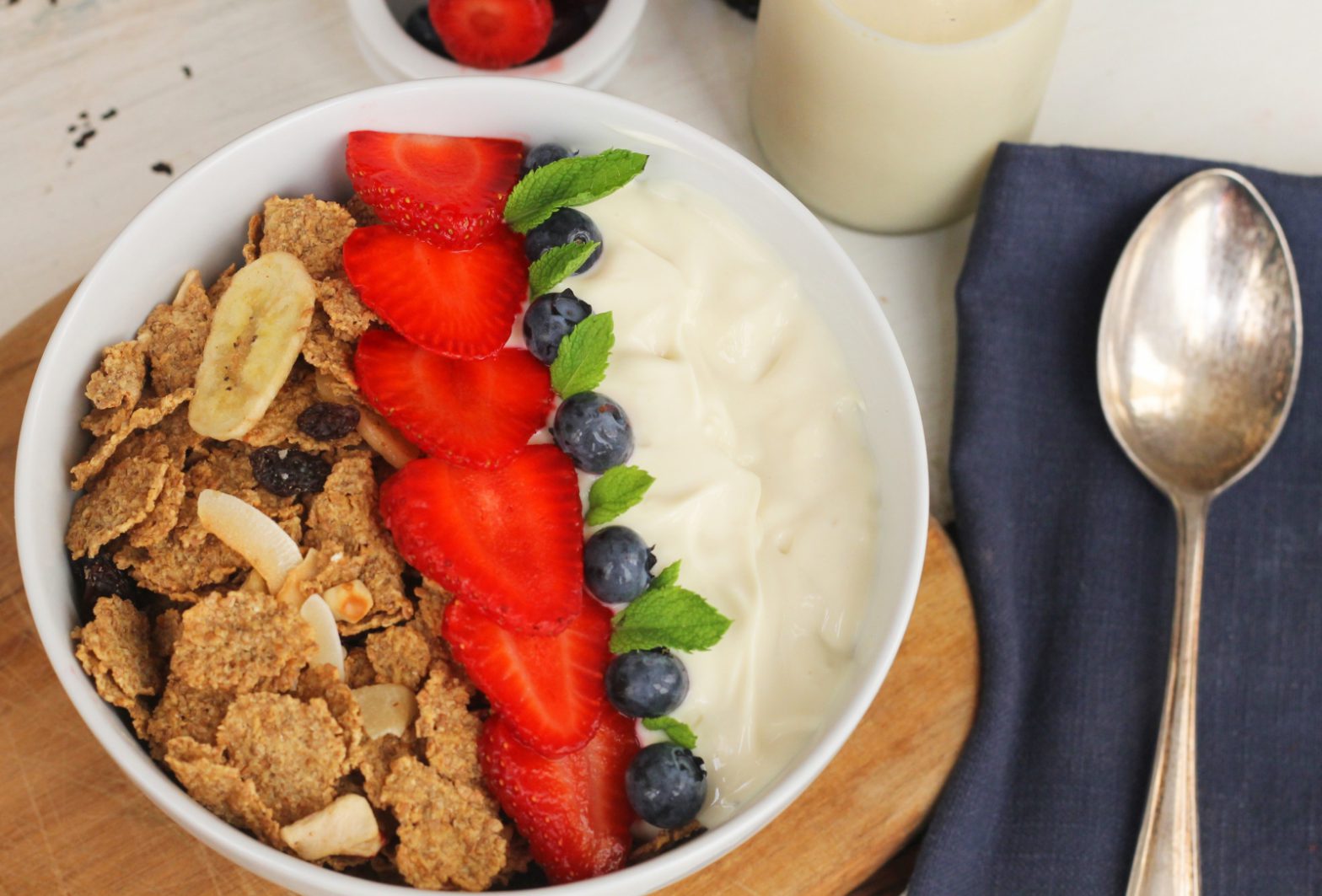 We've covered vegan granola, porridge and muesli elsewhere on this site but this is a quick heads-up to mainstream supermarket-style breakfast cereals. It's not exhaustive but it will give you a few ideas!
See Viva!'s top plant milks… there are lots of amazing ones out there now!
So what makes a breakfast cereal NOT vegan? The most obvious things to look for are: Vitamin D (not usually vegan) added dairy, eg whey powder, milk, yoghurt; or honey.
But that still leaves plenty to choose from! Also check out the free-from sections for even more options 🙂
Aldi: Crisp Cereal – Apple & Cinnamon; Harvest Morn Fruit Wheats – Apricot or Blueberry; 'Has No' Gluten-Free Crisp Rice; Specially Selected Premium Muesli – Berries & Cherries or Exotic or Really Nutty; Harvest Morn Wheat Bisks
Asda: Popcorn Cereal – Toffee Apple or Caramel; Good Balanced Multigrain Granola – Fruity or Nutty; Free From Porridge or Muesli; Free From Instant Oats – Golden Syrup; Cornflakes; Wheats – Raspberry, Apricot or Blueberry; and more – click here
Co-op: Mixed Fruit Muesli; Whole Wheat Biscuits; Porridge Oats; Apricot Wheats; Blueberry Wheats; Oat Sachets – Original or Golden Syrup; Cherries and Berries Muesli; Fruit and Nut Muesli; Good Life Fruit Muesli
Kellog's: Fruit 'n' Fibre; Just Right
M &S: 3-Seed Granola; Cranberry & Pumpkin Seed Granola Mix; Made Without Rice Porridge; Made Without Wheat 7 Fruit, Nut & Seed Muesli: Instant Porridge – 10 Apple, Sultana & Cinnamon, Golden Syrup or Original; Simply Fruit And Fibre; Simply Fruit Muesli
Morrison's: Super Hoops; Mighty Malties; Wheat Biscuits (Savers and regular); Cornflakes; Fantastic Fibre; Bran Flakes (Savers and regular); Puffed Wheat; Sultana Bran; Strawberry & Raspberry Clusters; Maple & Pecan Clusters; Instant Oats – Original, Blueberry & Raspberry; Fruit & Flake; Coco Snaps; Muesli – Wholewheat or Extra Fruity; Sultana Bran; Mini Neat Wheats – Cranberry or Blueberry
Sainsbury's: Wholegrain Wheats – Apricot, Raisin, Red Cherry or Golden Syrup; Wholewheat Biscuits (Basics and regular); Wholegrain Malties; Wholewheat Muesli; Fruit and Nut Muesli; Pecan & Maple Crisp; Orchard Fruit Muesli with Cinnamon; Fruit Muesli; Fruit and Nut Muesli; Apple & Cinnamon Crisp; Luxury Fruit and Nut Muesli;Porridge; SO organic Porridge oats; 10 Express Porridge – Golden Syrup, Original, Apple & Cinnamon or Raspberry & Blueberry; Scottish Whole Rolled Chunky Oats; Scottish Porridge Oats; Scottish Porridge Oats with Oatbran & Wheatbran
Tesco: Tesco Wheat Biscuits – regular and Value; Apple & Cinnamon Muesli; Kids Cereals Cinnamon Squares; Fruit and Nut Muesli; 50% Fruit Muesli; Finest Muesli – Fruit & Nut; Berry & Cherry Muesli; Reduced Sugar Cranberry & Almond Granola; Apple & Blueberry Muesli; Nuts & Seeds Muesli; Six Nut Muesli; Maple and Pecan Crisp; Wheats – Apricot, Red Cherry, Golden Syrup, Raspberry, Raisin or Blueberry; Oatbran; Scottish Porridge Oats; Easy Oats – Original, Golden Syrup or Apple & Blueberry; Scottish Porridge Oats with Wheat bran; Organic Porridge Oats; Value Porridge Oats; Finest Scottish Porridge Oats; Oat and Barley porridge sachet
Waitrose: Wholewheat Biscuits; Porridge Oats; Essential Porridge Oats; Porridge Oats with Wheatbran; Wholegrain Wheats – Apricot, Malted or Blueberry; Coffee, Date & Chocolate Muesli; Organic Muesli; Pistachio, Raspberry, Apple & Apricot Granola; Mixed Berries Porridge Oats; Flower Petal Muesli; Instant Oats Golden Syrup or Original
Thanks to the Vegan Womble for their Unoffical Asda and Morrison's lists.
The L-Plate Vegan and My Vegan Supermarket are also useful resources

Easy





Did you know that Vegan Recipe Club is run by a charity?
We create vital resources to help educate everyone – vegan veterans, novices and the v-curious alike – about vegan food, health and nutrition; as well as the plight of farmed animals and the devastating environmental impact of farming.
Through this work we have helped thousands of people discover veganism; but we want to reach millions more! We rely entirely on donations as we don't get any government funding. If you already support us, thank you from the bottom of our hearts, you are really making a difference! Please share our details with your friends and loved ones too, as every donation enables us to keep fighting for change.