Vegan Spinach & Walnut 'Ricotta' Pie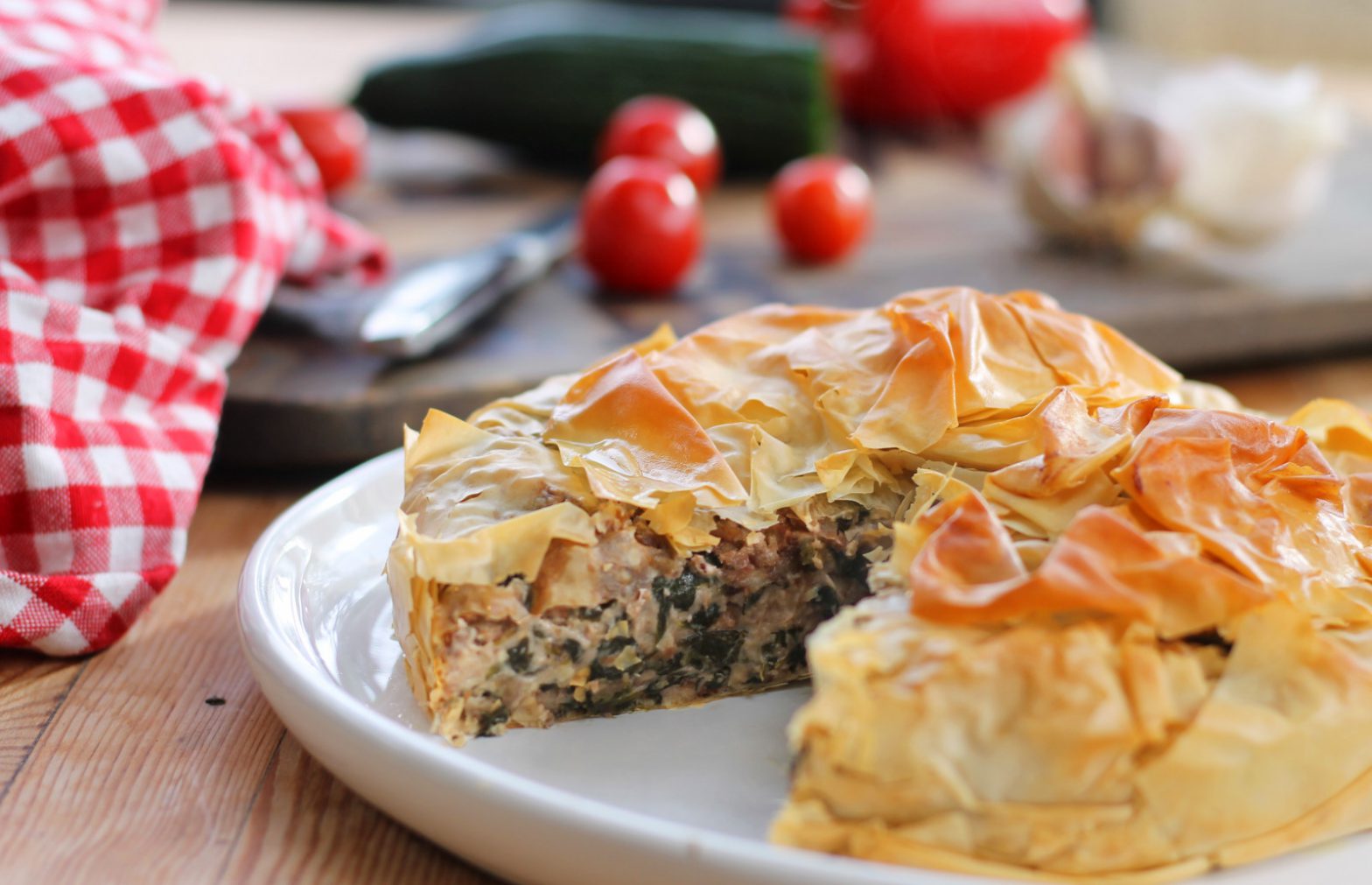 A deliciously vegan take on this classic Mediterranean dish! The walnut 'ricotta' creates the perfect creamy filling blended with spinach and freshly grated nutmeg. Enjoy as a light lunch with a salad or as a main meal 🙂

Not too tricky
Ingredients
Walnut 'Ricotta'
250g/1 2/3 cups cashew nuts, soaked

150g/1¼ cups walnuts, soaked

175-200ml water

1 capsule of strong probiotic bacteria (optional)

2 tbsp nutritional yeast

½ tbsp lemon juice

½ tsp salt (or more to taste)
Good pinch of black pepper
Other ingredients
5-6 sheets filo pastry
250g/1 1/8 cups young spinach (you can also use frozen)
1 onion (finely diced)
2 cloves garlic (crushed)
½ tsp grated nutmeg
Instructions
Walnut 'Ricotta'
Soak the cashews and walnuts for a minimum of 4 hours or overnight.
Thoroughly rinse the cashew nuts and blend with the 175ml of water until completely smooth and creamy. Add more water if necessary but only bit by bit as you want the mixture to be as thick as possible (whilst still remaining smooth).
(Optional step) Add the probiotic capsule and blend again. Cover the cashew mix with cling film and leave to ferment (at room temperature for minimum 4 hours.
Thoroughly rinse the walnuts and then finely chop them into small pieces.
In a large bowl, add the walnut pieces to the cashew mix, then add the remaining ingredients.
Stir everything together and taste to see if it needs more salt, lemon juice or nutritional yeast.
Other ingredients
In a large frying pan, fry the onion until soft and golden then add the garlic and fry for another two minutes.
Add the spinach and cook until thoroughly wilted.
Remove everything from the pan and squeeze out the excess water using a sieve.
Leave to cool before stiring into the 'ricotta' mix and then stir in the nutmeg.
Using a 20cm loose bottom cake tin, grease the bottom of the tin using a layer of olive oil.
Lightly brush 4-5 sheets of filo pastry with olive oil.
Place one sheet of filo pastry onto the bottom of the tin and allow the excess pastry to fall over the top. Layer another sheet at 90º and continue in this way until you've layered about 4-5 sheets.
Spoon the mixture into the pastry sheets and then fold the corners of the pastry into the middle.
If you have any gaps in the pastry, scrunch up a sheet of filo and place it into the gap.
Lightly brush or spray the top of the pastry with olive oil and place in the oven for approximately 30 minutes or until lightly golden.
Did you know that Vegan Recipe Club is run by a charity?
We create vital resources to help educate everyone – vegan veterans, novices and the v-curious alike – about vegan food, health and nutrition; as well as the plight of farmed animals and the devastating environmental impact of farming.
Through this work we have helped thousands of people discover veganism; but we want to reach millions more! We rely entirely on donations as we don't get any government funding. If you already support us, thank you from the bottom of our hearts, you are really making a difference! Please share our details with your friends and loved ones too, as every donation enables us to keep fighting for change.