Vegan Pecan Pie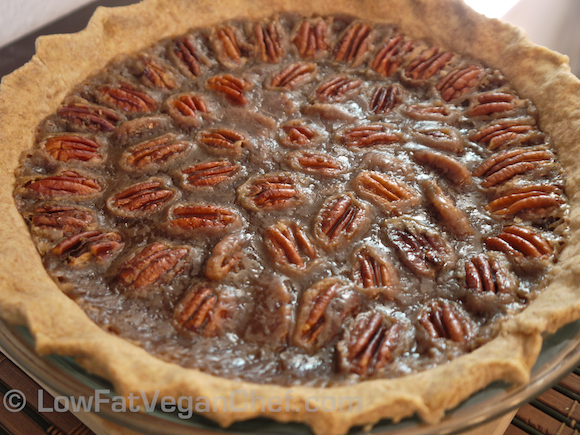 Lovely… nutty, buttery and sweet! Try serving with dairy-free cream or ice cream.
Picture courtesy of lowfatveganchef.com

Not too tricky
Ingredients
1 shortcrust pastry case, baked blind
30ml/2tbsp arrowroot powder
225g/8oz muscovado sugar
75g/3oz vegan margarine OR half and half margarine with refined coconut oil (eg Biona Cuisine)
1/2 tsp salt
1 tsp vanilla essence
90ml/6tbsp golden syrup
225g/8oz shelled pecan nuts, coarsely chopped, plus a few whole ones for decoration
Make your own pastry from the Apricot Tart recipe OR use vegan shortcrust pastry such as Jusrol or Sainsbury's.
Instructions
1. Heat oven to 200°C/400°F/Gas Mark 6.
2. Blind bake pastry case: roll and cut the pastry to fit the flan tin; prick a few holes in the base with a fork; cover it completely with greaseproof paper so no edges are exposed. Weigh down with a few dried beans so it doesn't puff up. Bake for 10 minutes.
3. Let it cool and set aside.
4. Meanwhile, mix arrowroot with sugar then add fat and mix to a cream. Add salt and vanilla essence, then stir in golden syrup. Add chopped pecan nuts, then pour mixture into pastry case and decorate with the whole nuts.
5. Bake for 30 minutes. Cool before slicing.
Optional extras / notes
1 hour – less if using ready-made pastry
Did you know that Vegan Recipe Club is run by a charity?
We create vital resources to help educate everyone – vegan veterans, novices and the v-curious alike – about vegan food, health and nutrition; as well as the plight of farmed animals and the devastating environmental impact of farming.
Through this work we have helped thousands of people discover veganism; but we want to reach millions more! We rely entirely on donations as we don't get any government funding. If you already support us, thank you from the bottom of our hearts, you are really making a difference! Please share our details with your friends and loved ones too, as every donation enables us to keep fighting for change.