Speedy Marinated Tofu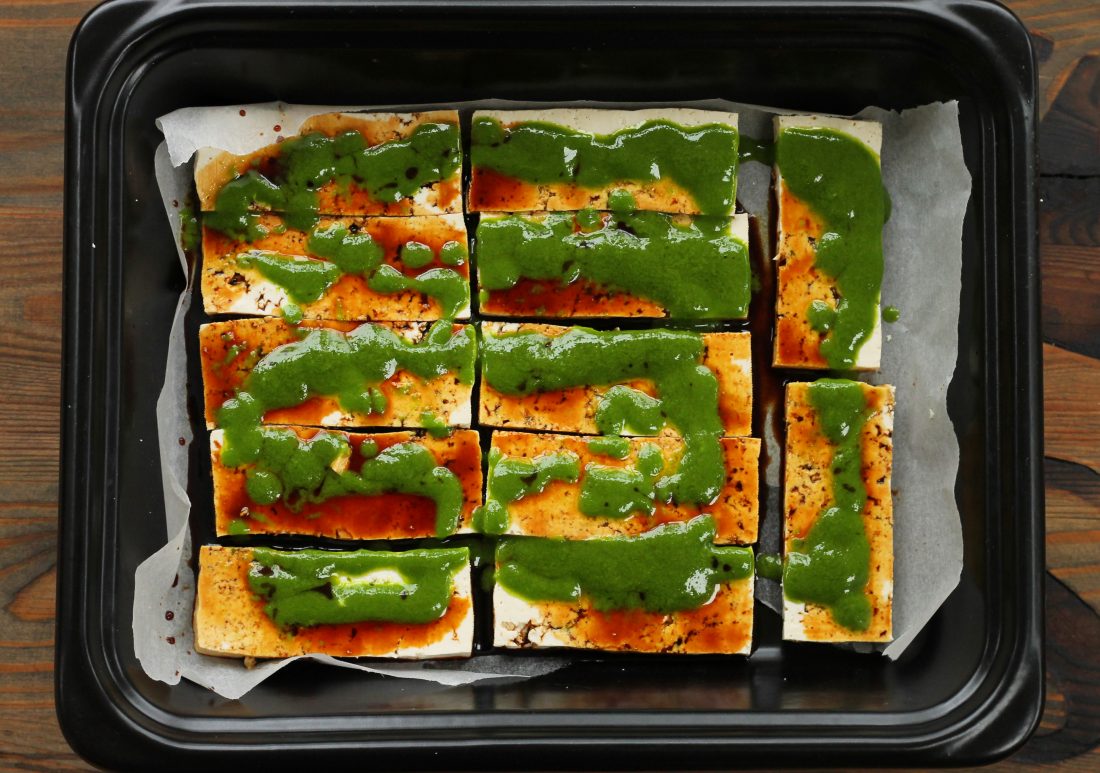 This tofu makes the perfect accompaniment to lots of dishes from Buddha bowls, pasta, salads (cold and warm), poke bowls, stir fries, noodle dishes – just about anything really! We challenge you not to finish the whole tray off before serving!

Easy




Meal
sides-light-meals-and-salads
Ingredients
100ml/¼ cup + 2 tbsp olive oil
25g/1 oz flat leaf parsley (with stalks)
2 cloves garlic, roughly chopped
25ml/⅛ cup soy sauce (use Tamari if gluten-free)
300g/11 oz (approx.) firm tofu
2 tbsp nutritional yeast
Instructions
Preheat the oven to 180°C/350°F/Gas Mark 4.
Line a large baking tray with baking parchment.
Drain the water from the tofu and wrap the block in a clean tea towel or kitchen roll. Pat dry.
Blend together the olive oil, parsley and garlic using a blender or stick blender.
Slice the tofu width ways about 0.5cm/¼ inch thick.
Lay the tofu on the lined baking tray.
Pour the garlic and parsley sauce, then the soy sauce, evenly over each slice.
Place the tray into the oven for 15-20 minutes.
Take the tray out then turn each slice of tofu, adding a bit more soy sauce if necessary.
Sprinkle the nutritional yeast evenly over all slices of tofu then bake for a further 5-10 minutes.
Did you know that Vegan Recipe Club is run by a charity?
We create vital resources to help educate everyone – vegan veterans, novices and the v-curious alike – about vegan food, health and nutrition; as well as the plight of farmed animals and the devastating environmental impact of farming.
Through this work we have helped thousands of people discover veganism; but we want to reach millions more! We rely entirely on donations as we don't get any government funding. If you already support us, thank you from the bottom of our hearts, you are really making a difference! Please share our details with your friends and loved ones too, as every donation enables us to keep fighting for change.