Smoked Cashew Croquetas (with port-glazed red beetroot and orange emulsion)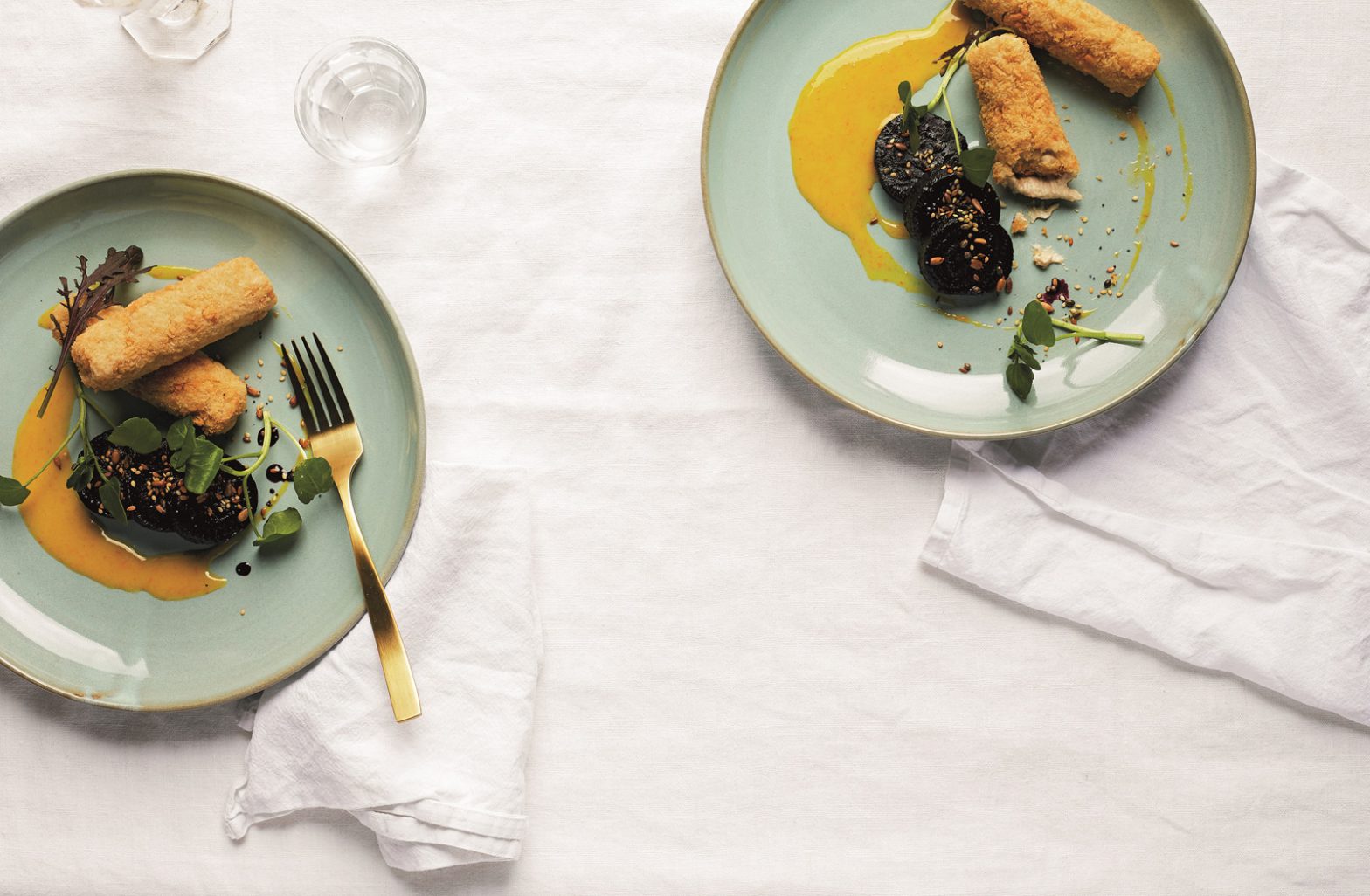 Croquetas are a traditional Spanish tapas made from a thick white sauce, usually with added ham, which are breaded and deep fried so the outside is crisp and the inside is melting and delicious. This dish makes use of the magical qualities of cashew nuts to create a similar effect, but with only the one ingredient. Cashews contain a lot of natural starches and fats and so, once puréed, they can fulfil the role of the roux, milk and cheese in the recipe all on their own. The full culinary potential of cashews is only just being realised – heat them up and wonderful things begin to happen.
This recipe is taken from Richard's amazing new, gourmet cookbook Plants Taste Better.

Intricate
Courtesy of Acorn



See other recipes by Acorn
Meal
mains
lunches
sides-light-meals-and-salads
Ingredients
Smoked Cashew Nuts
Smoke and nuts is a fantastic modern flavour. Use these to bring a wonderful interest to any plate.
Makes: 100g (3½oz)
100g (3½oz/¾ cup) blanched cashew nuts
Croquetas
300g (10½oz/2⅓ cups) smoked cashew nuts
750ml (26fl oz/3 cups) water
10g (¼oz/1¾ tsp) sea salt
Cayenne pepper
200g (7oz/12/3 cups) plain (all-purpose) flour
400g (14oz/32/3 cups) panko breadcrumbs
Sunflower oil, for deep-fat frying
Glazed Beetroot (Beets)
6 round red beetroot (beets)
550ml (19fl oz/2¼ cups) water
1 onion, finely sliced
2 sticks of celery, sliced
1 bay leaf
20 black peppercorns
100ml (3½fl oz/scant ½ cup)
Red wine
125ml (4fl oz/½ cup) ruby port
Orange Emulsion
2 oranges
15g (½oz/1 tbsp) Dijon mustard
5g (1/8oz/1 tsp) caster (superfine) sugar
100ml (3½fl oz/scant ½ cup) rapeseed oil
Garnish
Mixed toasted seeds (see below)
Handful of watercress
Handful of red mustard frill
Extra virgin olive oil
Mixed Toasted Seeds
This makes enough for about 10 meals, although you can easily just eat them all without really meaning to straight from the oven – they're very moreish.
Makes: 1 small jar
20g (¾oz/2½ tbsp) sunflower seeds
5g (1/8oz/½ tbsp) poppy seeds
10g (¼oz/4 tsp) sesame seeds
10g (¼oz/1 tbsp) flax seeds
10g (¼oz/4 tsp) hemp seeds
½ tsp extra virgin olive oil
1g (scant ¼ tsp) sea salt, finely ground
Instructions
Smoked Cashew Nuts
Put 1 tablespoon of hickory smoking chips into a stove-top smoker.
Line the top grate with foil to prevent the nuts from escaping and follow the manufacturer's instructions.
Smoke the nuts until they have a pronounced smoky flavour. Remove from the smoker and leave to cool.
These will keep for 2 weeks in an airtight container
Croquetas (first stage)
Add the smoked cashew nuts to a blender with 500ml (18fl oz/2 cups) of the water and the salt. Blend until very smooth.
Transfer to a small saucepan and heat gently, stirring all the time – as it comes to the boil it will thicken dramatically. Check the seasoning and adjust if necessary.
Add a small pinch of cayenne pepper and transfer to a small bowl. Cover with cling film (plastic wrap) in contact with the surface of the mix and place in the fridge to chill.
Toasted Seeds
Preheat the oven to (fan) 160°C/180°C/350°F/gas mark 4.
Mix all the seeds together with the oil on a baking tray (sheet) and roast for 5 minutes until just golden.
Sprinkle with the salt and allow to cool. These can be kept in an airtight container for up to 2 weeks.
Glazed Beetroot
Take a large piece of foil and wrap the beetroot (beets) and 50ml (2fl oz/scant ¼ cup) of the water tightly in it, making a watertight parcel.
Put on a baking tray (sheet) and bake in the oven for 1 hour until soft, then leave to cool in the foil.
Once cold, remove from the foil and transfer any liquid into a saucepan. Rub the skin from the beetroot (beets) and put the skin into the saucepan.
Line a chopping board with 4 sheets of cling film (plastic wrap) to stop staining, and use plastic gloves. Cut the top and bottom from each beetroot (beet), then cut each one into 1cm (½-inch) thick slices. You need 20 slices. Using a vegetable peeler, trim
the edges from each disc to round it off neatly. Set aside.
Add the beetroot (beet) offcuts to the saucepan with the skin, along with the onion, celery, bay leaf, peppercorns and the rest of the measured water (500ml/17fl oz/2 cups).
Bring to the boil and simmer for 20 minutes. Remove from the heat, allow to cool completely, then strain and return 200ml (7fl oz/generous ¾ cup) of the beetroot (beet) stock to a clean saucepan.
Boil the stock rapidly to reduce until it begins to thicken noticeably, almost completely evaporating. Add the red wine and port and simmer to reduce by three-quarters.
Orange emulsion
Finely grate the zest from the oranges and then juice the oranges. Check you have 200ml (7fl oz/generous ¾ cup), and add a little more if necessary.
Put the zest and juice into a small saucepan and simmer gently until reduced by half. Remove from the heat and allow to cool completely, then add the mustard and sugar and mix to combine.
Using a stick blender to emulsify, slowly add the rapeseed oil and blend until it is thick and glossy. This will keep for up to 3 days in the fridge.
Croquetas (final stage)
Put half the flour onto a plate and the other half into a large bowl.
Whisk the remaining measured water (250ml/8fl oz/1 cup) into the bowl to form a thin batter. Place the breadcrumbs on a plate. Transfer the croquetas mix to a piping bag fitted with a 2cm (¾-inch) round nozzle (tip).
Prepare your deep-fat fryer (see page 26). Put the watercress and red mustard frill in a small bowl and dress with a little olive oil.
Pipe the croqueta mix in 5–6cm (2–2¼-inch) lengths onto the floured plate and carefully roll to coat them in the flour. Repeat until you have 8 perfect croquetas.
With a knife, transfer them one at a time into the flour and water mix first and then into the breadcrumbs.
Roll each one in the breadcrumbs, ensuring they are completely covered and then gently re-roll so you have a neat tube shape. Continue until all the mix is used.
Deep-fry the croquetas, in batches if necessary, until crispy and golden brown, then drain on kitchen (paper) towel.
At the same time, put the beetroot (beet) discs into a large frying pan (skillet) and add the port glaze. Bring the glaze to a rapid boil and reduce it down until it forms a sticky shiny glaze.
Turn the beetroot (beets) over in the glaze to make sure they are well covered – if the glaze is too thick, add a tiny splash of water.
Place 3 or 4 beetroot (beets) slices and 2 croquetas on each of 4 large plates. Drizzle the orange emulsion around the plate (remember it is a strong flavour).
Scatter the dressed watercress and red mustard frill over each plate and then sprinkle with the toasted seeds. Serve hot.
Did you know that Vegan Recipe Club is run by a charity?
We create vital resources to help educate everyone – vegan veterans, novices and the v-curious alike – about vegan food, health and nutrition; as well as the plight of farmed animals and the devastating environmental impact of farming.
Through this work we have helped thousands of people discover veganism; but we want to reach millions more! We rely entirely on donations as we don't get any government funding. If you already support us, thank you from the bottom of our hearts, you are really making a difference! Please share our details with your friends and loved ones too, as every donation enables us to keep fighting for change.