Simple Vegan Chocolate Fondants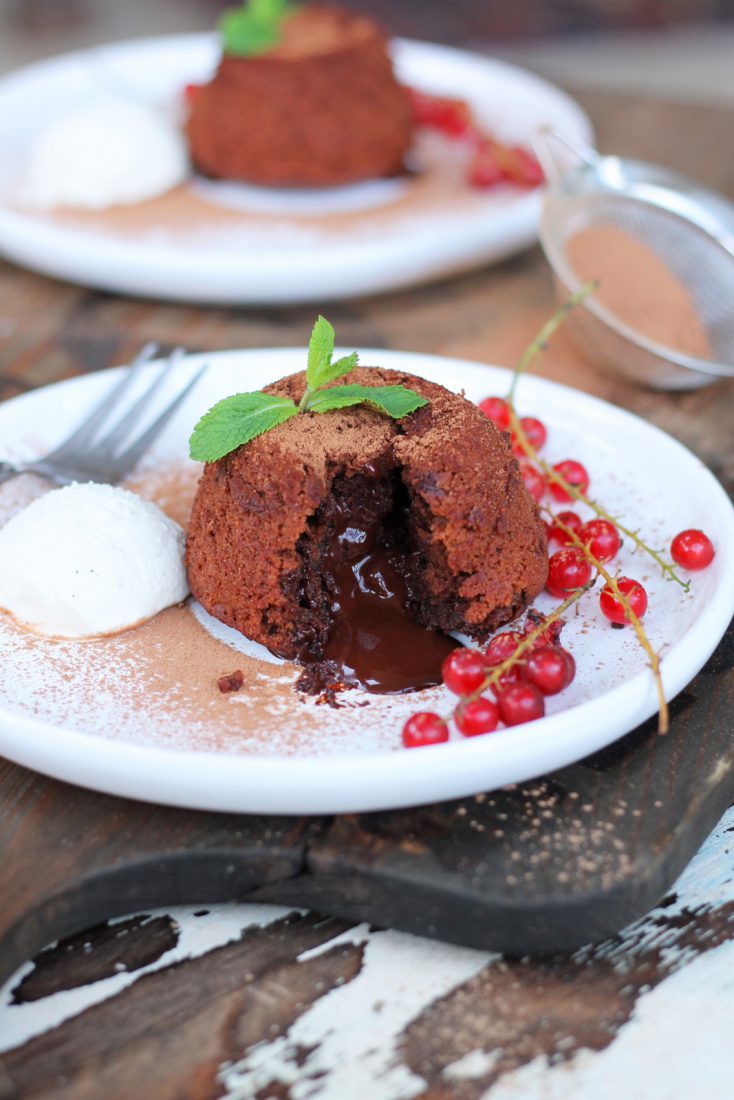 These fondants are a real crowd pleaser and make the perfect dinner party dessert. To be honest you can eat them with just about any meal but if you want to impress then they really have the wow factor! They are surprisingly quick and easy to make which is a definite bonus!
Taken straight from our lovely Winter Wonderland recipe guide… over 25 recipes of delicious seasonal comfort food, only £3.

Easy



Ingredients
Wet Ingredients
145ml/⅔ cup plant milk (soya or almond work best)
75g/⅓ vegan margarine
¾ tsp cider vinegar
2½ tbsp smooth apple sauce
1 tsp of vanilla essence or vanilla bean paste
Dry Ingredients
145g/1⅓ cups plain flour
120g/½ cup caster sugar
3 tbsp raw cacao or cocoa powder
2 tsp baking powder
½ tsp salt
Filling
100-150g/1 cup vegan dark chocolate of your choice
To Serve (optional)
Cacao or cocoa powder
Vegan ice cream
Redcurrants or other berries and a sprig of mint for decoration
Instructions
Pre-heat the oven to 180˚/350˚F/Gas Mark 4.
Grease 4 pudding basins (buy from supermarkets with a home section, kitchen shops and online) and set aside.
Place all of the wet ingredients into a saucepan and gently heat on a low-medium heat, stirring until melted and blended.
In a large mixing bowl, sieve the flour and add all of the dry ingredients, stirring until thoroughly combined.
Fold the wet ingredients into the dry ingredients until combined.
Fill the pudding basins with the mixture until three quarters full.
Push 5-6 pieces of chocolate into the middle of each of the basins until they are fully submerged into the mixture.
Place the basins on a baking tray and bake in the oven for 12-15 minutes.
Sprinkle with cacao and serve hot with ice cream and berries.
Did you know that Vegan Recipe Club is run by a charity?
We create vital resources to help educate everyone – vegan veterans, novices and the v-curious alike – about vegan food, health and nutrition; as well as the plight of farmed animals and the devastating environmental impact of farming.
Through this work we have helped thousands of people discover veganism; but we want to reach millions more! We rely entirely on donations as we don't get any government funding. If you already support us, thank you from the bottom of our hearts, you are really making a difference! Please share our details with your friends and loved ones too, as every donation enables us to keep fighting for change.