Frangipane Tart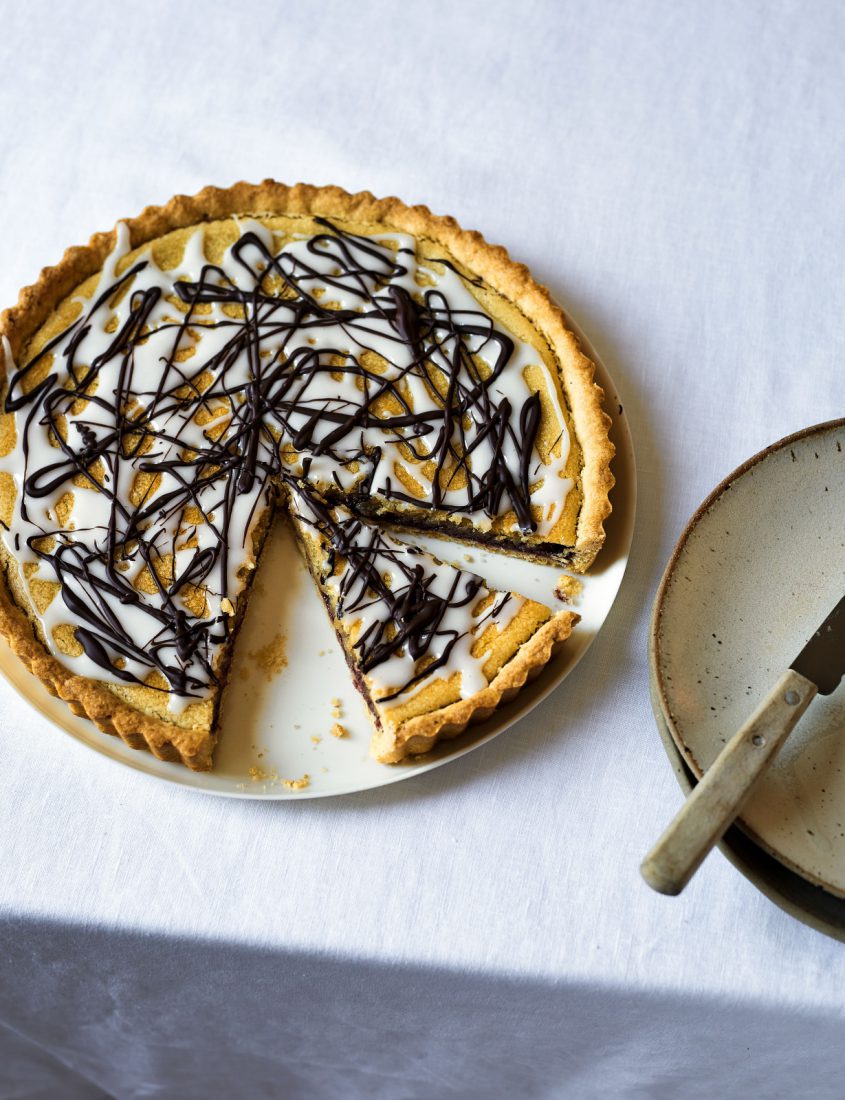 This is one of my favourite dessert recipes: light, crisp pastry with a frangipane topping over a delicate layer of jam. Everyone who tries it loves it, so I hope you will too.

Not too tricky

Courtesy of Rose Elliot



See other recipes by Rose Elliot
Ingredients
For the pastry
You can also use ready-to-use shortcrust pastry (eg Jus-Rol and some supermarket own brands)
225g/1¾ cups plain (all-purpose) flour
25g/¼ cup ground almonds
150g/⅔ cup pure coconut oil or vegan butter/spread
Pinch of salt
For the frangipane filling
180g/1¾ cups ground almonds
90g/scant ½ cup caster (superfine) sugar
75g/⅓ cup vegan butter/spread
2 tbsp cornflour (cornstarch)
180ml/¾ cup almond milk
1 tsp vanilla extract
2 tsp almond extract
Pinch of salt
To decorate
200g/7oz (approx.) raspberry jam (jelly), (about ½ jar)
80g/½ cup icing (confectioners') sugar
50g/2oz dark (bittersweet) chocolate, melted (using a double broiler method/bain-marie)
Instructions
Pastry
Mix all the ingredients for the pastry together in a bowl by hand, until the mixture forms a dough. Alternatively, blitz in a food processor for 1 minute until well combined.
Form the pastry into a ball, flatten it slightly and place it between 2 large sheets of greaseproof paper. Thinly roll out the pastry to fit a 25cm (10in) round shallow flan tin (tart pan). Prick the pastry all over with a fork, then place in the freezer for 20 minutes.
Meanwhile, preheat the oven to 180°C/350°F/Gas Mark 4.
Bake the tart case for 18–20 minutes until just golden at the edges, then set aside to cool.
Filling
Meanwhile, place all the filling ingredients into a food processor and mix to a smooth batter.
Cover the bottom of the cooled tart case with enough jam (jelly) to form a thin layer (the quantity can be adjusted to taste; the more jam, the sweeter the tart), then pour over the frangipane batter mixture to cover. Bake for a further 30 minutes until the filling is puffed up and golden. Set aside to cool.
Decoration
To decorate, add about 2–3 tsp water to the icing (confectioners') sugar to make a thin glacé frosting. Cover the tart with a thin layer of the frosting, then pipe over the melted chocolate to finish.
Did you know that Vegan Recipe Club is run by a charity?
We create vital resources to help educate everyone – vegan veterans, novices and the v-curious alike – about vegan food, health and nutrition; as well as the plight of farmed animals and the devastating environmental impact of farming.
Through this work we have helped thousands of people discover veganism; but we want to reach millions more! We rely entirely on donations as we don't get any government funding. If you already support us, thank you from the bottom of our hearts, you are really making a difference! Please share our details with your friends and loved ones too, as every donation enables us to keep fighting for change.