Baked Cauliflower Steaks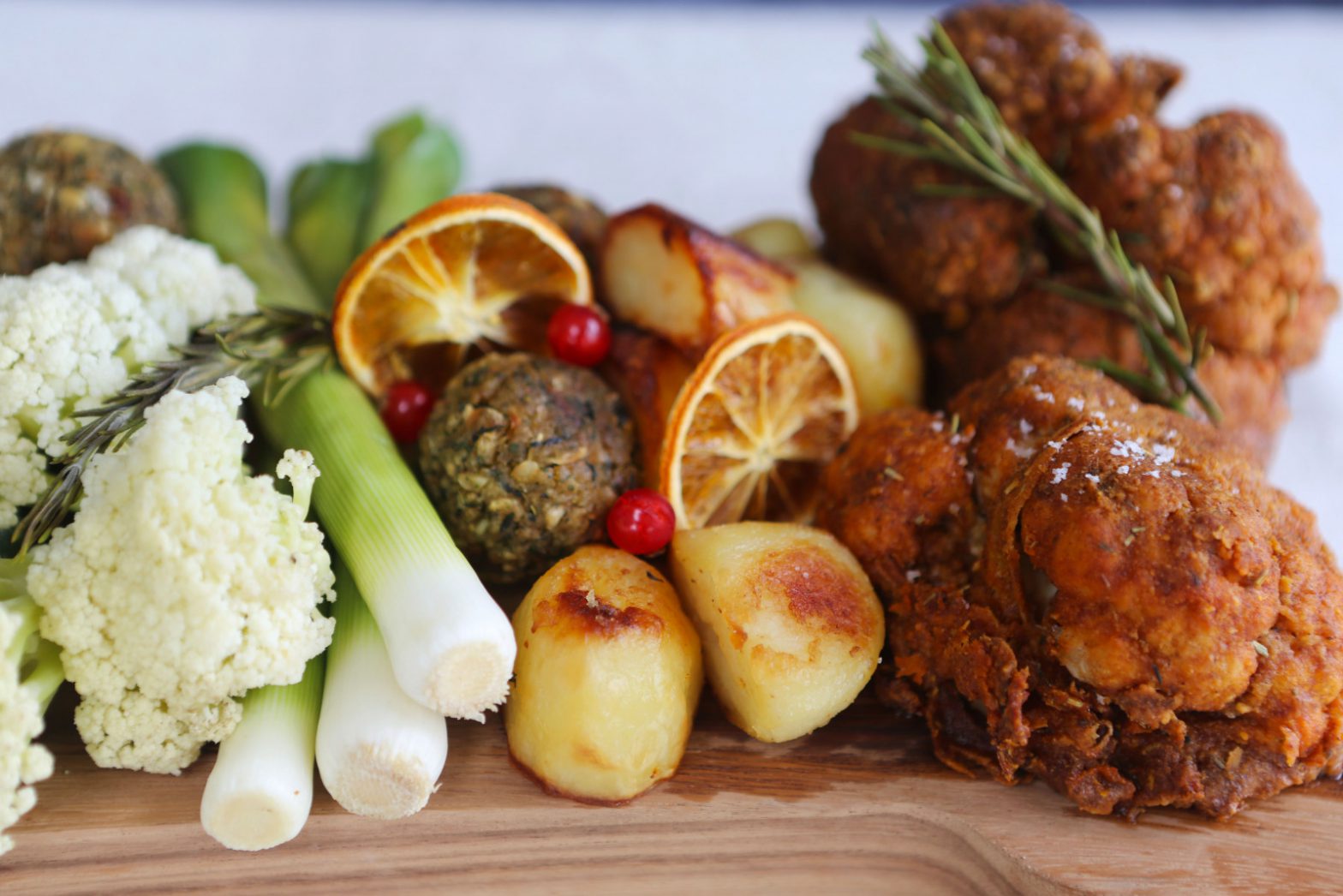 These cauliflower steaks are delicious and great as a main or a side! If you're serving them as a main, spice them up with some toasted pine nuts and enjoy 🙂
This recipe has been taken straight from our new Christmas guide: Over 25 recipes including starters, mains, desserts, cheese, truffels and cocktails… only £2!

Easy



Cuisine
United States and Canada
Meal
mains
vegetable-side-dishes
Ingredients
Coating
90g plain flour (use gluten-free flour if appropriate)
90g cornflour
½ tsp baking powder (use gluten-free if appropriate)
1½ tbsp smoked paprika
1 tbsp garlic powder
1 tbsp onion powder
1 tbsp dried thyme
1 tbsp dried rosemary
2 tbsp nutritional yeast
1 tsp salt
Other Ingredients
2 large cauliflower
1 litre soya or almond milk
2 vegan stock cubes, dissolved in a very small amount of boiling water
Decoration: toasted pine nuts (optional)
Instructions
Cut each cauliflower in half and carefully (you need the cauliflower to hold together) remove any leaves and big stalks.
Mix the plant milk with the stock in a large saucepan or bowl then soak the cauliflowers steaks for a minimum of 4 hours but ideally overnight.
Preheat the oven to 180˚C (fan)/350˚F/Gas Mark 4.
Thoroughly mix all of the ingredients for the coating in a large mixing bowl.
Grease a large baking tray and heat in the oven for a couple of minutes.
Dip each piece of cauliflower into the coating mix and make sure they are really well covered before placing them on the pre-heated baking tray.
Bake in the oven for 60 minutes, turning frequently to make sure all sides are evenly cooked. If the coating is not browning, spray with a little oil.
Sprinkle with toasted pine nuts and serve as a main or a side dish.
Did you know that Vegan Recipe Club is run by a charity?
We create vital resources to help educate everyone – vegan veterans, novices and the v-curious alike – about vegan food, health and nutrition; as well as the plight of farmed animals and the devastating environmental impact of farming.
Through this work we have helped thousands of people discover veganism; but we want to reach millions more! We rely entirely on donations as we don't get any government funding. If you already support us, thank you from the bottom of our hearts, you are really making a difference! Please share our details with your friends and loved ones too, as every donation enables us to keep fighting for change.