Simple Pear & Walnut Tarte Tatin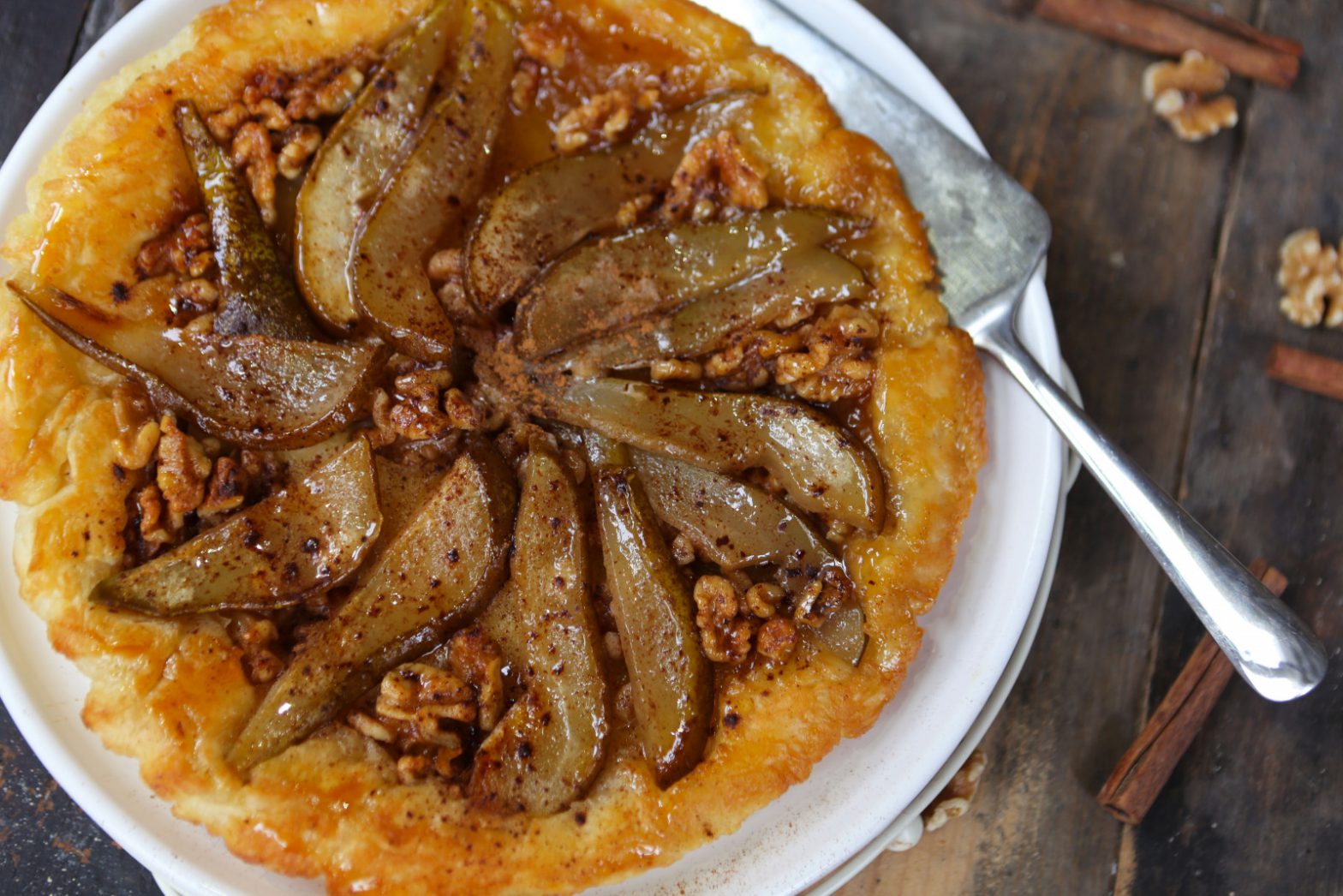 A number of people in the Viva! office said this is the best dessert they've ever had! Let's not mention the fact that it's actually really easy to make and looks impressive too… result!

Easy



Ingredients
300g ready-to-roll puff pastry (eg Jus-Rol). Use GF where necessary.
2 pears, sliced and cored
30g/⅛ heaped cup caster sugar
2 tbsp golden syrup
65g/⅓ scant cup vegan butter (our favourite is Naturli)
1 tbsp brandy (optional)
1 tsp vanilla extract or paste (optional)
Pinch salt
80g/5/8 cup walnuts or pecans
Cinnamon, for dusting
Instructions
Preheat the oven to 190ºC (fan)/375ºF/Gas Mark 5.
On a floured surface, roll out the pastry so that it's around 0.5cm thick.
Using an oven-proof frying pan (we used 28cm pan but you don't need to be exact), cut the pastry to fit the pan leaving 1cm extra around the edge.
In a frying pan, combine the sugar, golden syrup, vegan butter, salt and vanilla extract.
Heat on a medium heat for a few minutes until the sauce starts to thicken and turn slightly brown.
Remove from the heat, stir in the brandy (if using) and then coat the pears and nuts in the caramel sauce until thoroughly coated.
They will be very hot at this point so using tongs (or alternative), arrange the pear slices in a pretty pattern on the bottom of the frying pan. Once you have the pattern you like, scatter the nuts over and around the pear slices.
Place the sheet of pastry over the top of the frying pan, tucking in the edges around the filling.
Brush the pastry with a little rapeseed oil and place in the oven for 20 minutes or until crisp and evenly golden.
Remove the pan from the oven (be careful, the handle will be hot!) and place a large plate over the top. Flip the pan over so that the tarte displays fruit side up on the plate.
Sprinkle with cinnamon, add a little more golden syrup if necessary and serve with vegan ice cream.
Did you know that Vegan Recipe Club is run by a charity?
We create vital resources to help educate everyone – vegan veterans, novices and the v-curious alike – about vegan food, health and nutrition; as well as the plight of farmed animals and the devastating environmental impact of farming.
Through this work we have helped thousands of people discover veganism; but we want to reach millions more! We rely entirely on donations as we don't get any government funding. If you already support us, thank you from the bottom of our hearts, you are really making a difference! Please share our details with your friends and loved ones too, as every donation enables us to keep fighting for change.