Roasted Coconut Squash Gringas with Pink Pickled Onions & Sour Creme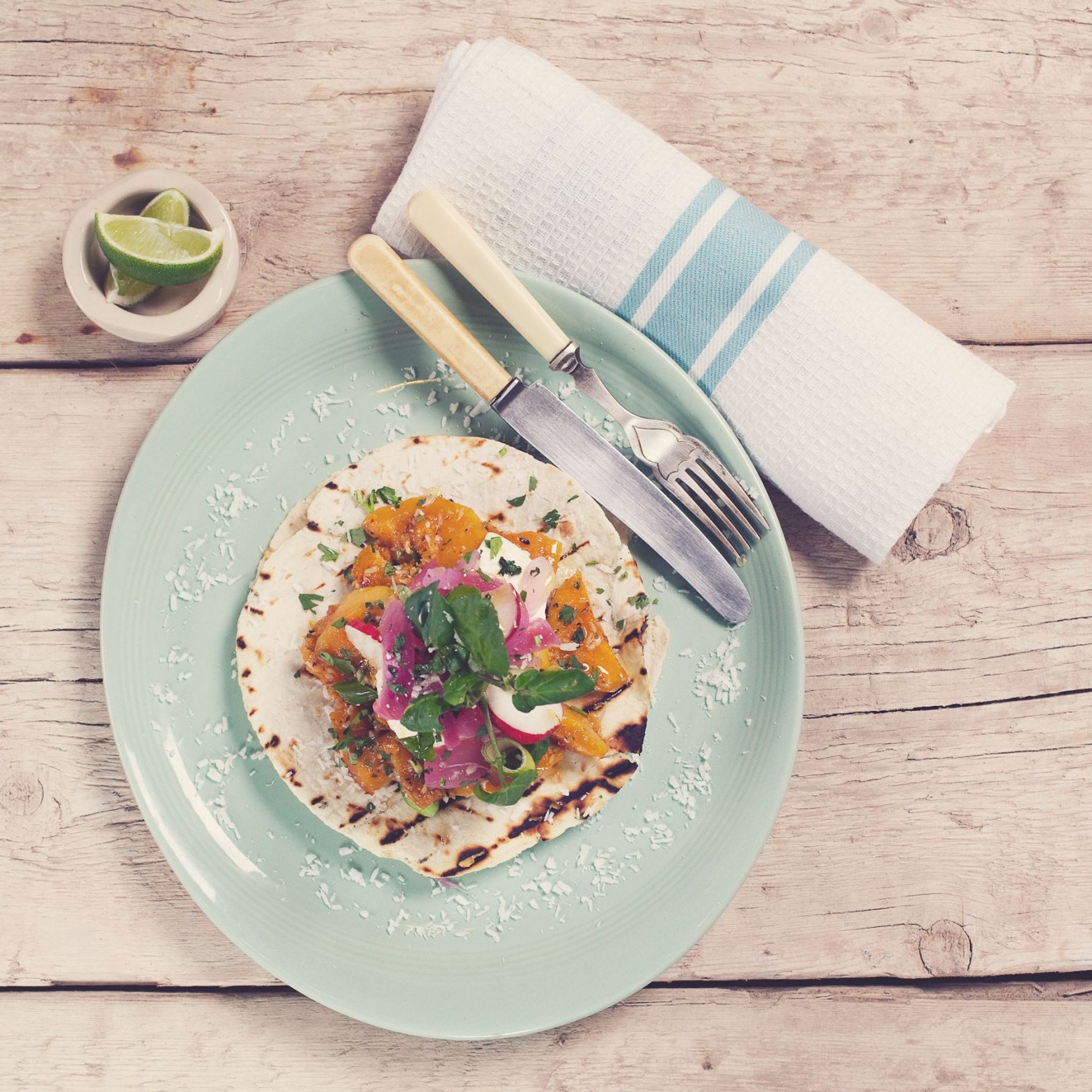 The Gringas are made up of toasted tortillas filled with refried beans and melting vegan cheese – roasted on a griddle or in the oven. They are then topped with a delicious butternut squash infused with coconut and other delicious ingredients!
Thanks for this lovely recipe, adapted from the restaurant chain Las Iguanas. Their branches across the UK offer a dedicated vegan and vegetarian menu.

Intricate

Cuisine
Mexican, Central and South American
Ingredients
To make the Roasted Coconut Squash:
500g butternut squash (cut into strips)
25ml vegetable oil
1 teaspoon crushed chillies
1 tablespoon garlic
1 tablespoon agave syrup
Pinch salt
Pinch cracked black pepper
2 tablespoons desiccated coconut
2 tablespoons cream of coconut
To make the Pink Pickled Onions:
200g red onions finely sliced
100ml boiling water
40ml orange juice
30ml lime juice
1-2 finely diced birdseye chillies
Generous pinch of salt
5g finely diced coriander
Plus
8 wholemeal tortillas or wraps (eg Discovery) – use Warburton's GF wraps if appropriate (also vegan of course)
½ tin (approx 200-220g) refried beans – eg Discovery, Old El Paso
200g melting vegan cheese, grated, eg Violife, VBites, Sheese – or try vegan cream cheese like Tofutti, Tesco or Sheese
Vegan sour creme (Tofutti Sour Supreme or one of our lovely recipes. Click here for tofu-based OR click here for cashew based
½ bunch spring onions, chopped fine
4 large radishes, finely sliced
200g French beans, lightly steamed
Mixed green salad
Instructions
1. Peel and remove the seeds from the butternut squash, then cut into strips approx. 6cm x 2cm x 2cm.
2. Place the oil, strips of squash, agave syrup, chillies, salt, pepper and garlic in the roasting tray and toss together. Roast in a hot oven, approx. 200°C for 20-25 minutes, tossing occasionally until just cooked.
3. Meanwhile, make the pink pickled onions. Place the sliced onions in a bowl and cover with the boiling water for 15 minutes stirring occasionally (don't place on the heat). Drain well and then combine the onions with the rest of their ingredients. Allow to cool and then refrigerate until needed. Make the sour creme now if doing so.
4. Remove the squash mixture from the oven. Add the desiccated coconut & syrup, toss everything together then return it to the oven for a further 10 minutes. Taste and adjust the seasoning as necessary.
5. Lay out the tortillas and top each one with 3 heaped tbsp of the refried beans. Sprinkle with 1/4 of the 50g of the vegan cheese. Place another tortilla on top and place on a hot griddle, very large frying pan – do in batches – or in a pre-heated, very hot oven.
6. Divide the warmed squash mixture into four and distribute over the 4 tortilla 'sandwiches'. Top with a blob each of soured cream and pink pickled onions.
7. Sprinkle the spring onions & sliced radish over the top. Serve with the green beans (and salad if desired).
*The onions will last for two days in the fridge and can also be used to add a kick to sandwiches or salads.
Optional extras / notes
The other prep and sides can be made while the squash is baking
Did you know that Vegan Recipe Club is run by a charity?
We create vital resources to help educate everyone – vegan veterans, novices and the v-curious alike – about vegan food, health and nutrition; as well as the plight of farmed animals and the devastating environmental impact of farming.
Through this work we have helped thousands of people discover veganism; but we want to reach millions more! We rely entirely on donations as we don't get any government funding. If you already support us, thank you from the bottom of our hearts, you are really making a difference! Please share our details with your friends and loved ones too, as every donation enables us to keep fighting for change.