Red Onion & Thyme Tart with Mixed Salad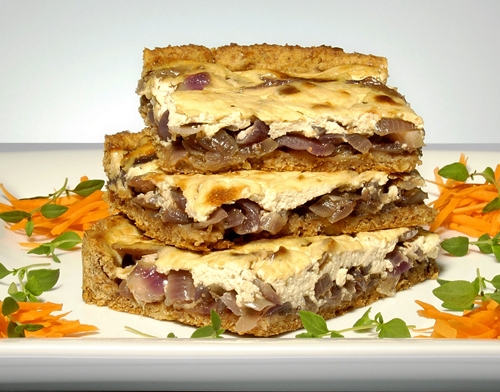 A lovely vegan alternativer to quiche, with thyme and red onions.
Picture courtesy of Corin Jeavons.

Not too tricky


Meal
mains
lunches
sides-light-meals-and-salads
Ingredients
Pastry
150g/5oz/1¼cups wholemeal self-raising flour
65g/2½oz/5tbsp vegan margarine
25g/1oz/¼ walnuts, finely chopped
OR use a vegan shortcrust pastry such as JusRol, Tesco, Sainsbury's. Most are – just check no added butter or lard
Filling
25ml/1½tbsp olive oil
3 medium red onions, finely sliced
5ml/1tsp dried thyme
2.5ml/½tsp brown sugar
130g/3½oz firm silken tofu
150ml/¼pt/2/3cup plain vegan cream cheese, eg Violife, Tesco, Sainsbury's or Tofutti
15ml/1tbsp Dijon mustard
Salt and freshly ground black pepper
Salad
A mixture of anything you like! Try combinations such as:
Cooked rice, cooked green beans and toasted seeds
Green leaves, tomato, avocado
Cooked rice plus a can of drained mixed beans and some chopped fresh tomato
Serve with vinaigrette or vegan mayonnaise.
Instructions
1. If using ready-made pastry jump to stage 4. If making from scratch, read on… For the pastry, sift flour and salt into a bowl, adding any bran left in the sieve. Rub in the margarine with your fingers until the mixture resembles fine breadcrumbs. Mix in walnuts, then add enough cold water to form a dough.
2. Alternatively, place all pastry ingredients into a food processor and give it a very quick whizz.
3.Turn out dough onto a lightly floured work surface and knead until smooth and elastic. Wrap in plastic and chill for 30 minutes. Preheat the oven to 200ºC400ºF/Gas Mark 6.
4. For the filling, heat oil in a large heavy based frying pan. Sweat onions over a low heat for 20 minutes until very soft and translucent, stirring often. Stir in thyme, sugar and seasoning and cook for a further 5 minutes until caramelized. Set aside and leave to cool slightly.
5. Blend silken tofu, vegan cream cheese, Dijon mustard and seasoning in a food processor or liquidizer until smooth and creamy.
6. Lightly grease a fluted 23cm/9in loose-bottomed quiche tin.
7. Roll out pastry on a lightly floured work surface, then gently lift it using a rolling pin. Don't worry if it breaks up. If using a ready-rolled sheet, no need to do any rolling!
8. Press pastry into tin with your finger tips and trim top. Use extra bits to mend any holes.
9. Prick pastry base with fork, line with greaseproof paper and baking beans and bake blind for 10 minutes until lightly golden. (You can use any old beans to weigh down the baking paper – baking blind is just a method to part-cook pastry so it doesn't over-brown but also doesn't go soggy when the filling is added).
10. Remove paper and beans, then spoon over onions.
11. Spoon over tofu mixture and smooth with a knife.
12. Bake for 20-30 minutes until golden and set. Test after this time and return to oven if it needs more baking.
13. Make your salad while it's cooking, then serve.
Did you know that Vegan Recipe Club is run by a charity?
We create vital resources to help educate everyone – vegan veterans, novices and the v-curious alike – about vegan food, health and nutrition; as well as the plight of farmed animals and the devastating environmental impact of farming.
Through this work we have helped thousands of people discover veganism; but we want to reach millions more! We rely entirely on donations as we don't get any government funding. If you already support us, thank you from the bottom of our hearts, you are really making a difference! Please share our details with your friends and loved ones too, as every donation enables us to keep fighting for change.