Pineapple Upside Down Cake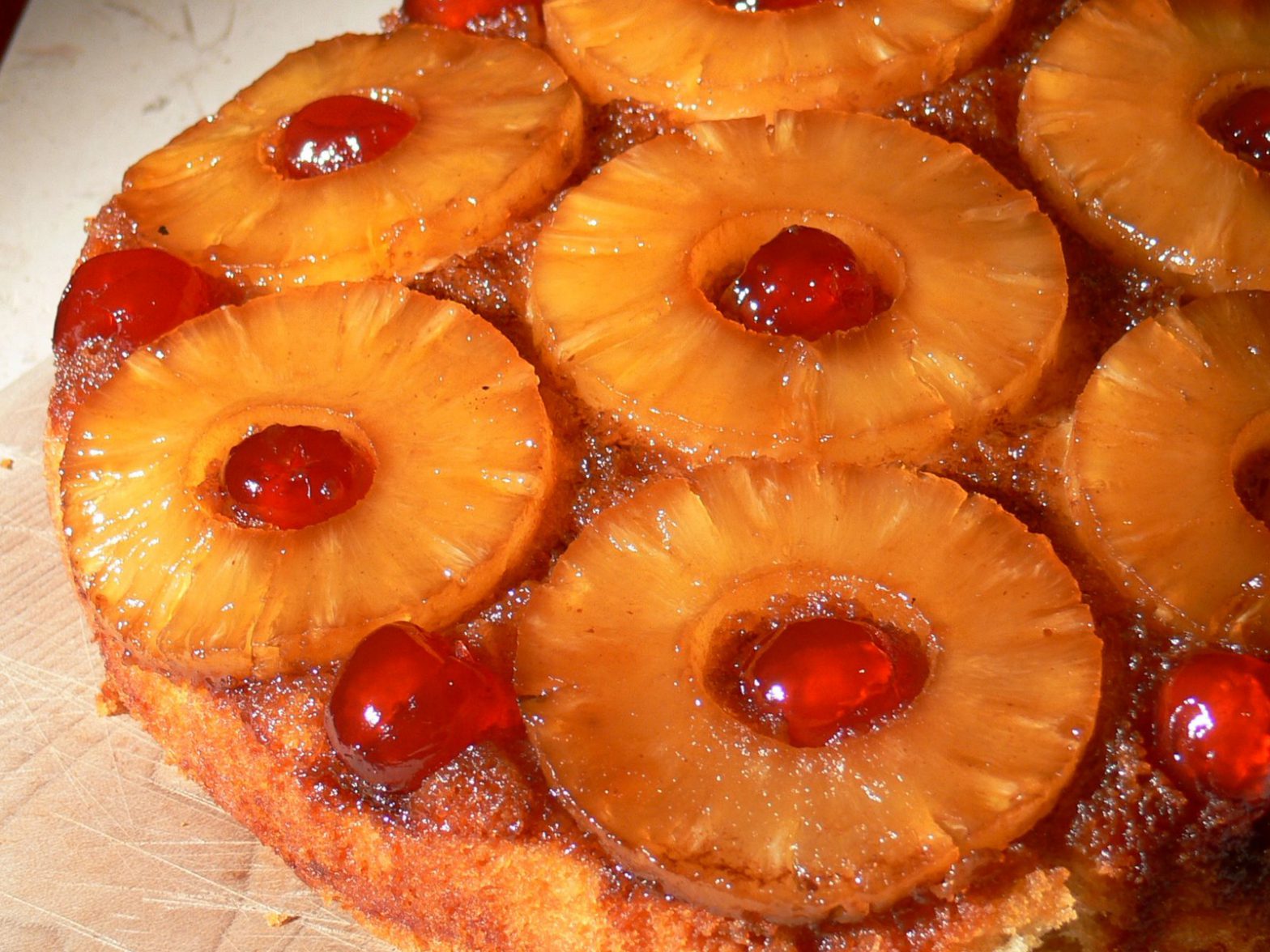 This delightful retro pudding originated from The Vegan Society. Thanks, guys!
I've tweaked it a little so there is a gluten-free alternative for those of you who want it.
PIcture courtesy of No Bacon with thanks

Not too tricky


Ingredients
Ingredients
115g/½ cup vegan margarine, eg Pure, Suma, Vitalite
100g/½ cup demerara or brown sugar, eg Sainsbury's or Billington's
One tin pineapple slices (tinned peaches also work well)
Glacé cherries (many brands are vegan, eg Waitrose, Sainsbury's. Avoid any with E120, cochineal or carmine as this is made from crushed beetles)
250g/2½ cups plain flour (regular or GF)
300g/1⅓ cups caster sugar
2 tsp baking powder (for GF version add an extra 1 tsp + 2 tsp tapioca flour)
½ tsp salt
120ml/½ cup plain mild vegetable cooking oil (rapeseed or sunflower)
240ml/1 cup plant milk, eg soya, almond or hemp
1 tsp vanilla extract
120ml/½ cup unsweetened applesauce, eg Essential Trading. (If you can't get unsweetened, use a sweetened version and reduce the caster sugar by 1-2 tbsp)
1 tbsp flaxmeal mixed with 3 tbsp hot water (eg Aldi's Harvest Morn Golden Milled Linseed)
ALL KITTED OUT
Scales or measuring cups
Measuring spoons
Measuring jug
Small saucepan and a spoon
Small bowl to mix the flaxmeal
25cm/10 inch springform cake tin
Tinfoil
Mixing bowl
Sieve
Whisk or wooden spoon
Instructions
1. Preheat the oven to 180°C/350°F/Gas Mark 4.
2. In a small saucepan, melt the margarine and add the brown sugar. Stir over low heat until the sugar dissolves. Remove from the heat and set aside.
3. Grease and flour a 25cm/10 inch spring form pan very well. Place a piece of foil underneath the cake tin and turn the edges up, in case the margarine leaks (it will stop it dripping onto the bottom of your oven). Pour the melted margarine and brown sugar mixture into the bottom of the spring form pan making sure to spread it evenly across the bottom. Then place pineapple rings on top of the sugar mixture. Put a cherry inside the hole of each ring.
4. In a large bowl sieve the flour, sugar, baking powder and salt. Add the oil, plant milk, vanilla extract, applesauce, and flaxmeal mixture. Stir quickly but thoroughly until all the ingredients are well combined.
5. Pour the cake batter over the pineapple slices. Bake for 30-40 minutes or until a toothpick comes out clean when inserted in the centre.
6. Run a knife around the edge of the pan to loosen the cake. Let the cake completely cool before removing the outer ring. Once you have removed the outer ring, gently invert onto a serving platter and remove the bottom of the spring form pan to reveal the pineapples.
Optional extras / notes
50-60 minutes, including baking time
Did you know that Vegan Recipe Club is run by a charity?
We create vital resources to help educate everyone – vegan veterans, novices and the v-curious alike – about vegan food, health and nutrition; as well as the plight of farmed animals and the devastating environmental impact of farming.
Through this work we have helped thousands of people discover veganism; but we want to reach millions more! We rely entirely on donations as we don't get any government funding. If you already support us, thank you from the bottom of our hearts, you are really making a difference! Please share our details with your friends and loved ones too, as every donation enables us to keep fighting for change.