Parsnip Crisps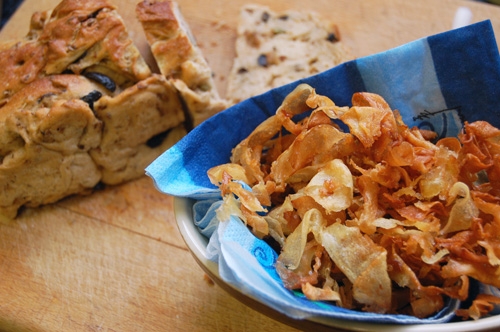 A luxiourious snack for any dinner party or special occasion. The parsnips shrink – so you need quite a few for several people!

Not too tricky



Meal
sides-light-meals-and-salads
vegetable-side-dishes
Ingredients
3 parsnips, peeled and thinly sliced with a mandolin
Vegetable oil, to deep fry
Salt
Instructions
1. Pour 2-3 inches of vegetable oil into a medium-sized heavy-bottomed saucepan and turn on the heat.
2. Do not leave the pan unattended as the oil will get really hot. It has reached temperature when a piece of parsnip dropped in begins to sizzle. Drop in handfuls of the parsnip slices in batches – and fry until they are golden brown.
3. Fish out the parsnip crisps with a large draining spoon and lay them out on a piece of kitchen towel to soak up the excess oil. When they are all cooked, transfer into a bowl to serve and sprinkle with lots of salt.
Did you know that Vegan Recipe Club is run by a charity?
We create vital resources to help educate everyone – vegan veterans, novices and the v-curious alike – about vegan food, health and nutrition; as well as the plight of farmed animals and the devastating environmental impact of farming.
Through this work we have helped thousands of people discover veganism; but we want to reach millions more! We rely entirely on donations as we don't get any government funding. If you already support us, thank you from the bottom of our hearts, you are really making a difference! Please share our details with your friends and loved ones too, as every donation enables us to keep fighting for change.