Moroccan Quinoa Salad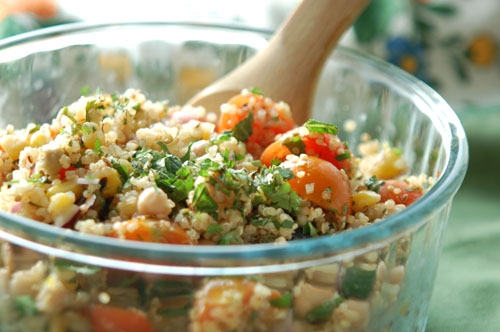 Genius – you can prepare the salad ingredients while the quinoa cooks – then leave the entire dish to chill and marinate while you do some chilling yourself – have a candle-lit bath for example!

Easy
Cuisine
Middle Eastern and Moroccan
Ingredients
1 cup dried quinoa
2 cups hot stock (500 ml) – made with 2 level tsp vegan bouillon powder or follow the packet instructions if using vegan stock cubes
2 lemons: zest from 1, juice from 1-2 (do the zesting before halving the lemons!)
2 tbsp olive oil
2 tbsp fresh orange juice
2 tsp ground cumin
1 tsp cinnamon
1 tsp salt
¼ tsp sugar
1 tin black beans OR chickpeas
1 tin sweet corn, drained (approximately 330g) – use the no-sugar, no-salt variety if possible – or the same weight, frozen
½ small red onion, thinly sliced
1 carton of fresh cherry tomatoes
Instructions
1. Cook quinoa by dry roasting in a heavy-bottomed saucepan. Then add the hot stock and cook for 20 minutes, stirring occasionally – add a little more hot water if it starts to stick.
2. While quinoa is cooking, whisk together lemon juice and zest, olive oil, orange juice, cumin, salt and sugar in a small bowl to make a dressing.
3. Combine quinoa and all remaining ingredients, except fresh herbs, into a medium-sized bowl.
4. Drizzle with vinaigrette. Toss to combine.
5. Refrigerate for at least one hour to allow flavours to combine. Add fresh herbs just prior to serving. May be served at room temperature.
6. Warm pitta bread through about 10 minutes before serving.
Optional extras / notes
20 mins plus 1 hour cooling time
Did you know that Vegan Recipe Club is run by a charity?
We create vital resources to help educate everyone – vegan veterans, novices and the v-curious alike – about vegan food, health and nutrition; as well as the plight of farmed animals and the devastating environmental impact of farming.
Through this work we have helped thousands of people discover veganism; but we want to reach millions more! We rely entirely on donations as we don't get any government funding. If you already support us, thank you from the bottom of our hearts, you are really making a difference! Please share our details with your friends and loved ones too, as every donation enables us to keep fighting for change.