Mini Raw Raspberry Cheesecakes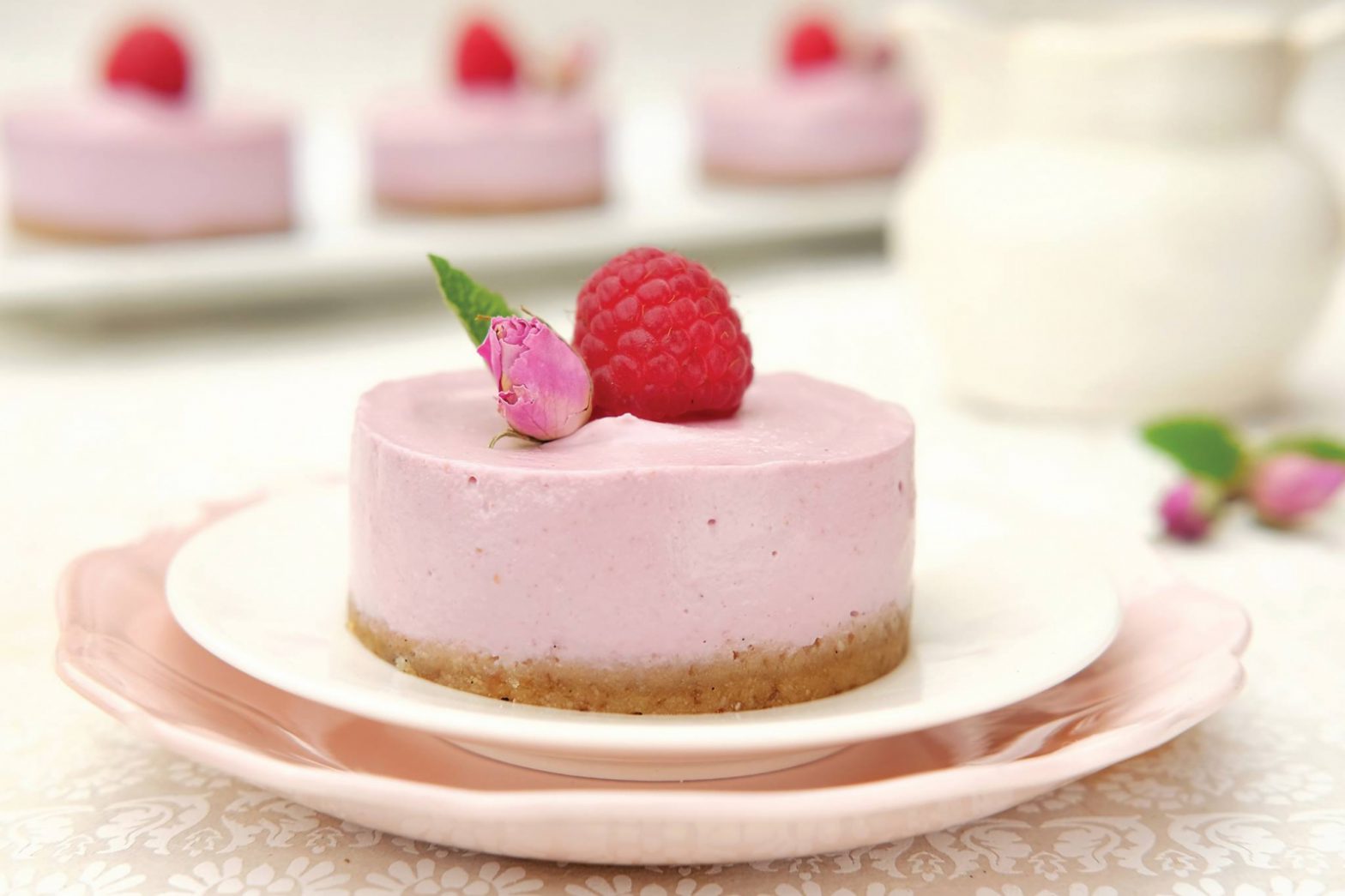 These mini cheesecakes are easy to make, taste delicious and look beautiful….win win win! Oh, and they're pretty healthy too 🙂
Medjool dates are available at larger branches of supermarkets, greengrocers, delis and some health food shops as well as online.
TOP TIPS
Remember to soak the cashews in advance – 3 hours minimum OR overnight
Remember to allow 8-12 hours chilling time for the cheesecakes

Easy


Ingredients
Base
150g/5oz ground almonds
60g/2oz medjool dates (pitted) or other buttery dates
20g/¾oz desiccated coconut
½ vanilla pod (scraped) or 1½ tsp vanilla extract
Filling
250g/9oz cashews (soaked)
250g/9oz raspberries
100g/3fl oz coconut oil (melted)
60ml/4 tbsp maple or agave syrup
70ml/2½ floz lemon juice
½ vanilla pod (scraped) or 1½ tsp vanilla extract
ALL KITTED OUT
Bowl and lid to soak cashews; measuring spoons; scales; good blender or food processor so cashew cream isn't grainy; spatula; small containers, preferably cutting rings with a pusher (see photo below).
Instructions
Soak the cashew nuts in water overnight (if short of time, soak for at least 3 hours in hot water).
Blend the ground almonds and medjool dates (or raisins) in a food processor or high speed blender.
Cut the vanilla pod in half lengthways and scrape out the seeds.
Add the vanilla seeds and coconut to the mix and continue to blend until it sticks together (add a few more raisins if necessary).
Distribute the base mixture into the cooking rings.* Press down then put aside in the fridge.
Warm the coconut oil on a low heat until fully melted.
Rinse the cashew nuts thoroughly.
Blend all filling ingredients together until smooth.
Spoon/pour the mixture into the chilled bases and return to the fridge. Chill for 8-12 hours.
Decorate. Try some of these….raspberries, mint, rose petals, edible flowers, pistachios, mixed nuts 'Äî have fun!
*ideally, a set of eight 7cm cooking rings plus a pusher to push down the mixture firmly. Lakeland sells these online but you may find them elsewhere, eg John Lewis or other good kitchen shops. If you only want to make four cheesecakes, use larger cooking rings, eg approx. 14cm.
Optional extras / notes
Soaking time for cashews (3 hours minimum or overnight) plus chilling time of 8-12 hours (or overnight)
Did you know that Vegan Recipe Club is run by a charity?
We create vital resources to help educate everyone – vegan veterans, novices and the v-curious alike – about vegan food, health and nutrition; as well as the plight of farmed animals and the devastating environmental impact of farming.
Through this work we have helped thousands of people discover veganism; but we want to reach millions more! We rely entirely on donations as we don't get any government funding. If you already support us, thank you from the bottom of our hearts, you are really making a difference! Please share our details with your friends and loved ones too, as every donation enables us to keep fighting for change.