Maple, Date and Pecan Parcels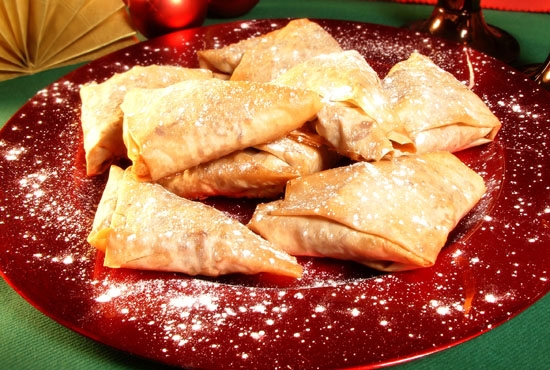 A lovely festive or winter dessert. Try serving with vegan cream, ice cream or custard!
Picture courtesy of Corin Jeavons.

Not too tricky
Ingredients
8 sheets of filo pastry (make sure sheets are no bigger than 30cm x 20cm (12" x 8")
1 tsp mixed spice
4 tbsp icing sugar
100g/3 oz pecans, chopped
100g/3 oz dates, chopped
4 tbsp maple syrup
85g/ scant 3 oz vegan margarine, melted
Instructions
1. If the filo pastry is frozen allow it to defrost thoroughly before starting.
2. Preheat the oven to 400F/200C/Gas Mark 6.
3. Stir the mixed spice into the icing sugar.
4. Carefully separate one sheet of filo pastry and lay flat on to a work surface. Brush with melted margarine.
5. Sprinkle 1/2 tsp of the sugar mixture over half of the pastry lengthways.
6. Sprinkle 12g of the pecans of top of the sugar.
7. Fold the plain side of the pastry over the side with the filling on and press around the edges.
8. Place 12g of the dates on top and drizzle with 1/2 tsp of maple syrup.
9. Fold the bottom left corner up to the opposite edge to form a triangle. Then keep folding the triangle over and over down the pastry until you reach the end of the pastry.
10. Repeat steps 4 to 9 until you have 8 parcels.
11. Place the parcels onto a greased baking tray and brush the top with melted margarine or plant milk, eg soya.
12. Cook on the top shelf of the oven for 10 minutes or until golden brown.
13. Other combinations of fruit and nut that work well are cherry and walnut or almond and apricot.
Did you know that Vegan Recipe Club is run by a charity?
We create vital resources to help educate everyone – vegan veterans, novices and the v-curious alike – about vegan food, health and nutrition; as well as the plight of farmed animals and the devastating environmental impact of farming.
Through this work we have helped thousands of people discover veganism; but we want to reach millions more! We rely entirely on donations as we don't get any government funding. If you already support us, thank you from the bottom of our hearts, you are really making a difference! Please share our details with your friends and loved ones too, as every donation enables us to keep fighting for change.